Cooler weather always brings out sweaters and, in my case, long winter underwear. While preparing for this imminent transition from one season to another, I found myself considering how effortlessly we discard clothing, and rush to purchase more.
According to what I've read, each person tosses out about 36 kilos of clothing per year. That figure also includes things like towels and sheets, but it's still a staggering number. Of course, some garments will be donated to shelters or to second-hand stores for resale, which is a great idea. I remember 20 years ago, when I had my first introduction to one of the more well-known of these establishments. Memories flood back like yesterday.
In those days I was a single mom and had been asked to the Lloydminster Regimental Ball by a friend who worked for the RCMP. It was a prestigious event and I would be appearing at this well-dressed function wearing – oh no, what would I wear? I had no money to spend on frivolous frocks. What the heck was I thinking in accepting such an invitation?
Closing my eyes with a groan, I visualised a probable scene. Stunningly coiffured women whirled through a ballroom garbed in glittering evening gowns and patent leather stilettoes. Jewels sparkled at their throats and beautifully manicured fingers as they turned toward the soft glow of the chandelier to view my lumbering approach.
"Who's the country bumpkin," they'd whisper over colourful cocktails, while reaching to hide empty chairs under the tablecloth as I passed. I envisioned myself clumping across the dancefloor wearing manure-encrusted calving overalls, gum boots and a "Charolais Beef is Best" ball cap. Of course, I wouldn't really attend anything wearing that, my imagination was working overtime. Nonetheless, what was I going to do?
Fortunately, it was several weeks away and. on a visit to see family in Sifton, Man., I slumped at the kitchen table sharing my problem with Esther. "I know a thrift store we can go to called Value Village," she exclaimed in triumph. "You'll find a dress there – low-priced too."
We were going to Winnipeg the very next day anyway; it wasn't far out of our way at all to stop at the store and pour through racks and racks of dresses. Some were wildly patterned, others grossly outdated, still more were attractive enough, but none had that certain "Je ne sais quoi," until Esther scraped a few hangers aside and pulled forth a little black number with gold embellishments. She held it up for inspection. It was perfect. It was elegant. It was even designer. But best of all it was cheap!
Later that month I minced up a flight of stairs to the grand event, poise and red lipstick smeared thickly across my face. With carefully constructed aloofness, I smiled kindly upon several women as we all shrugged off jackets and prepared to enter the ballroom. "What a lovely dress," one gushed appreciatively, "Wherever did you find it?"
Several others listened in as I replied, waving my arm in a small gesture of careless indifference, "Oh, this little thing? I picked it up at a Winnipeg boutique recently. It's a Simon Chang," and turning, I swept from the room, feeling confidence bubble up like champagne – in my five-dollar dress.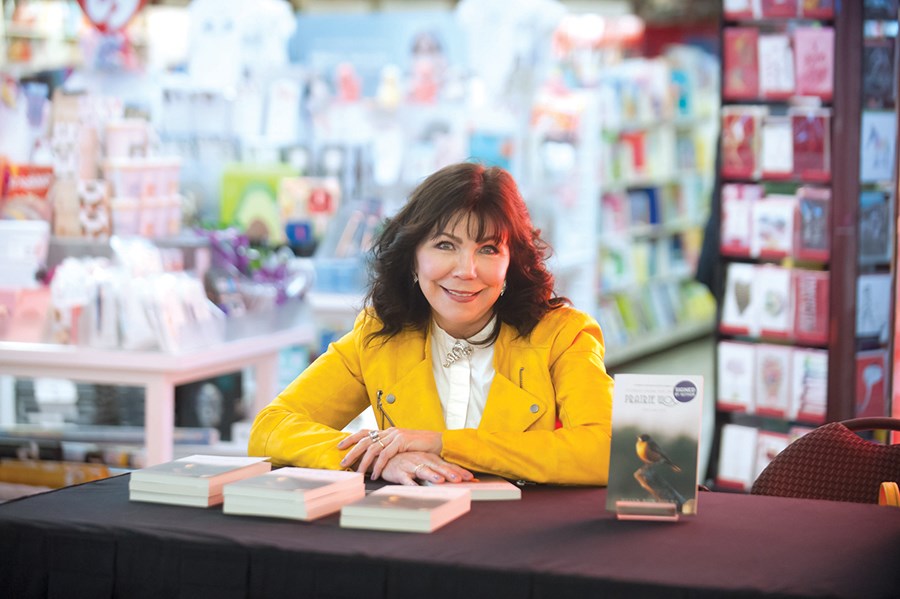 Helen lives on the family farm near Marshall, Sask. where she is writer, columnist and works in education. To contact her, or learn more about her books, go to myprairiewool.com or write Box 55, Marshall, Sask. S0M1R0