Finding inspiration in their studios, galleries, and backyards, a diverse group of makers is creating art that is as varied and unique as they are. But they are finding connection in their rural roots and a desire to reach a wider audience in exhibiting the work being created in this part of the province. A step toward that goal will take place later this month with the launch of the River and Rail ArtVenture.
In 2018, five artists came together to host 'Art by the Acre' at the acreages of Janet Akre and Dale Hicks just north of Outlook. Akre, a painter, was pleased with how the event went and thought it was something that should be done again, only bigger. She approached potter Susan Robertson and the two began creating the River and Rail ArtVenture tour which will invite guests to take a self-guided driving tour around the region to see the quality work being created and meet the people behind it.
The two-day event will feature painting, pottery, jewelry, photography, carving, music, woodwork, metalwork, writing and more. That range and variety is the reason organizers are using the word makers to describe those taking part.  "There are visual artists and three-dimensional artists," Akre explained. "There are lots of different kinds of artists who are involved. Then we've got the writers, the agricultural entrepreneurs, and the musicians, so we were looking for a word to encompass all of it." 
They hope that concept, as well as meeting the makers in their own communities, will aid in creating an atmosphere of accessibility. "Sometimes people have an impression of what an artist is," Robertson explained, "and so rather than going to a gallery we wanted people to feel they are more approachable. This is a chance to come and meet the makers who are in their own studios and their own spaces."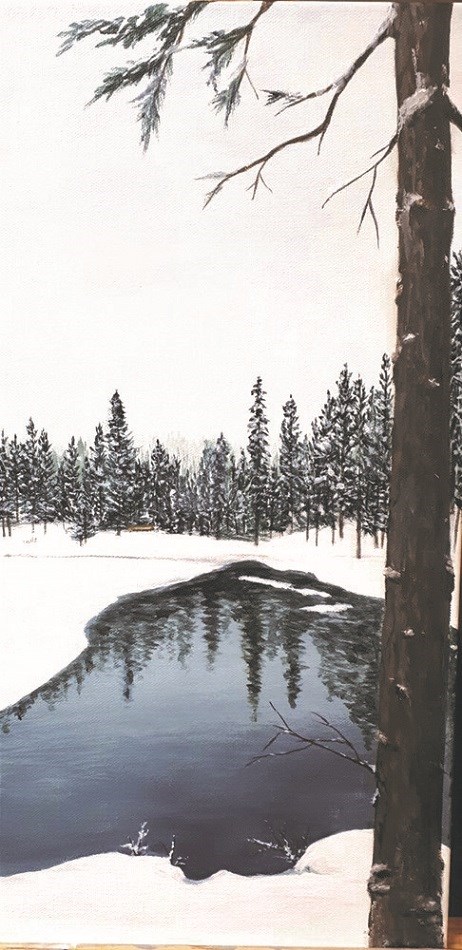 The dream for a bigger event is certainly coming to fruition. There are 26 venues and more than 50 makers whose work can be seen in Outlook, Broderick, Hawarden, Loreburn, Davidson, Elbow, Tugaske, Central Butte, Riverhurst and Macrorie. Robertson said, "We did not realize the depth and breadth of the talent that we had in our community and then in our region. It was a real surprise to me." Those artists include well-known and established talent, as well as newcomers who are preparing for their inaugural public showing. "I have been finding with some of the emerging artists, it is the first time some of them are putting their work out there, which is a very difficult thing, But they are excited to have a safe venue and to have the support of other people as they do."
Each of the makers is in charge of what people will see when they visit so that could include displays, performances and demonstrations. "Every artist is king of their castle," Akre remarked. "They handle their venue. We give them suggestions and say this is our standard. They work within that to personalize it." 
A common thread will be the quality of work. "They are juried in the sense that we were cognizant that we don't want to provide people with a run of the mill experience," Robertson explained. "We want them to meet and see people who are presenting quality items and something that follows the tradition of the craft and is well made and well designed."
River and Rail ArtVenture is presented by the Outlook and District Arts Council in partner ship with Tourism Saskatchewan. Robertson, who is the Arts Council president said this event is not only about connecting artists to one another but also building partnerships for future projects. "We're here to support other artists' organizations, not just the artists themselves. This was an opportunity to provide support for not just the visual arts but the performing and literary arts as well." 
Funding through Tourism Saskatchewan provided assistance with print and digital media and they are grateful for that because all other organizational elements have been undertaken by Akre and Robertson themselves. They are eager to welcome new members to the Arts Council and say you don't need to be an artist, but just have an interest in culture and a desire to help put the area on the map. That is why organizers say the River and Rail ArtVenture is not just about introducing artists in the region, but also introducing the region itself. "We have not done a good job in our small communities of promoting ourselves," Akre said. "We need to think about how we invite people to see what we have. We are as much about promoting our community as we are about promoting our artists within that community."
To achieve this, the makers have been encouraged to let visitors know what else they can do during their visit. "When they come for one thing, we need to show them the other things we have," Robertson explained. "It's the exchange of information and creating awareness that we have these vibrant communities here." People are encouraged to explore the beauty of the region and discover things they didn't expect. Akre suggests, "Start where you'd like. Plan what you'd like. Take two days. Do the south tour one day and on the shorter day do the Outlook venues." Robertson added, "We want people to think of it as an adventure. Pack your lunch and just have a great time."
The event is family-friendly and a good opportunity not only to educate younger people about art, but inspire. Robertson said, "It gives them an opportunity to see an artist in their own environment who is successful, who's making a living, and they can aspire to doing that, and that's really, really important."
The self-guided driving tour can begin and end wherever one chooses. The website www.riverandrailartventure.ca can help design a route or you can follow one of its suggested tours. Brochures are also available at the Town of Outlook office, Outlook Printers and from each of the vendors. There are no admission fees and guests are welcome to visit as many venues as they wish on June 26 & 27.
As an organizer as well as an artist Akre said, "I hope to sell some stuff, but even more than that I hope that the people who come have a really good experience and have so much fun they will want to do it again next year. I hope for all of our artists that they have a sense of purpose and place and will be able to show others why they love living and working in rural Saskatchewan." 
Robertson desires to build relationship between the cities and small towns. "I want people to have a sense of 'wow, we have to come back here. We can stay in a yurt, we can golf, we can shop in the towns'. I hope it opens a gateway that becomes a little more reciprocal and people will come from the city to enjoy what we have to offer in our small towns."
With 10 communities, 26 venues and more than 50 makers, this event is about the people, the art, the geography, the beauty and the treasures west central Saskatchewan has to offer. Akre said, "People will understand why you drive an extra mile. You will be amazed by what you'll see."