Canora students who were born in 1950 and will be receiving old age pension this year were the stars of the Pensioner's Prom on Saturday.

This is the second year for the event. It began last year with the students who were born in 1949. There is hope that the Pensior's Prom can be an annual reunion. The torch was ceremonially passed to Glen Leson and Crhis and Darlene Senkow to organize the Pensioner's Prom for those born in 1951.

The three persons passing the torch were Alvin Boyko, Sharon (Romaniuk) Sobkow and Linda (Cymbalisty) Skomorowski of the organizing committee. Several others participated.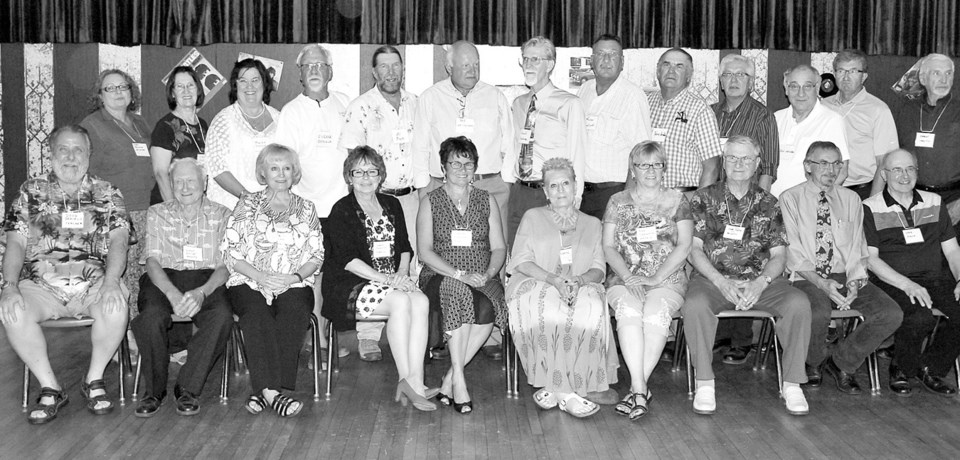 Eugene Boychuk and Allan Hackman acted as the emcees for the program on Saturday which concluded with a dance with music supplied by Seven Levels.

The event weekend began with a registration and meet and greet on Friday (along with a jam session) at the Activity Centre. The formal program was held on Saturday and there was a pancake breakfast at the Activity Centre on Sunday.

In trying to get invitations to everyone, the organizing committee discovered that there were 66 persons in the graduating class in 1968, but some were born a year before or in the year after 1950. Of those, 19 attended the reunion.

However, when gathering names of everyone born in 1950 who would have attended any of the Canora Schools, it was discovered that there were 154 names. Of those, 17 are now deceased. Don Heshka of Canora read those 17 names.

What created such large classes in Canora during this period was the closure of rural schools and those in surrounding communities, explained Floyd Dergousoff.

It was a wonderful reunion in which several had not met for the 47 years since they graduated from Canora Composite High School, said Linda Skomorowski, one of the organizers. For the formal program on Saturday, Vicki Wiwchar's team put together a wonderful meal and the band Seven Levels was great in providing the entertainment, she said. The hall was decorated with vintage vinyl records and band posters from the 1960s and 70s.

The reunion concluded with a pancake breakfast at the Activity Centre on Sunday.