OUTLOOK - Odds are we've all heard this same kind of story before.
A couple of people pack everything up and hit the road, looking for adventure across the Canadian landscape. It's a great story, and it always instills just a wee bit of jealousy in people who gather around to hear the tale.
But have you ever heard of two people doing it in the winter.....on sidecar motorcycles, no less?
That's exactly what Robby Knecht and Magali Habouzit are doing right now. The international couple - Robby is Franco-Swiss and Magali is French - have been attracting eyeballs and attention with the massive, cross-country and cross-borders road trip they've been undertaking since December 2021. Inspired by the late Hubert Kriegel, a fellow sidecar motorcyclist who sold everything he had in 2005 to travel the world in what he called 'The Timeless Ride', the couple have been documenting their travels online via Facebook and YouTube with a pair of lively pages called 'Robby 3 Wheels'. People can also learn more about Robby's interesting background on his website at robby3w.ch.
A guy, a girl, and their sidecars. Where to, honey?
Well, how about France, Italy and Germany? How does Norway sound to you, as well as Sweden, Finland, and Russia? Why don't we motor our way through Poland, Croatia, and Greece, too?
Most peoples' vacation checklists contain things like clothes, supplies, and groceries. Robby and Magali's itinerary reads more like an atlas or a classroom globe.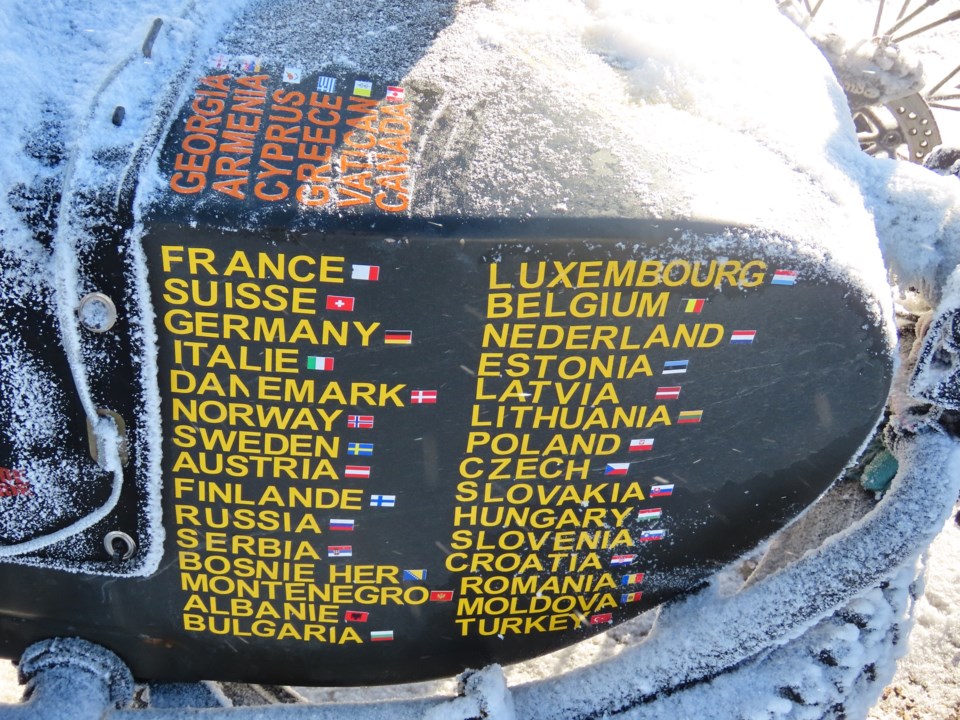 Arriving with their built-in-Siberia Ural Ranger bikes in Canada back in October in order to resume their worldly trip, this time in the Great White North, the pair have seen amazing, once-in-a-lifetime things and experienced our typical Canadian friendliness and welcoming hospitality. Their arrival in Outlook of all places on Friday, January 6 was completely random, a recommendation from someone they spoke to just days earlier who told them they had to take in the riverside community when the pair found themselves with no accommodations. Upon said arrival, their transportation grabbed more than a few wandering eyes on Franklin Street, parked in front of the Motor Hotel, with some people getting out of their vehicles in order to get an up-close look at the unique bikes.
Sitting down for a beer with Robby and Magali, their story is one that needs to be heard to be believed. By this point, upon arriving in Outlook, they've traveled 13,360 km across this great country, zig-zagging between main highways but preferring side roads and rural routes in order to see more of what Canada has to offer.
One of the patrons in the Outlook hotel bar strikes up a conversation with Magali, who tells her where they're ultimately going.
"Oh my God...not on those?!?" the patron asks, thumbing to the outside where they bikes are in more of a statement than a question.
"Yeah!" says Magali matter-of-factly, like as if she's been asked this time and time again.
The pair's travel checklist might see them lose a cell phone or two, but they just keep on keeping on, doing their best to avoid main highways.
"Yesterday we were in Southey, invited by a couple, and we went ice fishing," said Magali. "My phone dropped in the lake, haha! Now, we find ourselves here in Outlook. We're on our way to Airdrie, and we don't take highways! We find them boring, especially with the trucks, and so we take small roads."
"Because we ride slowly, between 70/80 km/hour," added Robby. "It's good so far, we love what we've been seeing!"
"It was just by chance that we came across Outlook!" said Magali.
Traveling the way that they do, putting on hundreds of clicks per day, Robby says that they don't commit themselves to any strict schedules because their plans can sometimes change in an instant, based on where their heads are at or if the weather spurs them to keep right on riding.
"We have no plan, no itinerary," explained Robby. "Only a direction, but no set plans. We don't want to make plans if we can't follow through on them, like if we reserve a hotel that's 300 km away, but we want to continue to ride, then you're forced to stop."
"Usually at around 3:00 PM, we'll look on Google Maps to see where we're close to and see if they have a motel or hotel," added Magali. "As well, we find ourselves invited a lot to peoples' houses, such as fellow bikers."
Robby was inspired to put together this international itinerary by something that the late Hubert Kriegel once said.
"I used to do a lot of scenery rides and things like that," said Robby. "Hubert Kriegel, who died four years ago, was 55 when he said this: 'I keep working for the next 10 years and I will be poor after that. Or, I sell everything I have, I go travel for 10 years on my sidecar and I will be poor after that!' I said to myself, 'God, that's what I have to do!'"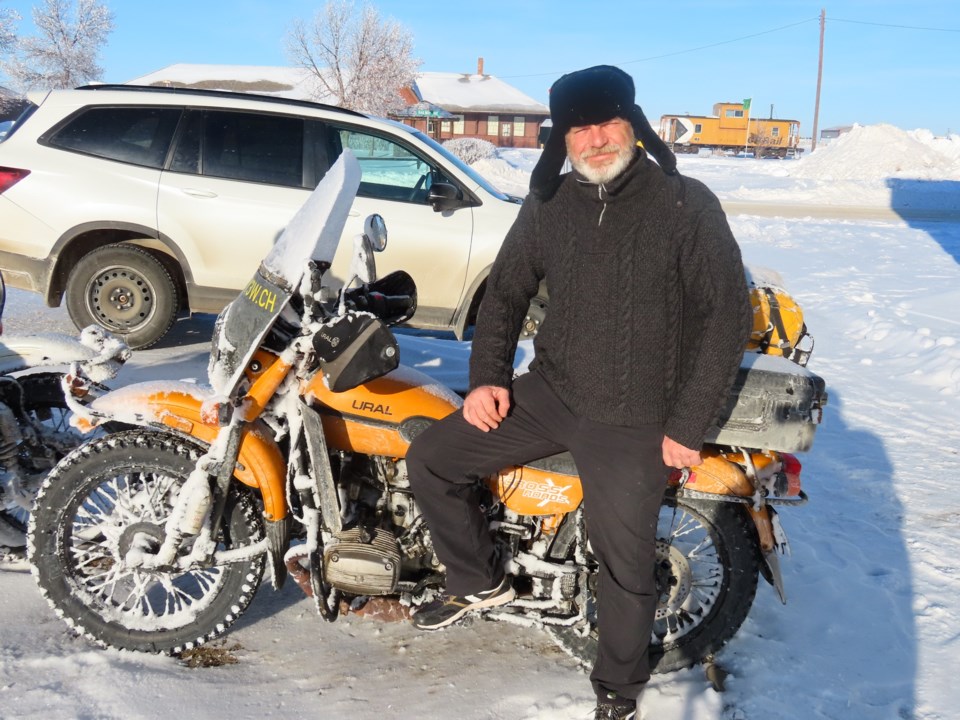 Knecht says it's easy for him to ride in the wintertime, but it's certainly different than hopping on a hog at any other time of the year. Meanwhile, while Magali said that she's learning, she's had some growing pains here and there.
"I'm not as experienced as Robby, but I'm learning," said Magali. "I'm learning how to ride in the snow, but I did get stuck in Moose Mountain Provincial Park! We had to call a tractor to get me out. We're very well-equipped, and we're not cold. We'll typically ride each day starting at around 8:30 or 9:00 AM and go until 4:00 or 6:00 PM, and it's worked out just fine for us. We average between 300-400 km a day, and sometimes we've done 500 or more."
Putting on that much mileage per day is impressive, especially with the stops that the pair makes in order to shoot footage, take photos, and take time to talk with people while on a gas run.
"We also take photos with our drone, which can take up time," said Robby. "But traveling by bike in the winter isn't new for me. I crossed Norway in January at -30, so I'm confident in our acumen."
"Sometimes we can spend an hour at a gas station just talking with people," laughed Magali.
Their story is incredible so far, but where does this all end? Well, Magali and Robby put it very simple.
"We sold everything we have and we decided to change our lives," said Magali. "The way we're going about things, we'll go until we run out of money and go until the wheels fall off!"
"It's a new life," said Robby. "We sold our apartment, and we even sold our children, hahaha!"
For these two global get-up-and-get-going-ers, it's been the people and the places that have been the most memorable for them, and it's something they'll miss about their time in Canada.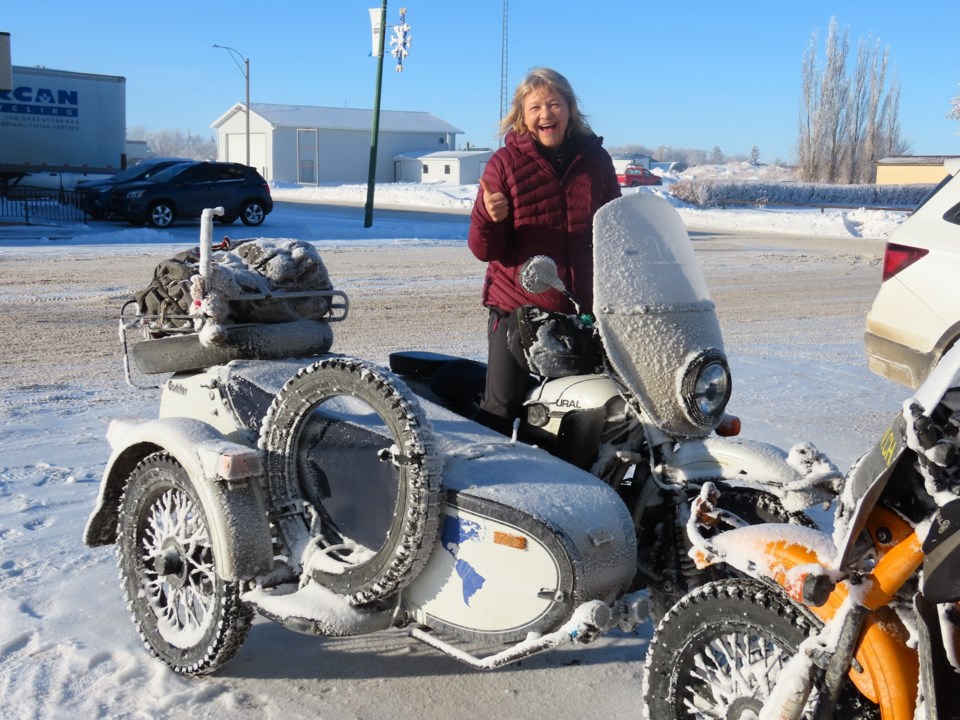 "It's meeting the people," said Magali, when asked what the best thing about their trip has been. "The scenery is amazing, and Canada is an amazing country. You have such grand space, and you don't know the luxury you're living in! That's for the eyes, but for the heart, it's the people; they're simply incredible. It's hard for us to leave."
"A lot of people have invited us to sleep in their houses and eat with them," said Robby. "The people have been so generous. We've loved our time here in Canada."
At the time this article was written, Robby and Magali were in British Columbia, intending to cross the border into the United States, with the goal of reaching Argentina being the ultimate destination on their list.
Looking at the faces of these two road warriors, it's easy to see that their trip, with such a colossal itinerary covering tens of thousands of miles, has produced a love of life that so few of us will ever experience. Robby and Magali put their own lives on pause in order to conquer the road and see the world from a whole new perspective, one that we could perhaps only dream of having. The things they've seen, the people they've met, the sites they've taken in, and the views they've witnessed; it causes this reporter to somewhat avoid asking the obvious question: why take this trip? Why risk the potential for injury, engine failure, or maybe even worse out there on major highways and roads?
Because sometimes you just need to hit that proverbial pause button, grab life by the throat and shake it for all its worth. We only get one life, so it may as well be a memorable one.
Perhaps Robby puts it perfectly by sharing a quote from the late Thierry Sabine, a French motorcycle racer and the founder of the Dakar Rally.
"A hell for the one who leaves....A dream for those who remain".
The things we want in life take work, sacrifice and dedication. But boy oh boy, when we achieve them, or in Robby and Magali's case, when we travel through them, they just make life that much more worth it in the long run.
Safe travels, you two.