BEECHY - Whodunnit?
That was for the audience to try and figure out as Grade 9-12 students at Beechy School hosted a play written by the young performers themselves on Thursday night, February 2.
'The Wedding Scandal of '89' played to a gym filled with spectators and also had an audience watching at home as it was live-streamed on the school's Facebook page.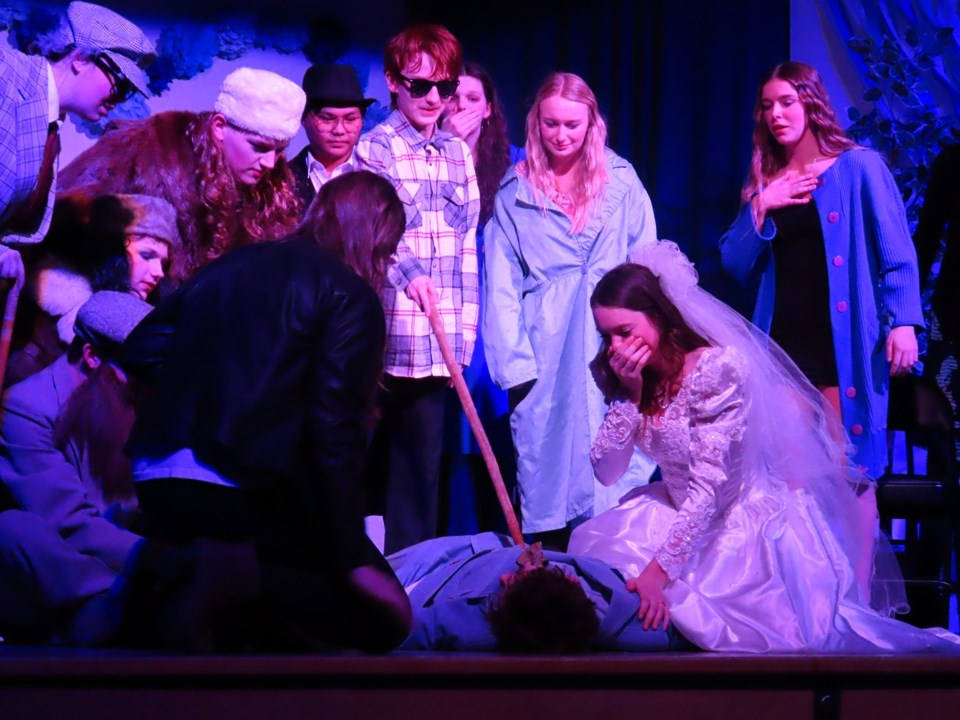 In the play, Mark Kent (Levi Erickson) and Louise Line (Charlee Kapeller) are in the midst of tying the knot with their families in attendance, when suddenly everything goes black. When the lights come back on, the groom is lying dead on the floor. So what happened?
That question was indeed answered at the end of the play, but not before three preceding scenes were played out that left the Beechy audience laughing. In fact, the groom victim himself, now clad in ghostly white garb that included a face doused in what looked like baby powder, maintained a steady presence through the investigation, adding commentary that only the audience could hear.
Ghost Mark even tried to spill the beans a number of times about who took him out by breaking the proverbial fourth wall and directly addressing the audience, but alas, the center stage light coincidentally went out before everyone could find out the truth.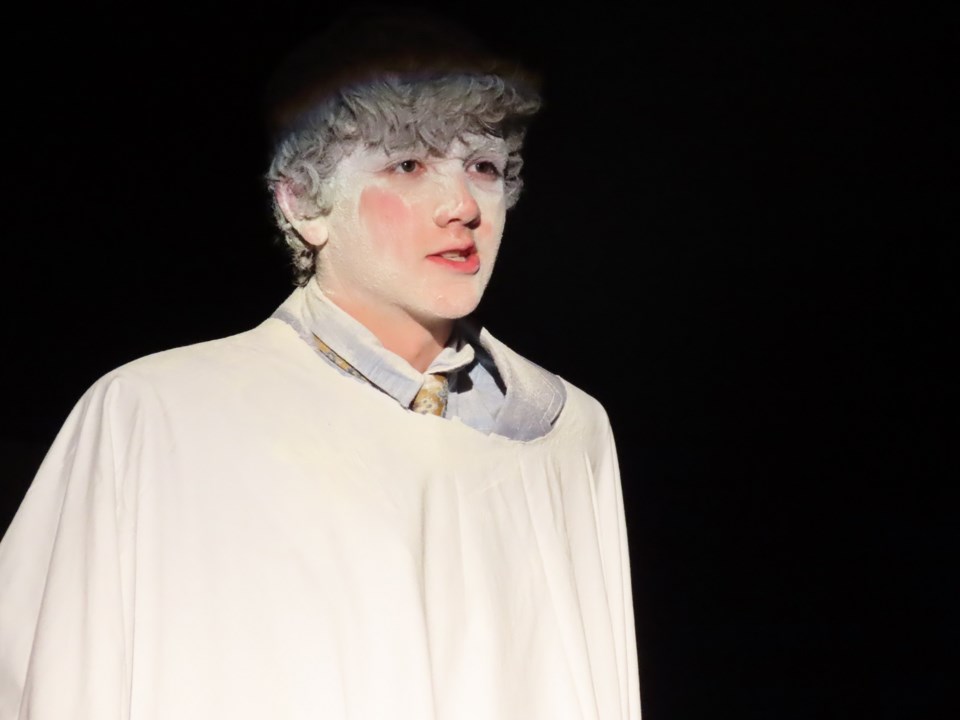 It's up to the team of Detective Mason Murlock (CJ Ramayla) and his assistant, Delaney Collins (McKennah Baxter) to try and figure out this mystery, and this bumbling, arguing crimefighting team are supported by a substantial cast who stand out with their performances. There are the two outlandish Russian women who are obsessed with sharing their raccoon milk with anyone willing to take a drink, played by Evan Baxter and William Walsh. There's also the tried and true 'woman with a past', Stephanie Smith, played convincingly by Taylor Schury. Mark and Louise's family are played by Jayla Weiss, Mackenzie Bowman, Justine Horn and Ashton Erickson, while other characters who go through the line of questioning include Kumar Aboubali (Kyla Moebis), Lydia Rose Drake (Julia Wiens), Penny Lee Drake (McKayla Hanke), Peter Fisher Drake (Ashton Erickson), Fallon (Dahlia Hermanson), Bonquavious Alventador (Aiden Haugen), Allan Kent (Parker Erickson), and Evelyn Roberts (McKayla Hanke).
With some performers taking on dual roles, it showed the commitment that the Drama 30 students gave to the production, and perhaps even more impressive is the fact that they wrote this play themselves. By the time the final curtain bowed, the Beechy audience roared with applause, giving their official thumbs up.
So then, who actually committed the murder? Well, you know what they say - you just had to be there. But if you happen to catch this reporter out and about and you're still curious, just ask.