DINSMORE - The Dinsmore Dynamos have seen a lot in their 75 years on the ice.
Since starting up in 1947, they've won multiple championships, made thousands of slap shots, and sunk countless goals into the net. And although many names have come and gone through the years, perhaps one thing remains the same - a small town's unwavering dedication to its team.
That dedication was shown on Friday night, February 3 when the Dynamos hosted the Kenaston Blizzards. The end result of the game may have favored the visitors as Kenaston bested Dinsmore at a score of 12-6, but for many inside the AGT Memorial Arena, the night was about a lot more than a hockey game. After all, anyone who's ever put on a pair of skates and a helmet knows that wins come and go.
The night was about remembering the past, enjoying the present, and looking ahead to the future.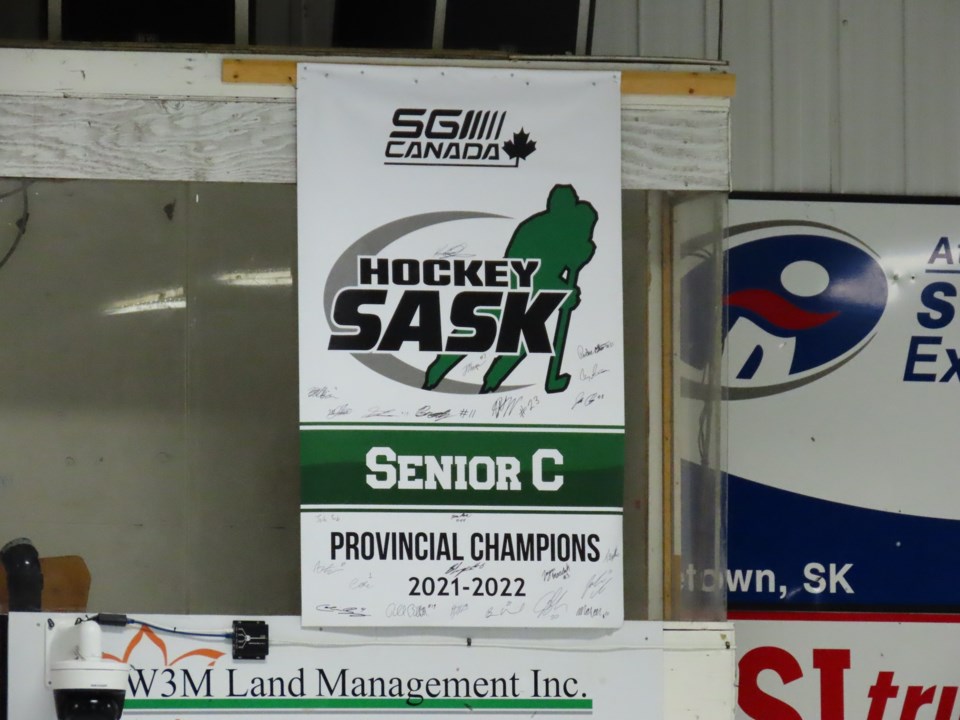 Before the game, team trainer Justin Dawe unveiled the banner signifying Dinsmore's provincial championship victory last season to raucous applause from those inside the rink. The banner is autographed by players, which will tell future generations who was on the team on that very night when the Dynamos claimed the top spot in the province.
Elsewhere in the rink, a ham supper was available for those who were hungry, and for those with a sweet tooth, there were sculptures made out of Rice Krispie treats honoring the team's history that were up for grabs via silent auction. The funds generated from the impressive-looking desserts benefitted the Dinsmore Fire Department, going towards the fire hall. When all was said and done, $250 was raised from the auction, and the Dynamos matched it for a total of $500.
The team finds itself against Delisle in the first round of SVHL playoffs, and they also play Porcupine Plain in the second round of provincial playoffs. Dinsmore visits Porcupine Plain for the first game on February 18, while the second game is on February 25 back in Dynamos country.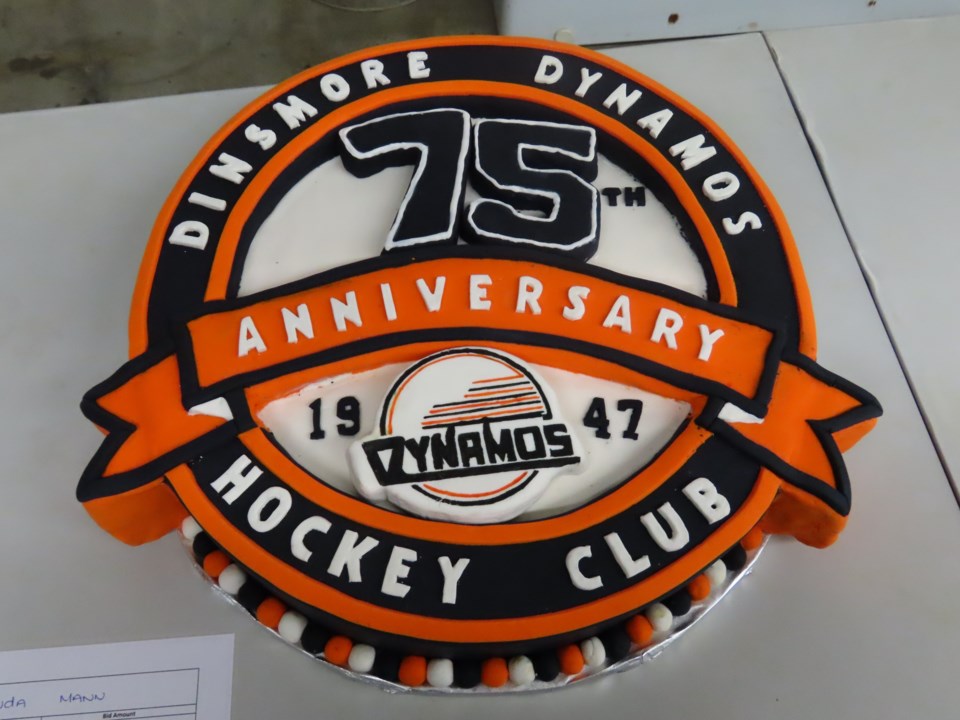 Coached by Kurt Jones and Troy Atkinson, trained by Justin Dawe and managed by James Green, the Dinsmore Dynamos are comprised of Ethan Hein, Cole Buchanan, Brandon Kuse, Logan Marchuk, Colin Berglof, Benson Thorpe, Jordan Thorpe, Josh Atkinson, Brayden Atkinson, Troy Banks, Steve DaSilva, Mason Marchuk, Grady Larson, Matthew Jones, Chad Westman, Russell Billett, Brayden Uhrich, Parker Atkinson, Josh Uhrich, Wyatt Jones, Austin Connor, and Jesse Thorpe.