MILDEN - It's kind of a strange situation to find yourself in.
The BridgePoint Center for Eating Disorder Recovery in Milden is recognized on a provincial and even national level for the work that they do in treating people who find themselves trapped in a vicious cycle of eating, purging, and other harmful eating disorders, but by their own admission, they almost feel like the invisible man as far as the local area is concerned. It comes off as kind of a, 'Oh, they have THAT in this area? Hmm, you learn something new every day!' scenario.
Perhaps this article, and the fact that the facility celebrated 25 years with a come-and-go public event on Friday, March 10, will start to broaden BridgePoint's spotlight at the local level.
Carla Chabot, executive director of BridgePoint, is happy to see the center reach this unique milestone and credits the people who were there from the very beginning with starting the program's building blocks.
"I think it's fantastic," said Carla, speaking with this reporter. "It's amazing to see that in rural Saskatchewan, we have a facility of this magnitude and it was due to all of the work that was put in by volunteers right at the beginning, so we were able to have a really strong foundation to build on. Our philosophy has been 'Holistic and Strong from the Start', and it's positioned us really well. It's been pretty exciting to see how we can keep building on these foundations and move the programming to be innovative and reach more people all the time."
At the 25th anniversary event, people were given tours of the facility on Milden's Saskatchewan Avenue, which highlighted the work being done to address eating disorders and the physical and mental stresses that people find themselves battling. Down one hallway, you'll find decorative squares with artwork from patients, carrying such verbiage as, 'It Matters, I Matter, You Matter', 'Be There...Be Engaged...Be Pure', and another one that reads perhaps fittingly, 'All Roads Lead to Milden'.
In the lounge, you'll find quotes written on the board that have helped and/or inspired people who've used the BridgePoint facility. These quotes are a mixture, highlighted at times during some peoples' worst time in their lives, at times where they were in the middle of their recovery, and when the road for them had never looked brighter. One of those quotes, author unknown, reads as follows:
"Life is like a camera:
Focus on what's important.
Capture the good times.
Develop from the negatives.
And if things don't turn out -
just take another shot."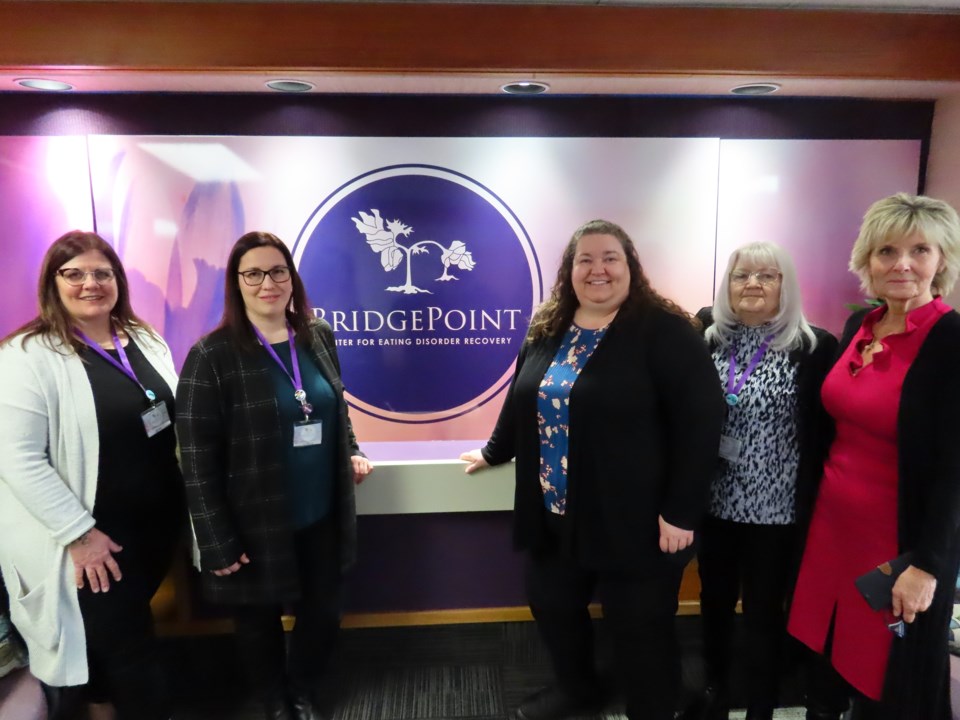 In Chabot's eyes, the driving force behind the center's success from Day One has always been the people behind the scenes.
"It's definitely the team," she said. "Right from the start, the team were volunteers. We have a multi-disciplinary team that carries us through, and that's huge. We aren't in this alone, and it takes the approach of there always being different experiences and education, and everything just brings it together."
Like any other health-centric facility, the COVID-19 pandemic changed how they operate, but it may have been something of a blessing in disguise. Altering how BridgePoint reaches people only made them realize that it was essentially broadening their exposure, allowing them to help more people no matter where they were located.
"It's really changed," said Carla, when asked how many people on average use BridgePoint each year. "I've been here over seven years, and each year it's increased. COVID changed that for us, but we've been able to increase. We offer eight people at a time to come through, and it's not unheard of for hundreds of people to access our programs, some on-site and some virtually. We have the virtual care program right now, and we've also got residential care, and then we've got some new after-care supports, and that's where the virtual world comes in. It's all about keeping that connection and community."
Indeed, keeping that connection and community has been key to BridgePoint's success since 1997. A five-minute video clip shown to visitors at Friday's event showed the progress of the facility, and stemming from the short-but-impressive clip, it was revealed that a full-blown documentary is in the planning stages, with the facility hoping to raise some funds for its production later this year.
At the end of the day, eating disorders might be a completely cut and dry issue to some, with all the facts seemingly known, but the truth is that there are factors involved that the public may be blind to. After all, when it comes right down to it, food actually has very little to do with what can cause eating disorders, and that stereotypical image of a room full of teen girls battling appearance issues can oftentimes show itself to be nothing more than a myth.
"Absolutely," said Chabot. "Eating disorders really are not about the food. It's definitely a coping mechanism. There's also no 'look' - you can't look at someone and think, 'Oh, they have an eating disorder', it's much more complicated than that. People will often come here and expect to see a room full of 16-year olds, but the average age of participants coming through here are often in their 40's, and we've had individuals in their 70's. Eating disorders definitely don't discriminate whatsoever. The impact is there on men and women of all ages and races."