SASKATOON - Outlook resident Laurie Tollefson had quite a support system in attendance on Saturday night, April 15.
A large number of people from the riverside community were in attendance at the Saskatchewan Ag Hall of Fame banquet and ceremony, held at Prairieland Park in Saskatoon. They were there in order to support Tollefson, who was one of five people who were being inducted into the Hall of Fame and recognized for making outstanding contributions to the welfare and improvement of agriculture in the province.
Tollefson, who spent decades of his professional life dedicated to the agricultural industry, started out as a research affiliate at the University of Saskatchewan where he was employed with Agriculture and Agri-Food Canada. Over the years, as his career grew and included many global travels in order to show industry leaders what level of progress was being made here at home, Laurie was seen as a strong ambassador for irrigation and someone who was making contributions to advancing the industry through deep research and technology transfer.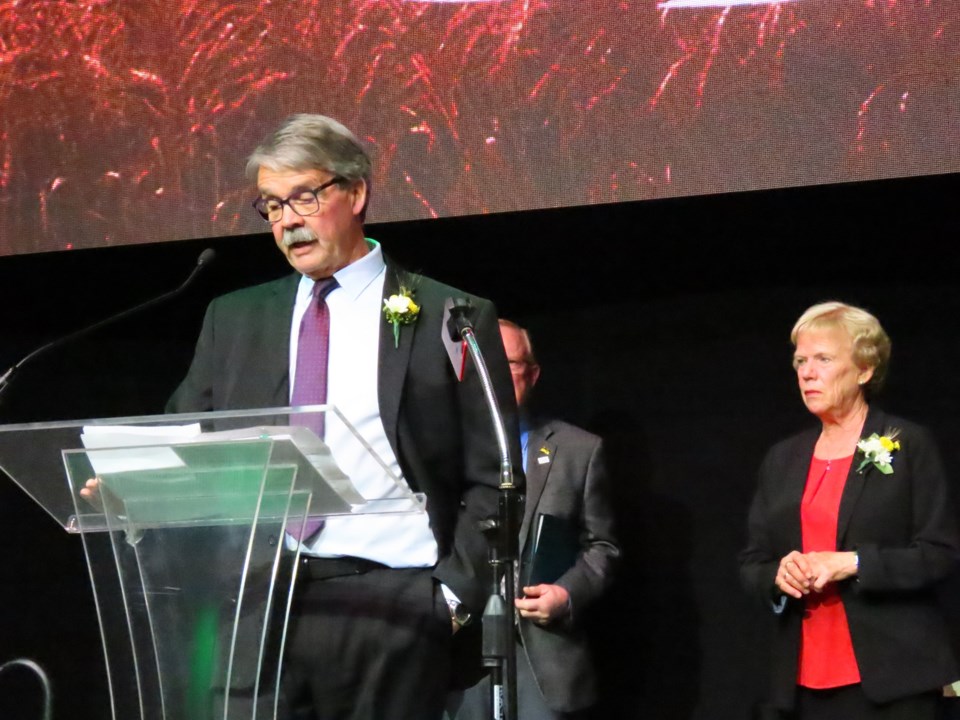 That global travel included visits to countries such as Egypt, China, Cuba, India and Iran, where Laurie represented Canada, and his participation in various national and international agencies was instrumental in helping to highlight the province of Saskatchewan, such as in 2018 when he helped bring the International Conference on Irrigation and Drainage to Saskatoon. The event put a major spotlight on the province and Western Canada on a world stage, with over 600 delegates from 45 countries in attendance.
Under Tollefson's management, the CSIDC in Outlook (Canada-Saskatchewan Irrigation Diversification Centre) grew to include both the federal and provincial governments, two producer organizations in the Irrigation Crop Diversification Corporation and the Saskatchewan Irrigation Projects Association, as well as the University of Saskatchewan. Such achievement has enabled the CSIDC facility to flourish to this day as a key facility that is continuously carrying out projects and work that makes headlines in the agriculture field.
Upon Tollefson's retirement, the Town of Outlook made the decision to highlight his many efforts with a notable honour, rechristening Hall Avenue, the stretch of road that runs parallel to CSIDC, as 'Tollefson Drive' in late 2020.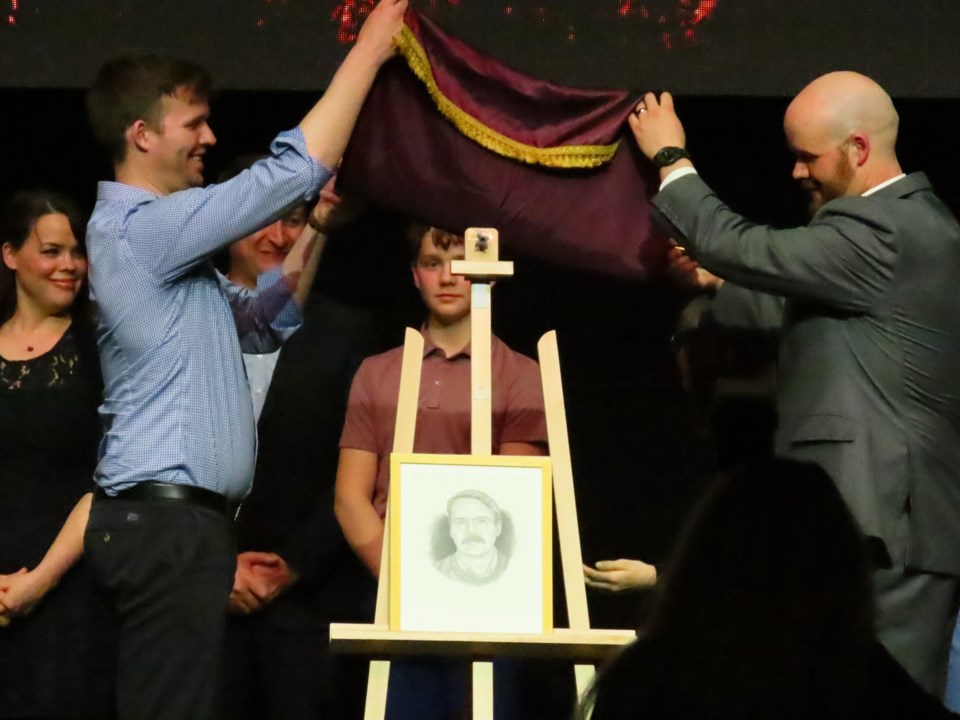 Moments before Tollefson and his fellow Hall of Fame inductees - Bill Huber, Dorothy Long, John James McKinnon, and Kevin Hursh - made their official entrances into the venue, Laurie discussed receiving the incredible honour with The Outlook's Derek Ruttle.
"It just feels fabulous, and it's an honour and a great privilege," he said. "I'm very happy, and it's the honour of a lifetime, I guess you could say."
With such a notable contingent of Outlook people in attendance for the event, Tollefson credits the riverside community with being a desirable place that would eventually be called home for he and his family over the years.
"Outlook has been a wonderful town," he said. "We've been there for over 40 years, and I think that says something about it. Initially, we were going to stay for a short while, but the work got good and just became better all the time, and we raised our family there. My wife was actually born in Montreal and raised in the city, and she became very comfortable and just loved Outlook. That's the reason we're there. It's more than just work, it's another life, and both parts of our life are good. It just had everything, and with a country flare."
Laurie credits the work being done to this day at CSIDC as being notable for keeping Outlook as a leading community among trends in agriculture.
"Absolutely," he said. "All you really have to do is look at some of the work on the potato industry, some of the work on the vegetables that were done, variety trials, and on irrigation technology, for sure."
Of course, what many in Saskatchewan's irrigation field are talking about these days is the billion-dollar project related to Lake Diefenbaker, in which up to 500,000 acres of land is being targeted for irrigation. Tollefson says that project will be vital to perhaps truly realizing what the Outlook town signs proclaim, that Outlook is indeed the Irrigation Capital of Saskatchewan.
"That's our dream and that's our hope," he said. "That's what we've been working together on for much of the time since I've been here. We're not going to step back, and these things require a lot of money and a lot of work, as well as a lot of commitment from different levels of government. Nonetheless, there's a lot of interest from both levels. I really believe this will be the way forward. It's my dream to see this happen, and many peoples' dream. I'll be working until I'm not able to to try to do what I can, even if it's just as a citizen of the area. I just think it has to happen."
With Tollefson's family joining him on the stage, friend and fellow Hall of Famer Roger Pederson made the official induction of Laurie, and in his acceptance speech, Tollefson was grateful to be recognized for his contributions.
"As a grandson of original homesteaders, a Saskatchewan farm boy, an ag grad, and a lifelong resident of this province, it truly is an honour of a lifetime to receive this," he said. "I'm very appreciative, and thank you for those who viewed me as a suitable candidate and put my nomination forward. Special mention goes to the Saskatchewan Irrigation Projects Association, the Irrigation Crop Diversification Corporation, and the Town of Outlook, which as you can see, it's nice to see the mayor out this evening! That's just what our town is like!"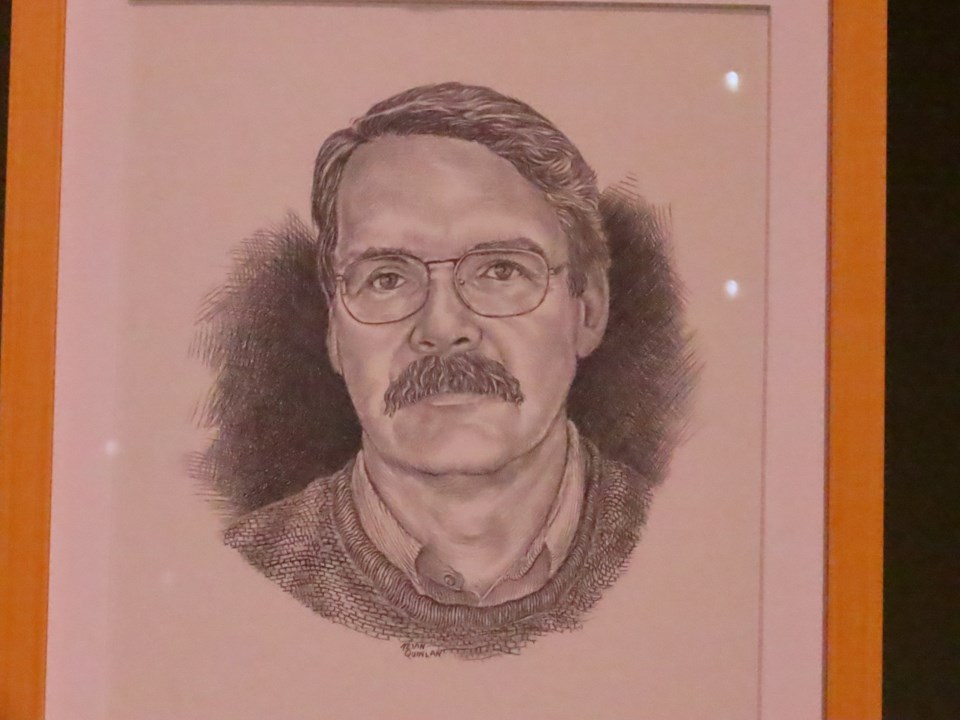 Touching on his hometown roots, Tollefson says it was that drier environment that perhaps influenced him to start on the pathway to irrigation. He points out that such a topic was relatively new to Saskatchewan in the 1980's, with a minimal impact at the time, and it was his educators that inspired him to try and advance and grow the field.
"Growing up on a dryland farm near Mossbank, SK, where my brother Tim farms now, the other good-looking guy with a moustache there, my early life revolved around helping Dad on the farm," he said. "Always with the lack of rainfall; every year, it was just so darn dry. But studying agriculture at the University of Saskatchewan and working summers with Professor Les Henry and others in the Outlook area soon opened my eyes to the value of irrigation. I was very fortunate to be offered a job with PFRA in Outlook, and at that time, it was led by a true visionary in Dr. Harry Hill, who was the Director General. The irrigation sector in the 80's was fledgling and small, and just getting going in Saskatchewan. Harry and others encouraged me to develop partnerships and work closely with government and industry to try and help advance irrigation technology and to encourage crop diversification. We had to get out of the wheat mentality, and irrigation was the message. We soon realized that we had to work collaboratively and together. Harry also opened the door for us to work internationally, and this provided a great opportunity to host and learn from many international visitors and delegations to our centre in Outlook. They were always impressed with the centre and the work being done, but they were always surprised by the untapped opportunity for irrigation in Saskatchewan created by Lake Diefenbaker. We learned a great deal from these interactions, and it just made me realize the value of water in a global context, but also, what a valuable resource we have at home and what a tremendous opportunity we have in Saskatchewan. We're getting there."
Laurie gives a lot of credit to the people and creative minds at the CSIDC in Outlook for helping his career reach the heights that it did, and he maintains that anyone who hasn't seen the projects in development may be floored to see what advancements are being done here in west-central Saskatchewan to try and fully realize what irrigation can do for both producers and residents. In connection to this, Tollefson also shared his hope that the continued irrigation potential of Lake Diefenbaker can be realized sooner than later.
"It's been a true team effort to develop that Centre," he said. "More importantly, thanks to the past and present staff at CSIDC. It was always a wonderful pleasure working with all of you, and your quality of work and dedication was always second to none. Major improvements in irrigation technology and cropping practices have occurred in Saskatchewan, there's no question about that. The Centre has developed and played an important role in that. I would recommend that people take a drive on Highway 219 and go on out to Outlook and the Lake Diefenbaker area and view irrigation in action. You'll be impressed. Lake Diefenbaker provides a tremendous opportunity for increased irrigation in the province. It's the envy of many countries, and I've heard that from many countries verbatim. Considerable progress has been made over the years, but there's still a lot to accomplish. I urge governments and industry to continue with their vision of expanding irrigation development from Lake Diefenbaker and other water bodies in this province to ensure that the future prosperity of Saskatchewan continues."