OUTLOOK - We've all heard that old saying: 'Looks can be deceiving.'
Those who haven't met 17-year old Taebyn Tulp, a Grade 12 student at Outlook High School, might not be aware of the fact that the modestly-sized young blonde is more than likely capable of taking down grown men who are two, three times her size.
What, is she the Hulk or something? Well, let's not go that far. Although, if you're asking her opponents, they may give a different response.
Rather, Taebyn's years of dedication and commitment to the sport of wrestling have shaped her into an incredible athlete who's become finely-tuned to all aspects of the physically-strenuous grappling game. She first became interested in hitting the mat at a young age, following in the footsteps of her dad, Lloyd.
"I think I was in Grade 7, so I would've been around 12 or 13," explained Taebyn, sitting down with this reporter. "I started in it because my dad was a wrestler, and he also refereed. I just thought to myself, 'I'm going to join wrestling so that I can be more like him', so I did and it's something that stuck with me. And now, here I am."
Here she is, indeed. In the handful of years that Tulp has given wrestling, she's come out of it with some impressive results. This past March, Taebyn went to provincials at Evan Hardy Collegiate in Saskatoon and dominated the 60-kilogram weight category, winning a gold medal after completing the tournament without a single point being scored against her. Her strong showing garnered her enough points to single-handedly earn a 3A Team Silver medal.
Impressive in its own right, but that's not the only hardware that Taebyn has fought, tied up and grappled for. She won a gold medal back in 2018 at the Saskatchewan Summer Games, and collected a bronze medal the following year in the Western Canada Summer Games. In 2020, Tulp won the silver medal at the provincial wrestling championship, so returning this past year to earn the gold was no doubt a satisfying feather in her cap.
Taebyn's accomplishments on the wrestling mat haven't gone unnoticed, as earlier this month, she was the inaugural recipient of the Glenn "Keeper" McWhinney Scholarship Fund, presented by the Canadian Football Hall of Fame and Museum. The scholarship is named in memory of McWhinney, a 1954 Grey Cup champion with the Edmonton Eskimos who passed away in 2012 following a battle with cancer. His family and friends created the scholarship fund in his honour, which awards $5,000 to a student-athlete who embodies the attributes of its namesake: commitment, honesty, humility, courage and volunteerism in the community.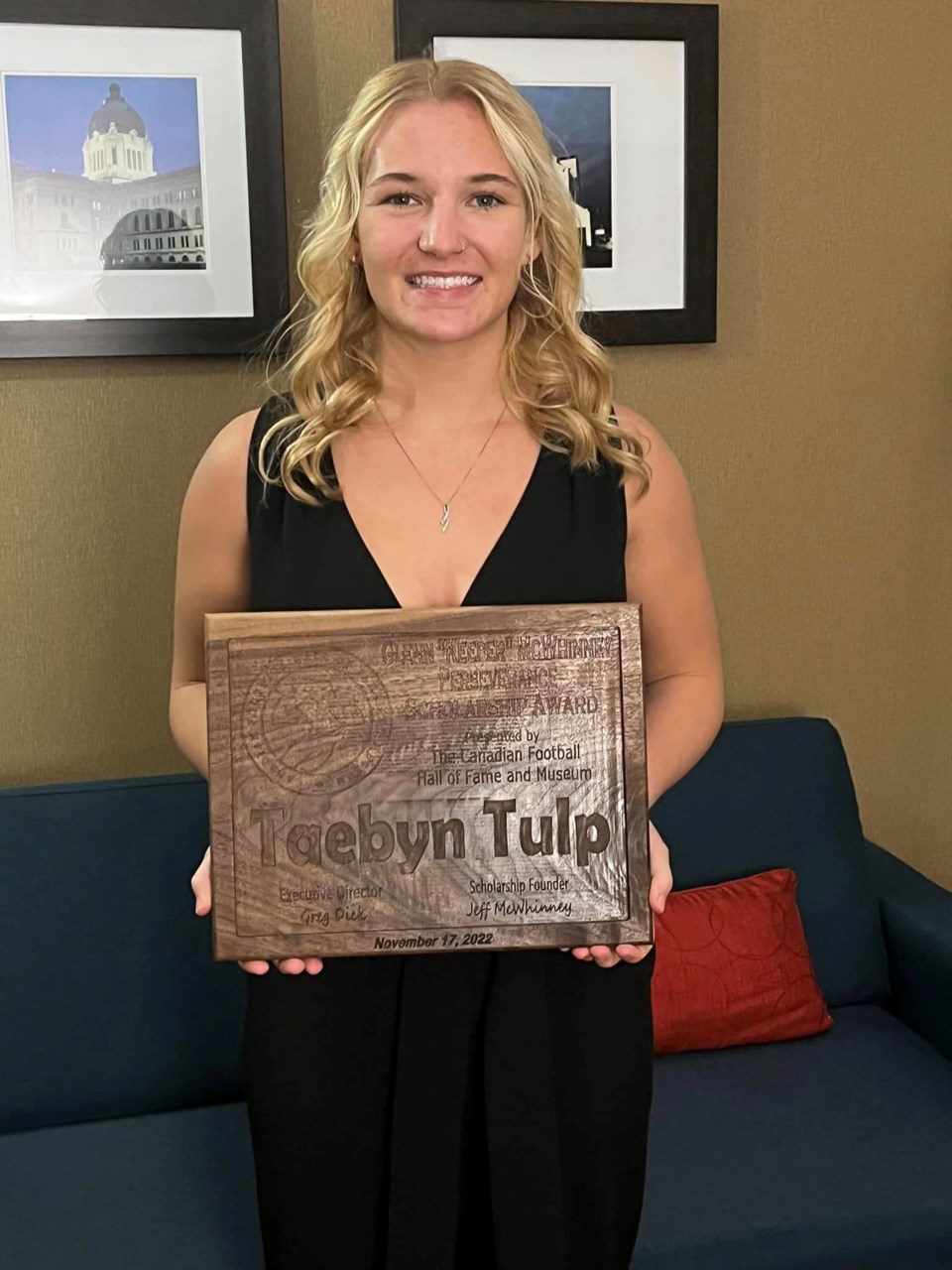 Tulp was taken aback when she learned that she was receiving the award after being nominated by Cathy Morrow, a board of education trustee for the Sun West School Division.
"It was kind of crazy," she said. "I was shocked. They called me and I just went, 'What? What are you talking about?!? You're joking, right?' It was cool, but also a little overwhelming."
Taebyn says that she enjoys the relationships that have formed as a result of her involvement with wrestling, crediting the community as being a source of inspiration for her.
"I've never really thought about that!" she said, asked what makes wrestling her go-to sport. "The entire community of wrestling is just awesome. You're welcomed in with open arms, and it's the most inclusive and supportive community I've ever been a part of. It's a fantastic community of people, and the sport is like no other; you put in as much work as you want, and you get out what you put in. In that sense, it's very rewarding in its own way."
Tulp also has experience with football, basketball, volleyball, and enjoyed some gymnastics when she was younger, but wrestling just has a special drawing factor for her.
"The physical part of the sport is awesome as I'm a very active person, so I like that part of it," she said. "I get my butt kicked at practice all the time, but it's super rewarding, even if you lose. You just pick yourself back up and you keep going."
Though Tulp's accomplishments in the sport are impressive, it's her training and dedication that perhaps are the real attention-getters.
"The drives to Saskatoon are surprisingly fantastic," she said. "I'm going to miss the drives a lot when I'm living in the city for the fall. Those drives mean that it's a time to decompress, unwind, think about the practice I just had and reflect on how I did, and think about how I'm going to go into the weekend for the tournament. It is kind of hard to stay motivated sometimes though, as you get thoughts of maybe just wrestling in high school, but the pressure I put on myself isn't overwhelming, and the same goes for my parents. That said, I wouldn't want to disappoint them, my coaches or even myself. I'm very goal-driven and I have a goal for this year, and if I'm not going to meet it, then I'm going to be a little disappointed in myself. But it's okay, because you can't always achieve everything."
Her commitment to wrestling sees Tulp on the road often, racking up the miles just for training alone. Her points of focus may shift depending on what month it is on the calendar.
"It depends on the point of the season," she said. "Sometimes, I'm cutting weight, so I'll diet down a little bit and just eat clean. With training, I try and stay in the weight room about three times a week and try to do a little bit of extra cardio, but 17-year old girls don't like running, so it's a little bit difficult sometimes! I drive into the city four times a week for wrestling practice; Monday, Wednesday, Thursday and Friday, plus whatever tournament I might have on the weekends."
All high school sports have a typical season. For example, basketball may start in December and run until the provincial Hoopla event in March, while football kicks off in September and runs through until November. If you're a wrestler, on the other hand, the season might have an end, but your mindset doesn't, as Tulp says you always keep at the ready from both a mental and physical standpoint throughout the whole year.
"The competition ends at some point, but the training never does!" she said.
When it comes to getting herself ready for a competition, Taebyn says it's a strategy that's capable of bringing a mental game to try and go up against, adding to the physical part of the match.
"It's something that I'm working on right now, actually," she explained. "It's something that takes a lot of time to get used to, and a lot of the senior athletes that I've talked to even still struggle with it. You kind of match plan, almost, and you use a lot of visualization, so you're going through the motions in your head. What am I going to do in the first 30 seconds of a match, and then after that, what am I doing? It varies between person to person, but I'm still trying to find my routine."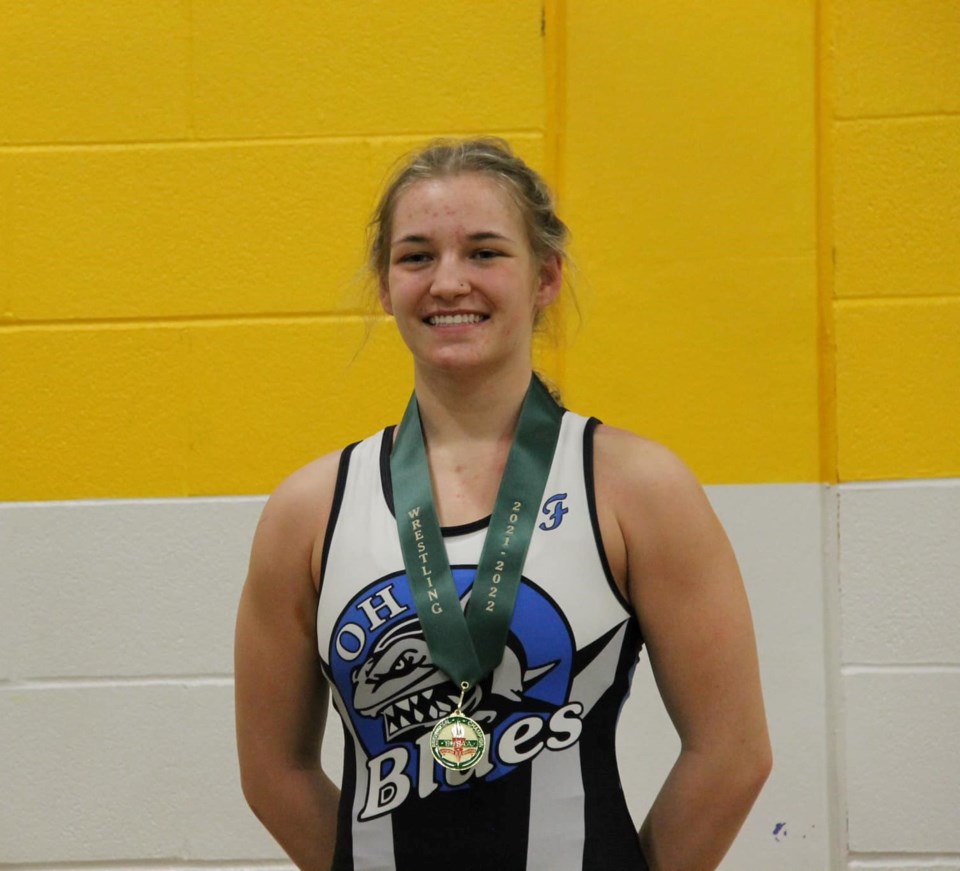 As a Grade 12 student, Tulp is starting to look at the horizon and figure out what her future will look like after high school, with plans to continue her wrestling journey and hopes to attend the University of Saskatchewan. She intends on following the career path of her parents Lloyd and Cindy, going into Kinesiology and Education to become a teacher.
As something of a female ambassador in the sport, Tulp says exposing young girls to wrestling is a great way to get them involved in something that, in her mind, gives you a great sense of comfort and confidence.
"I think it's a fantastic idea," she said. "The junior Husky programs put on so many great things for young women in sports. There are camps going on right now specifically for girls from ages 4-9, and I think it's fantastic because you get super comfortable with yourself, and the confidence you get is like no other. So I think it'd be fantastic if more girls got involved because of the character it builds and the confidence it can give you."
For Taebyn, the best thing about wrestling is the people who she's come to know and the friendships that have formed as a result of what the sport has offered. It's an individual sport, yes, but it manages to build relationships.
"The community," she said, asked to name the best thing about the sport. "We have a saying in the room: 'The sport is an individual one, but it builds comradery like no other'. I think that's the most true thing that you could ever say about wrestling. For me, it's definitely the community."