LAKE DIEFENBAKER - Every summer, thousands upon thousands of people enjoy the waters of Lake Diefenbaker, whether it's for a leisurely swim, a fishing expedition, or a day on the boat with family and friends.
But have you ever looked out over the cool, inviting ripples and thought to yourself, 'Hmmm, I bet I could swim all of that, no problem'?
That's precisely what six women did, all in support of two organizations that aim to provide the tools for women to realize their full potential and help ensure that families in Northern Saskatchewan can live their lives free from violence.
Adrien van Dyke, Dionne Tatlow, Elise Truscott, Kelsey van Dyke, Meghan Chisholm, and Nichole Robinson are all experienced swimmers, and they put that experience to the ultimate test from July 19-21 when they took what was called the Diefenbaker Dip.
However, catchy name aside, this was certainly no ordinary dip in the lake for the women. The goal was to use those three days and divide the group up in order to swim approximately 163 km of Lake Diefenbaker, starting their incredible journey from Saskatchewan Landing in Stewart Valley and ending it at Danielson Provincial Park. On paper, the formula was simple - 1 lake, 6 women, and 3 days to accomplish their goal. Boom, it was decided; 163 km of the lake would be tackled.
On Thursday the 21st, the group did indeed accomplish their goal, ending their multi-day adventure on the lake tired, sunburned and needing to get used to being on solid land again. Speaking to The Outlook, Adrien and Dionne described where their minds were at as they wrapped up this very unique fundraising initiative.
"I think all of us are feeling tired," said Adrien. "It's definitely a bit emotional, ending after spending three days together on a boat. There's been a couple of happy tears, and I think all of us are feeling pretty proud of what we accomplished, but all of us are pretty tired still."
"We're thankful for everybody too," said Dionne. "We're all very tired, but I always have so much gratitude and I'm just thankful for the other girls, as well as all the support."
Physically, the group is undoubtedly feeling the effects of what three days and nights in the water can do to the human body.
"Feeling a little tired and a little sore," said Adrien. "Getting off the boat and standing on shore, I think we were all feeling a little bit wavy, and on that last day we were feeling sunburnt and windburned."
"We all look like Rudolph - our noses are all very burned," laughed Dionne.
Red noses and weary, physically-drained bodies aside, the women can look back on their journey with pride. Their targeted fundraising goal of $10,000 has been obliterated so far, with the amount currently sitting at just over $15K. Anyone interested in making a donation can hit up the website at ywcaregina.com/swim/ until Friday, when the campaign is expected to be taken offline.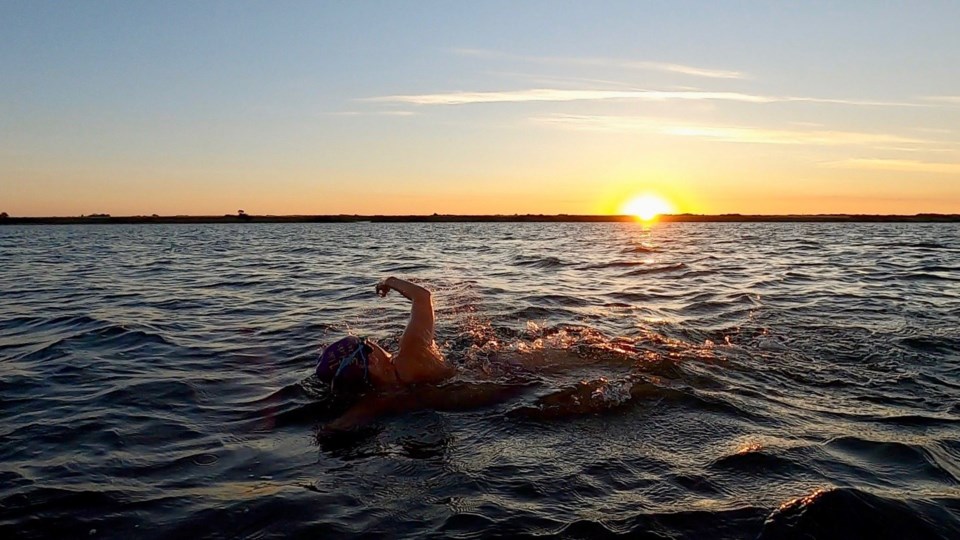 Adrien says that the inspiration to move forward on such an event actually came from previous swims that helped set the stage for what turned out to be a colossal endeavour.
"The first time we ever did a lake swim was in 2020," said Adrien. "COVID had shut down a lot of the pools, so a couple of us started swimming out at Last Mountain Lake, and then Dionne came up with this question of, 'What if we swam the lake?', so that was the first year we did a big long swim and it went quite well. Then Dionne and I swam part of Lake Diefenbaker last year, continuing on the YWCA fundraiser and swimming from Danielson Provincial Park to Douglas Provincial Park. Then this year, we decided to tackle the whole lake and turned it into a six-person relay and swam from Sask Landing to Danielson Provincial Park."
All of the women being quite familiar with the water helped them from a training perspective, and the regiment just became about how much they could push their bodies to tackle the journey that was before them.
"All of us come from pretty various swimming backgrounds, but you do a lot of training in the pool, building up your stamina and doing a lot of swim sets," said Adrien.
"I think it's different for each of us," said Dionne. "Adrien is training with the national team for water polo right now, so she's in the pool doing her exercises. Kelsey and myself swim with the same Masters team, so we're also in the pool. Meghan, she's in Swift Current and actually runs the pool there, so she has access to that. Elise is also a synchronized swimmer, and a member of the Saskatoon Masters team. Myself, I'm in the open water as soon as the ice comes off and sometimes before, and Nichole doesn't have a pool, so she's also in the lake as soon as she can get there."
Adrien says that swimming in Lake Diefenbaker during those three days and nights brought with it a rotating cycle of weather, including a brief period where they had to head back to land and wait things out.
"It varied," explained Adrien. "All Saskatchewan weather; it could be nice and sunny one minute and then you've got rain the next. There was always that Saskatchewan wind. The first day, we started off pretty good and the conditions were really nice, and then later in the day was a bit windy. At night, it started to calm down a bit, and then on that first night, we actually experienced a bit of a storm and so we had to get the boat to shore. There was a good three-hour period where we weren't able to swim and had to stay on the land and wait it out a bit. Then we'd get started again, and basically had wind until we finished."
With the itinerary divided up by time and with each swimmer going in one-hour rotations, each of the women spent the same amount of time in the water. Whether there were sunny skies or windy waters, the group just kept on pushing in order to complete their mission. Reflecting on the past few days, Adrien says they're all happy to see that people connected with what they'd set out to do and gave their support.
"I think it's just gratitude, seeing how much people are willing to support," said Adrien, asked how it felt to see the success of their swim. "I think it means a lot to the YWCA and it's such an important part of helping to allow them to do a lot of their programming. It's very heartwarming to know that a lot of people will be impacted by the generosity of the community. It just really means a lot."
With swimming being the central activity that connects all the women, could there be another epic swim some day? Dionne laughed and said she wasn't sure what the future held, but that it's great that people saw the need and pledged their support.
"Swimming is what I do," said Dionne. "Maybe another lake? I actually swam La Ronge in 2016, and I think it makes it easy to tie a fundraiser into it. It's nice if you can get support and if you can help somebody out doing what you love."