OUTLOOK - Leading up to the big day, there were probably about a thousand questions on the minds of many people.
Would the people show up to appreciate this? Does this kind of old-time music still have an audience? What are the reactions going to be? Will the building be ready in time?
It's safe to say that all expectations and feelings of worry and doubt were obliterated on Friday afternoon, May 26 when a jam-packed crowd of old friends, familiar faces, and family members from here, there and everywhere filled the Bounty Theatre hall in Outlook for the grand reopening of the legendary music venue that goes back many, many generations.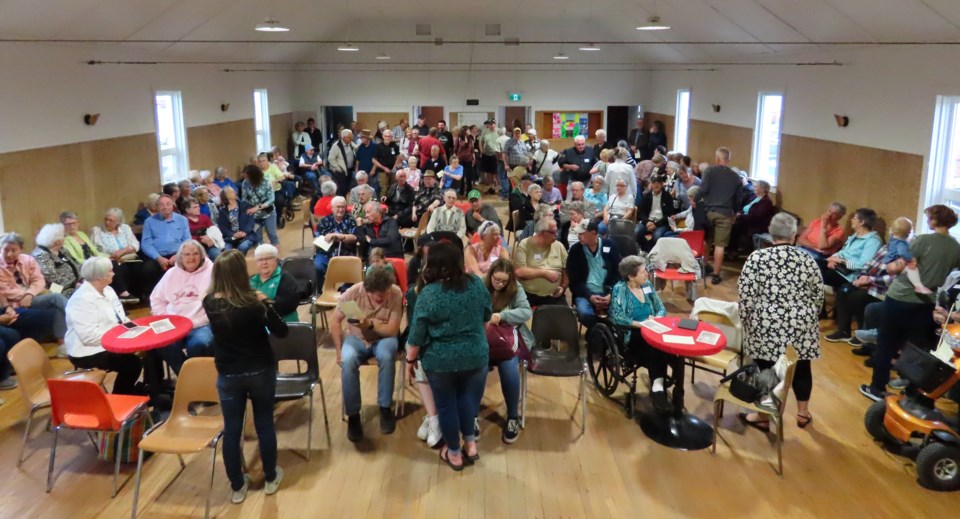 Welcoming everyone to the festivities that helped kick off the Prairie Festival weekend of events were the Town of Outlook's chief administrative officer Kevin Trew and town councillor Sharon Bruce, who brought greetings from the riverside community. Sharing a few words, Trew made special mention of Gary and Gerry Joyes, two of the hall renovation project's most dedicated volunteers. A special plaque was created for the pair, which now sits on the wall at the back of the theatre, and special recognition was bestowed on a person whose generosity helped push the project along.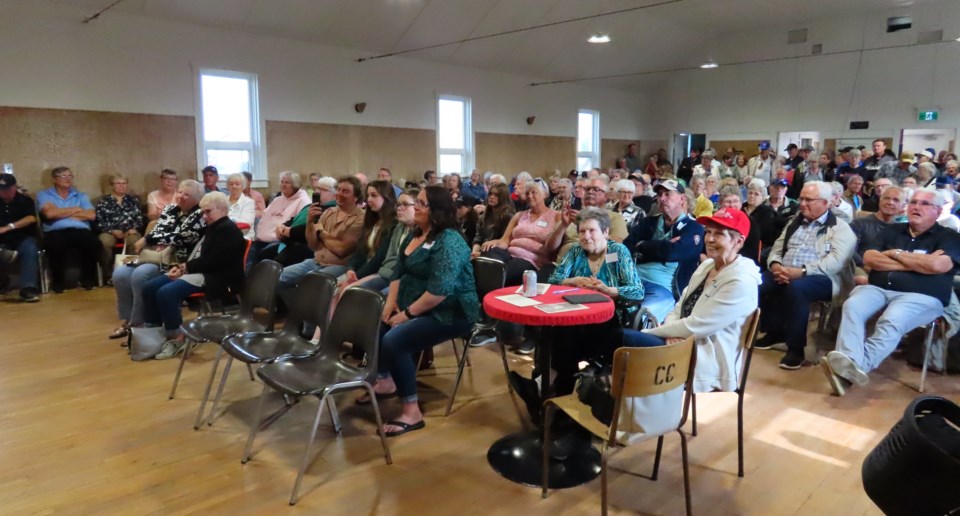 "The heart and soul and passion that they have put into this place is absolutely amazing," said Sharon, touching on Gary and Gerry's many efforts with the hall. "Any kind of project needs to have that passion and drive and love for the place, but what it also needs is money. And for that, we have Gordon Silverthorn to thank. The donations that he has made into making this happen is absolutely amazing, and we thank you from the bottom of our hearts. We would not be anywhere near where we are today without his generous donations."
In recognizing Silverthorn's contributions, the hall's ticket booth was dedicated in the names of Gordon and Autumn Silverthorn, with a plaque that will also hang on the wall.
Sharing memories, recollections, and more than a few grateful tears was Donna Lewis, representing the Bounty Theatre Committee. Donna's late husband was Gary Lewis, one of the hall committee's most vocal and dedicated members who hoped to one day see the venue restored and brought back to prominence.
"It's good to be home again," said Donna, who thanked the Town of Outlook on behalf of the committee. "When I walked into the hall, I was completely overwhelmed with all the good memories that all of you have shared in this 'grand old lady'. Now, that grand old lady - Bounty Theatre Hall - stands on a lot right beside the Outlook & District Heritage Museum looking new, feeling good, and safe and sound!"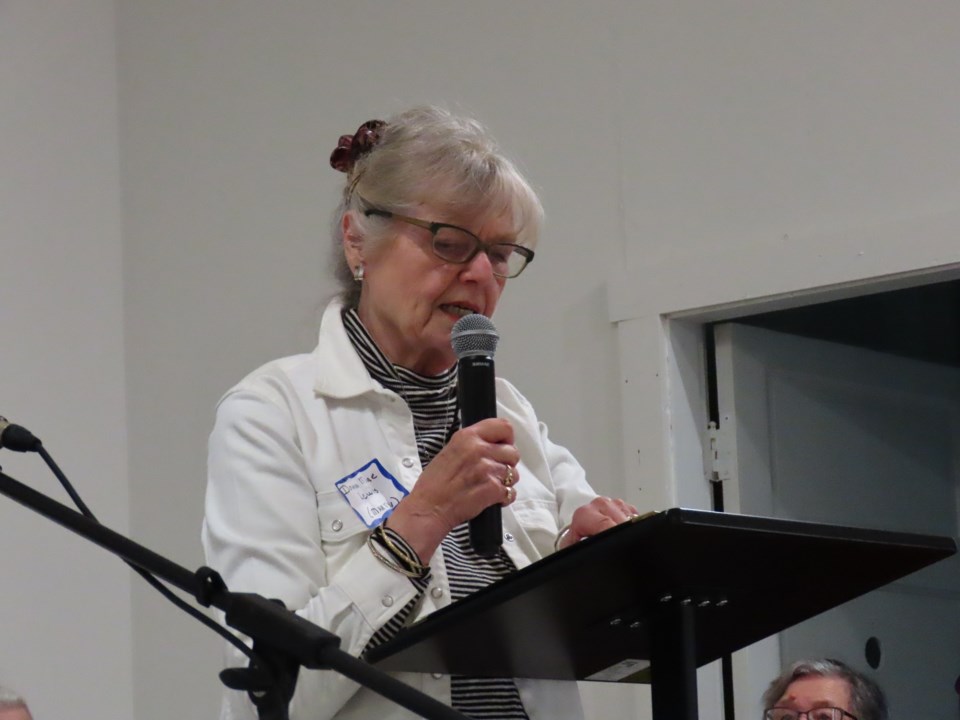 Following Lewis's words, music came alive in the iconic hall for the first time in over two decades.
"We want to start with entertainment that HAD to be the first entertainers at the reopening of the Bounty hall," said Trew. "I want to introduce to you, Dale and Shirley Dallas."
Before their set began, Donna shared a few final words about the history of the piano, of which the notes were about to be heard.
"This piano that you see right here is 123 years old," she said, pointing towards where Shirley was seated at the piano that used to sit in the home of this reporter. "The piano was purchased in Ontario and brought out to Saskatchewan by John and Mary Jane Dallas in 1910. It was a fixture in the living room of the Dallas household for decades, witnessing too many Christmases, wedding parties, and any other excuse the Dallas clan could come up with together around with friends and family, enjoying each other's company and playing music. Generations have played their first notes of music on this piano over the years. It has had many sets of fingertips play the keys, and many ash trays and whiskey glasses set on top of it. And yet, not too much sheet music; at the most, the family played by ear. Many of the same family members who played along with this piano over the years also performed on this stage: Merle, Wilbur, Hazel, Lloyd, Shirley, and Dale Dallas, and many other family members and friends. The piano eventually made its way to Lynda and Jack Ruttle. Lynda and Perry Ruttle, her oldest son, came up with the idea of donating it to the Bounty hall, where it could be played, enjoyed and proudly displayed as a tribute to all of those who not only played music in the family living room, but up on this stage."
With that, the Dallas Family, consisting of saxophone player Dale Dallas and pianist Shirley Hnatyszyn, took their place onstage and performed a medley of tunes that were no doubt recognizable to many gathered in the hall and perhaps woke up some nostalgic feelings of yesteryear. Along with them were Milden guitarist and singer Glen Adair, as well as the Myrol Brothers, who performed a crowd-pleasing song in tribute to the Bounty Theatre before they were set to take the outdoor stage beside the venue.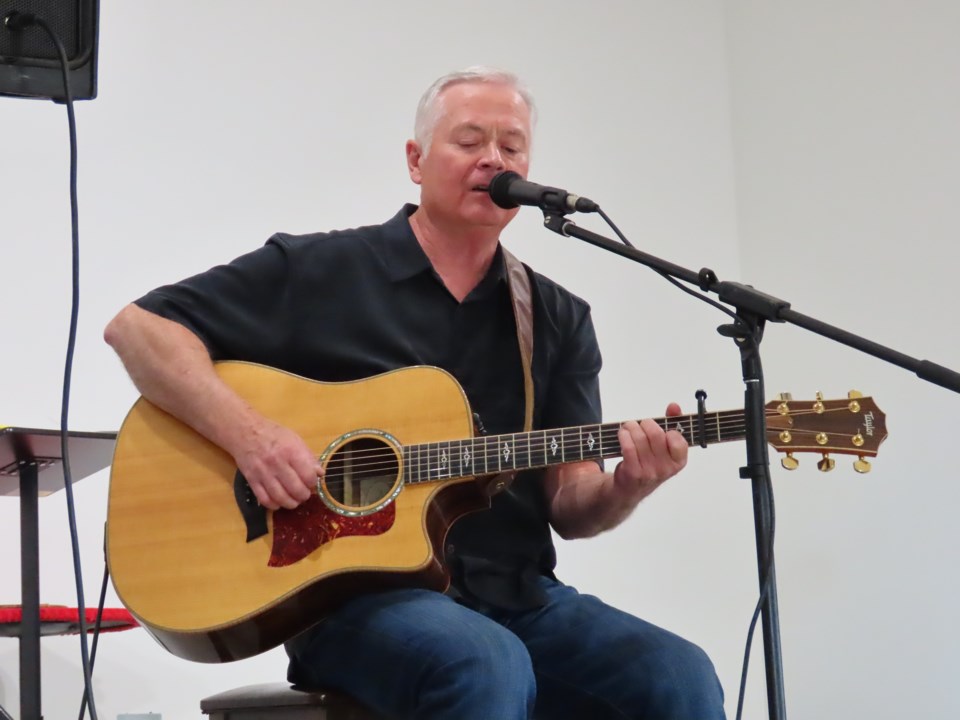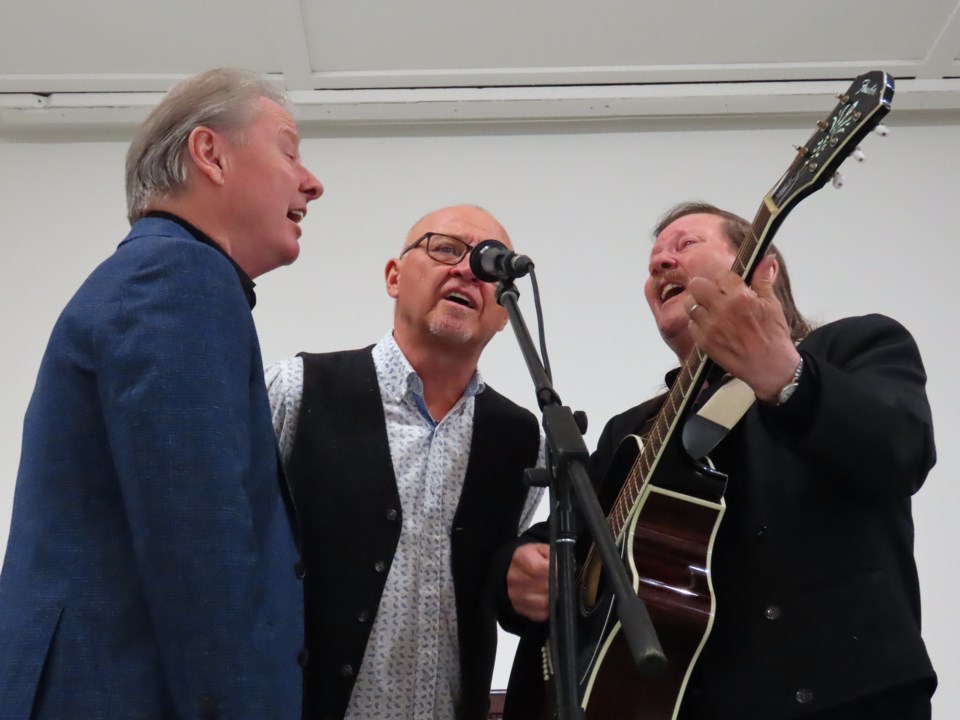 In celebrating the reopening of the hall, cake and cupcakes were provided to everyone in attendance by Outlook mayor Maureen Weiterman and councillor Kyle McLeod.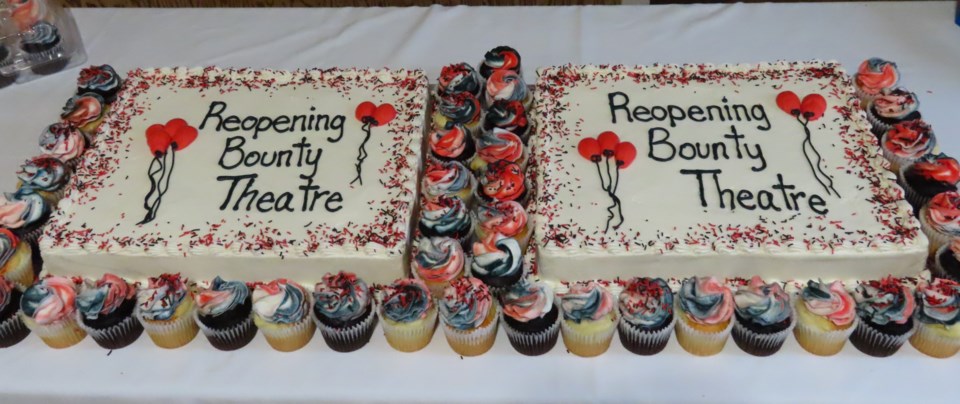 The memorable event brought back a flood of memories for many people and helped usher in a new era for the theatre hall. Perhaps the most fitting way to conclude this particular story of a beloved venue that will hopefully make more memories in the years ahead is to simply share the words that can be seen on the piano onstage:
'In honor of family and friends who entertained our communities for over 100 years. Generations may pass, memories may fade and times may change, but music lasts forever...'