OUTLOOK - Take a short cruise just north of Outlook into the Rudy Landing Estates neighborhood and odds are you'll feel like you've left the small town life behind you.
When you arrive at 150 Rudy Lane and take in the amenities and the views, you might just feel like you've arrived at a whole other part of the province altogether.
That's where you'll find Bird Lovers Bed & Breakfast, owned and operated by Judith and Glenn Annand. This year, the B&B is marking ten years of business, and in all that time, the stories that have come from the rotating lineup of travelers and guests have to be virtually endless. In the meantime, those same guests have undoubtedly made a memory or two at the eyegrabbing location.
Strolling through the woods just off of the home's backyard lawn, it isn't long before you arrive at the B&B's hidden gem - four lawn chairs decked out on a grassy bluff that provide a view that overlooks the South Saskatchewan River valley. Sitting in one of the chairs alongside Judith on a golden prairie evening on Wednesday, July 21, this reporter couldn't help but think aloud, "Wow. This is HERE?"
Judith is happy to see the B&B mark a decade in business, and even happier to see we've gotten past that whole COVID thing to the point where life can return back to normal.
"It feels really good, especially these last two months!" said Judith. "Ever since COVID became basically wrapped up, people are trying to get together for family reunions, get-togethers. We've just had ten great years, and we've had A LOT of guests in those ten years!"
Running a business that sees a menu of different people from here, there and everywhere come and stay can bring a lot of memories. Over the course of ten years, Annand has heard many stories.
"Oh, there's so many," she said. "We get lots of people from LCBI, as they have a lot of class reunions. There were three sisters who I think were all in their 80's, they were here. They were telling all kinds of stories about how they'd come from Swift Current, where their parents didn't have two nickels to rub together, but they managed to send three girls and a brother to LCBI! It's people like that, right? The pipeline guys were always interesting, as you'd always get updated on what's going on. Once, we had a guy from Holland come and stay, who was here to fix a combine. We've had locum doctors stay, people who stay for funerals, oh gosh, just a lot of people who've come and gone."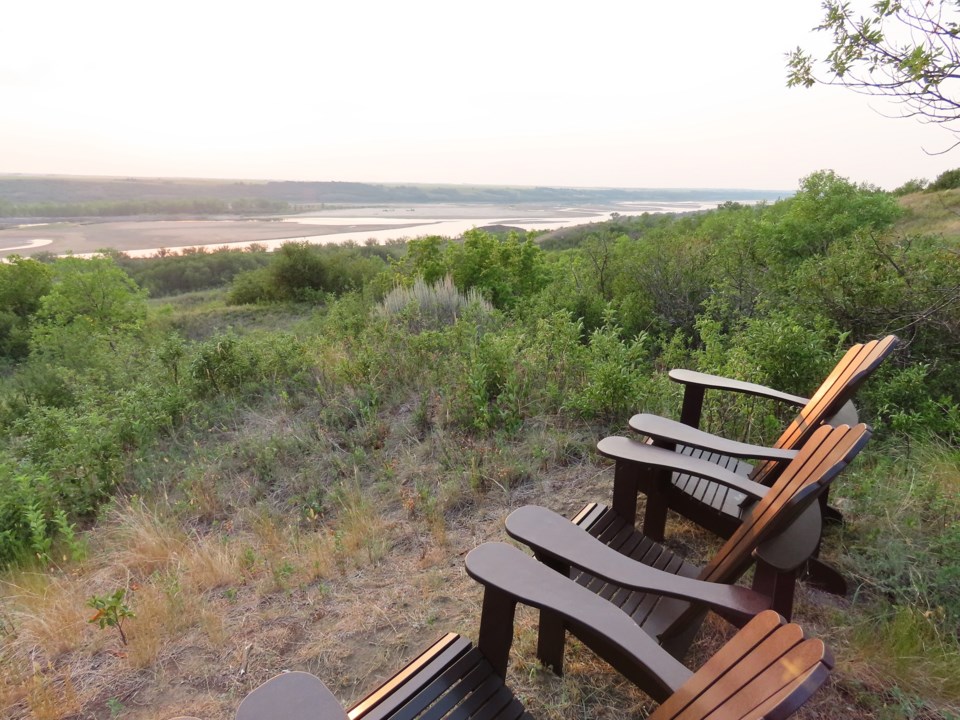 Before calling Outlook home, Judith and Glenn operated the same kind of business on their farm. When it was time to make the move, they were able to design their would-be home to be accommodating of such a venture.
"We were farming in Mossbank and we did it for years there," she said. "It was mostly hunters. You'd get seven solid weeks of hunters. When we came here, we knew that having done it for so many years, this was so much better as we were able to design the home for a bed & breakfast."
Perhaps the biggest challenge in running the business is communication with guests, and with that, Judith says there's one invention she's so glad to have seen become a staple of everyday life.
"The best thing to happen in the last ten years or so is cellphones," she said. "In a hotel, you've got someone on the front desk and so it doesn't matter when you go out or come in. Here, and especially if it's your first time coming, I need to be here to make sure you get here. These days, I'll accept your booking if you give me your cell number! I don't want people to stop their fun, but just a heads up and let me know your plan."
Of course, being in the accommodations line of work, double booking could become a problem. Once, Judith remembered having forgotten to write names down for a stay, and after discovering the possible overbooking, it was soon revealed that the man hadn't called Bird Lovers, he'd called the Bird's Nest motel in town for a reservation.
When asked about the benefits of running her business, Judith says it's really everything that we'd already discussed. It all comes together to create the story of this B&B.
"Really, the benefits are all of the above!" she said, reflecting on our conversation so far. "If people want to stay in a motel or hotel, they do, but you have to want to stay in a bed & breakfast. You realize you're going to be in somebody's home. It just works so well, and it has for ten years."
Without a doubt, summertime is the high season for a business such as Bird Lovers. With so much going on, people just want to know they'll have a place to rest their head at the end of the day.
"For sure, the summer is our high season," said Judith. "Family reunions, LCBI reunions, or people just driving through and going across Canada. A lot of people just coming to visit will pop in. I've even had older people come and stay, whose kids are out staying at the winery! I'd say it's just a regular flow of people that goes through Outlook."
As COVID settled in across the province, businesses of all types have felt the impact. At Bird Lovers, the pandemic certainly did a number on its numbers. But Judith found a way to make it work.
"People weren't even cancelling - they just didn't show up," she said. "It just dried up totally. Although, we did have a few, and we were never really officially 'Closed'. We're not down there and we didn't have to interact with people at all. But it's really been picking up since then."
The thing that makes a place such as Bird Lovers different from other accommodations is perhaps how the business operates, as you're staying in another person's home. The whole thing, including the surroundings, just makes for a vastly different experience.
"I think it's apples and oranges," said Judith. "It's a different experience. The best thing about my job is meeting the people; I've got the world coming to my door! Outlook is an amazing community as it feels like the whole world comes here in one way or another. It's just an awesome place."
For all the challenges of the job, including a lot of laundry, it's all worth it in Judith's eyes. Although guests may not become close friends per se, what with the sometimes brief duration of stays, so many of them have definitely made their mark and left Annand with a lot of memories, particularly the ones that have come back time and time again. It's been ten years so far, and in her mind, Judith will keep doing this for as long as it's worth it.
"For as long as it's fun!" she said. "It's just worked out so well here. I've always thought that it's a good thing the town has always had the two motels. The more beds we have around here, the bigger things that we can bring in!"
For more on Bird Lovers B&B, you can check out their website at birdloversbandb.ca.