As I type this out, Christmas is only six days away.
It never fails to amaze me every December just how fast the previous twelve months have come and gone. It feels like articles that I wrote back in April or May were just a few weeks ago, but that just isn't the case.
In my line of work, where you're mapping things out one, two, sometimes three weeks ahead, it just seems like as if the days aren't long enough. You blink for too long, and a week goes by. You turn your head and cough a little, and suddenly it's a new month. I'm afraid that if I doze off, I'll wake up and it'll be next July.
But that's not reality. It certainly feels like as if time jets by, but it doesn't. Time is constant, moving at the exact same speed for everyone on Earth. It only feels like as if it moves lightning-quick if you find yourself having a very busy year. I'm happy to say that we here at The Outlook indeed had a very busy twelve months. It felt like as if everyone was ready to pick themselves up, dust off the challenges and restrictions that came with the whole pandemic, and resume their lives. It was awesome to see things return to normal, and the result saw perhaps a renewed appreciation for everything that we have in this little west central slice of the province.
So, with that, we find ourselves getting ready and putting the finishing touches on the Christmas season. Gifts are being wrapped and labeled, recipes are being pulled out of drawers, lists are being written and checked off, and the excitement is certainly building. Events are also being attended, and I'm proud to say that here in Outlook, it felt like as if the riverside community became a Christmas village with not only the Winter Wonderland drive-thru exhibit down in the regional park, but the Celebration of Christmas walkthrough exhibit that was hosted at the Civic Centre by Equinox Theatre.
When it's not community events being hosted, it's certainly family and friend events that can help instill some holiday excitement. I very much enjoyed having supper out at my uncle Dale's a couple of Saturdays ago, where we enjoyed an incredible turkey meal, many games of Uno and Hearing Things, as well as fireworks. As well, a pre-Christmas get-together with all my best friends this past Saturday in Saskatoon was just what the doctor ordered. I love when we can organize those kind of events just before the holidays because they serve as something of a kick-off to the season that I always enjoy.
I'm lucky to say I have many cherished memories, but my favorite Christmas memory doesn't necessarily involve a gift, but rather a secret bit of information exchanged between father and son.
It's 1995, and it's once again one of those years where all the kids and their families are coming to fill the Ruttle Family Compound in Conquest. Mom, Dad, my brothers and I have just eaten supper and soon there's a knock on the door. It's my oldest brother Jim, the first of the clan to arrive. Bags are hauled into the house, drinks are poured, and soon we're all sitting around the table visiting. Jim pulls out a couple of gifts from a bag and hands them to Perry and Brendon. He stops and looks at me, and tells me that unfortunately, he doesn't have anything in the bag for me because the gift he intends to give me is something of a 'special project' that he's still working on.
I tell him 'No problem' and take a drink and some snacks into the living room, where I'm watching a wrestling tape on the VCR.
A few minutes go by, the murmurs in the kitchen being drowned out by body slams and piledrivers. Then I hear the distinct sound of my dad Jack getting up from the table, and he says he'll be right back, he just has to go to the bathroom.
I see Dad out of the corner of my eye pause in the entry between the kitchen and living room, and then when he's out of eyesite from Mom and Jim, he pivots and walks toward me. I'm sitting on the floor, and bad knees be damned, Dad takes a knee in front of the TV beside me. He puts his head beside my ear and proceeds to tell me this:
"Just so you know, your brother is working on getting you a Hitmen jersey from that team they got in Calgary. I just figured you should know because I don't like the idea of you not getting anything from your brother, so you can at least have something to look forward to. But this here's just between you and me. Alright? Alright..."
With that, Dad received his visible confirmation from the smile on my face and proceeded to get back up. Reports from provincial conservation officials after the holidays were made public that local wildlife were suffering from shell shock due to the earth-rattling shotgun blasts that came from Jack Ruttle's knees on that Christmas Eve night.
That gift from Jim came in the mail after the holidays - a Calgary Hitmen WHL jersey. I still have that jersey, 27 years later.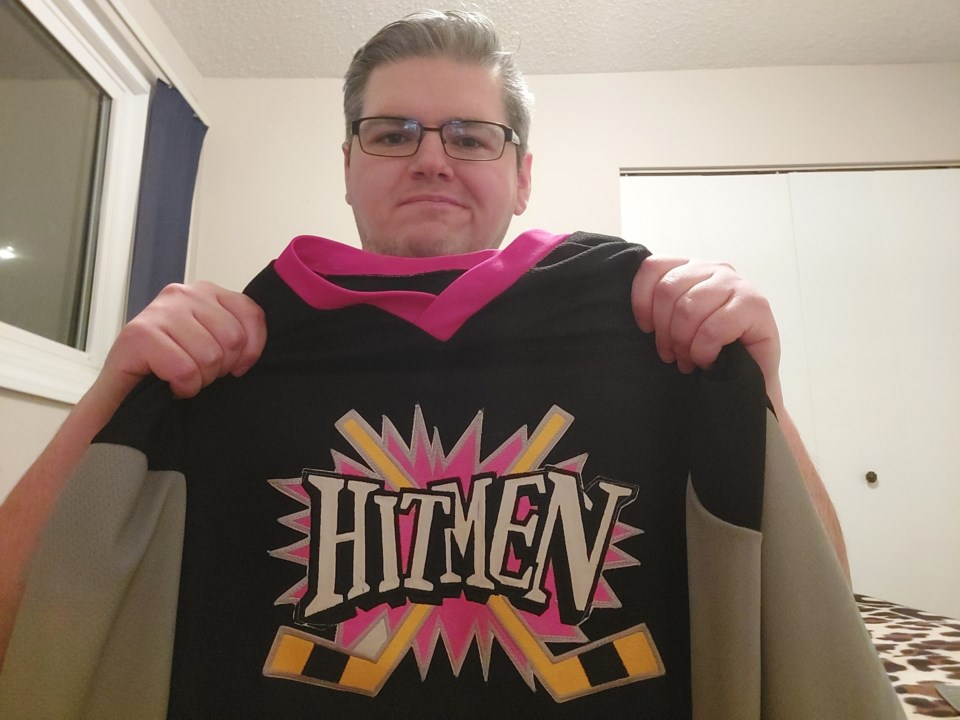 I think about that memory every year. I think about my dad, making that signature Jack Ruttle Shuffle over to me on the living room floor, painstakingly getting down on one knee and relaying that information to me, all because in his mind, no kid should ever be disappointed at Christmas.
I think about that memory every year and I smile. My God, how I miss that man and the way he looked after his family.
I hope you and yours make your own memories this holiday season.
Merry Christmas, everyone. We'll see you in the New Year.
For this week, and for this year, that's been the Ruttle Report.