OUTLOOK - For Part 5 of The Outlook's special series looking at the jobs and duties that are being carried out by the people who work for the Town of Outlook, we go on a bit of a shift in location from the office setting to......poolside?
Yes, that is correct. We move from the standard four walls, a table and chairs in favor of a couple of loungers, some warm sunrays beating down, and that familiar chlorine smell that can only mean one thing - we're at the pool.
That would be the Van Raay & Community Swimming Pool in Outlook, to be exact. I'm here to speak with Chantelle Segovia, the pool manager, and it's easy to see that she's someone who clearly enjoys her job. What other job around here lets you throw on some swimwear and go for a dive here and there?
Having been with the pool for a little while now, Chantelle's starting to find her groove.
"This is my third year with the Van Raay & Community Swimming Pool," she said, sitting down with this reporter. "In my first year, I was a guard, and last year was my first year managing, and this year, I would say, is my first 'successful' year managing!"
A homegrown 'Outlooker', Segovia found herself in other places before a chance meeting with someone from the town staff resulted in her returning to the community.
"I'm actually originally from Outlook, but I went to college in Saskatoon," she said. "So, I was working with a private swim company for a year or two, and then after Megan (Anthony, Outlook's recreation director) approached me and said that they had some lifeguard positions, I decided to come on and I haven't looked back since."
As an attractive leisure spot that serves all manner of people, especially in these hot summer days, the daily tasks that come with operating Outlook's swimming pool can and will vary depending on the public demands. Segovia says they do their best to try and offer something for every age group.
"It really depends on the day, for sure," laughed Chantelle, asked to describe a typical day at the pool. "But a typical day looks like starting things by opening the pool at 6:00 AM for lane swimming. After that, we run our lessons, and for the afternoon we have public swimming, and then in the evenings, we have lane swimming and aqua-size. That way, we're able to kind of meet every member of the community and try to get out as much programming as possible. We do like to keep things moving, so in June and some of August, we do parent and tot swims in the morning so that families can take part and have a plan with the whole family."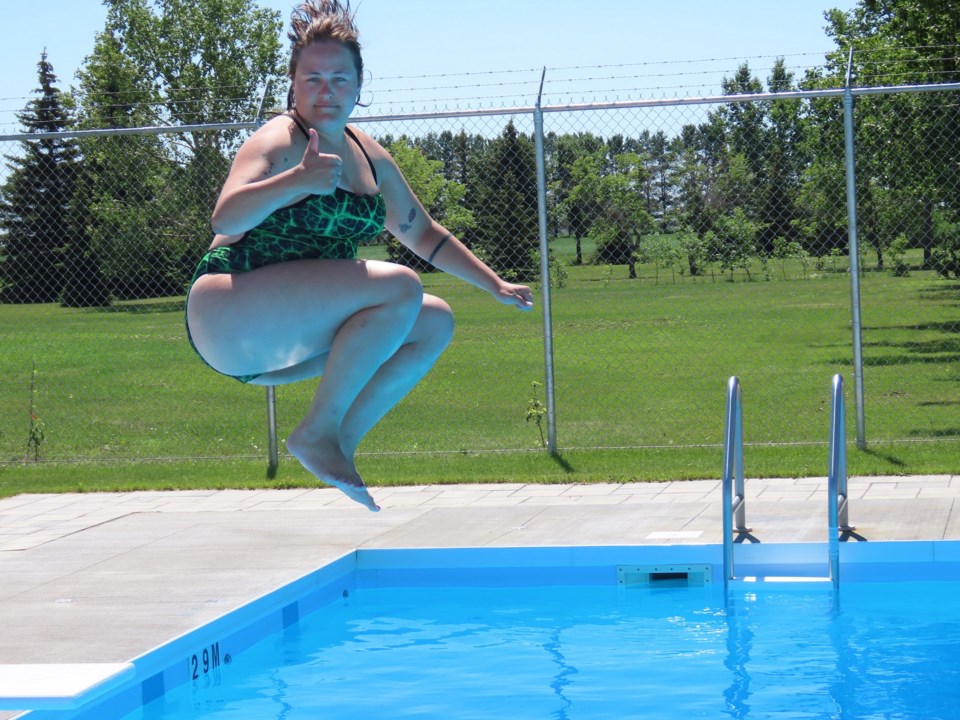 Maintaining public safety is obviously a key component in operating a pool, but so is making sure that your staff are all equipped with the knowledge they may need in the event of an emergency.
"Keeping people safe, for sure," said Chantelle, on her job's biggest challenges. "There's a lot of pressure with the lifeguarding, so we just try to do as many in-services throughout the summer as we can to keep the guards well-prepared. We send them for courses and the Town supports that as well, which is super helpful. And it's also just the little things, right? Kids are here to have fun, so we want to make sure they do, but safely. That can be the hard part."
On the flip side of that coin, Chantelle loves that her job brings with it a number of benefits that allow her to truly enjoy what she does every day.
"Being in the sun is one, that's for sure," she said. "Staying fit on the job really helps, too. I really love working with children, as well as a lot of our instructors. It just brings a certain energy and life into the pool."
In discussing parts of the job that the public may not know much about, Segovia falls right in line with other people that this reporter has interviewed about their positions. That's because much like the previous people who've been profiled for this story series, Chantelle says there are certainly other tasks and jobs that need to be carried out so that the public can enjoy the pool.
"Yes, absolutely," she said. "We do an immense amount of training, not only for in the pool, but we also do a lot of chemical training because whatever you bring in, you're swimming in, and we want to keep you safe. As well, there is a lot of flexibility as the weather changes and as lessons change, but the guards have been resilient this year and they've done a great job keeping up with us."
The position has made Segovia learn to make preparations for anything and everything that could happen, as well as develop a flexibility to roll with the punches for anything else that can pop up from time to time.
"It's a lot of organization," she said. "I figured that a pool job would be super fun, and it is, don't get me wrong, but there is a lot more than meets the eye. I've really enjoyed learning the system and learning to get ahead of it so that I can make plans, and I think that next year, we're going to try for even bigger things."
Chantelle says that what helps make Outlook stand out as a community is the fact that it's surrounded by so many other villages in the area, which can only add to what Outlook can offer people.
"It's a surrounding community, so I find that a lot of smaller towns like Macrorie, Broderick, Glenside, and Loreburn can really bring people into the community," she said. "It keeps it vibrant, and the camping really helps too, as we do a 'Stay and Play' package. I came back after being gone for five years and it was like I never left. People welcomed me back with open arms and they were excited, and it makes me want to do the job because I like working for the people too."
When asked if she had any words for the public, Chantelle had a short but concise message that she hopes reaches everyone.
"Stay safe, have fun, be respectful, and enjoy your summer!" she said.
With temperatures what they are and a place like the Van Raay & Community Swimming Pool being open to let people cool off, it's safe to say that a lot of people are indeed enjoying their summer in Outlook.