OUTLOOK - I can remember that my ears were ringing as I left The Roxy music hall in Saskatoon that night back in March.
It was the kind of ringing that one typically gets after a vibrant, heart-pulsating rock concert, and to say that I witnessed one that night would be like saying that KISS likes to wear "a little bit of costuming" for their shows or that Elvis had put on some "winter weight" in his later years.
I watched Outlook rock band Bad Influence take the city stage in Round One of the venue's Band Wars competition. They didn't have a very long set, but it was obviously apparent that they'd struck a chord because, well, Round One became Round Two. From there, Round Two did in fact become Round Three.
Hold up a sec - are you telling me and this band's fans in Outlook and area that a group from the small riverside community has a chance at beating out groups from larger urban areas who've been together for a lot longer than a couple of years?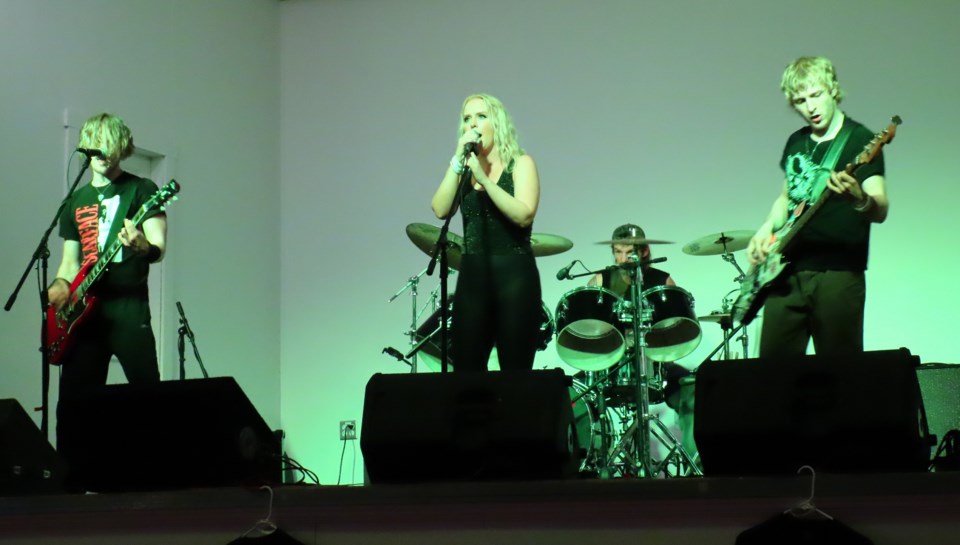 That's precisely what the timeline of events was telling everyone. Bad Influence, leaving it all on the stage each night, impressed judges to the point where they made it to the final round of competition on Thursday night, April 20, delivering an explosive final set before the judges met to make their decision. When the results were read aloud, the band learned their fate and the support rang loud as they took 2nd Place, beating out a large handful of other groups for the honor. It wasn't the top prize, but in all honesty, it may as well have been judging from the reaction seen just off the stage from the band.
Bad Influence is comprised of lead singer Syhra Ellis, guitarist Josh Rude, bassist Bailey Parr-Kennedy, and drummer Scot Wallace. Sitting down with the group prior to them taking the stage at the Bounty Theatre on Saturday night, May 27 for Night Two of Outlook's Prairie Festival celebrations, this reporter wanted to dig deeper and learn more about this high-voltage, energetic quartet.
It was Josh who got the ball rolling with what would turn out to be the formation of the band, looking for someone to help bring his songs to life.
"I wrote a bunch of songs, and I needed a band," explained Josh. "I knew Scot because we'd played in a few other little projects together over the years, and I told him that I had these songs, and so we just got together and started going at it with guitars and drums, to begin with. And then we've known each other for 20 years (motioning to Syhra) and been really close friends forever, and so we'd actually worked on songs together many times over the years - "
"Some of the ones that we're actually doing tonight," added Syhra, previewing their set for that night.
"Absolutely," Josh continued. "I'd write songs and just go, 'Ya know, I hear your voice on this.' But our schedules just didn't line up back then, but the stars aligned a few summers back and I told her, 'Why don't you come and check it out?' She always wanted to be up front for heavier music, and now she can do it. She showed up to rehearsal, and she was so nervous, it was kind of funny. But of course, she crushed it. I don't think Scot had ever met Syhra before."
"I don't think we'd officially met before," said Syhra.
"I'd seen her play piano before, and I remember saying, 'You'd be good in a band'," said Scot.
"I didn't know that that practice was an audition!" laughed Syhra.
The Outlook trio knew that they needed one more ingredient to level out their sound - a bass player. Luckily, seasoned Saskatoon performer Bailey answered the call when word went out that the group needed that crucial fourth member.
"Basically, I saw an advertisement that said they were looking for a bassist at Long & McQuade," said Bailey. "Very Motley Crue-esque, I suppose. I phoned him up and said, 'I'm gonna try my hand at this'."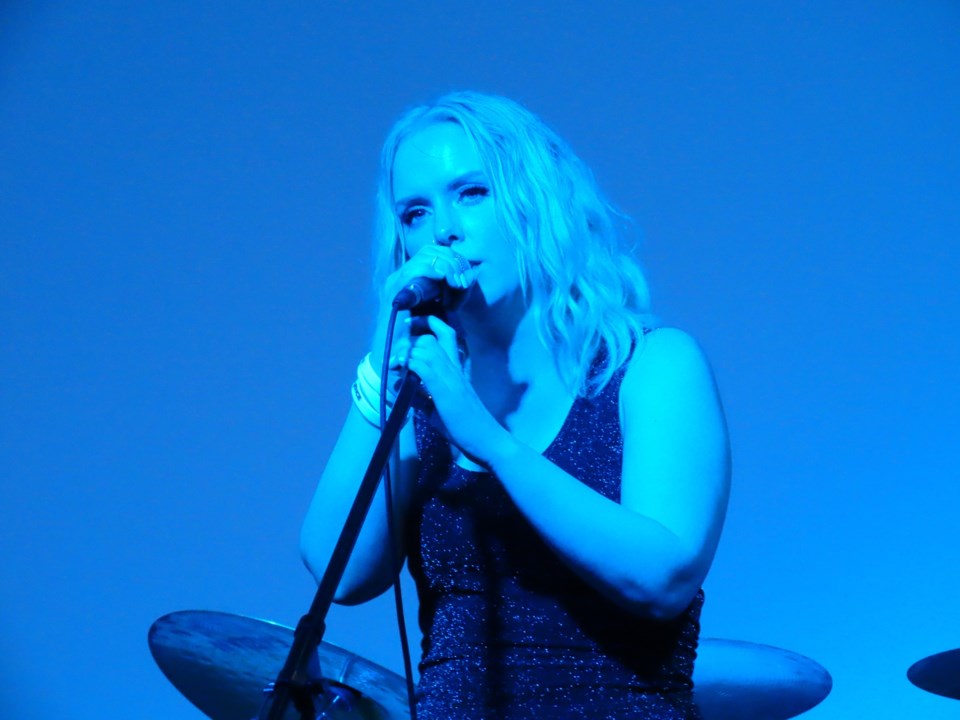 It's been a little over a month since the Band Wars event helped elevate the group and instill perhaps some confidence. Looking back on it, the band says they went into it with no set expectations.
"I brought it to the band and said, 'We should do this'," said Scot. "We kind of just wanted to get through that first round, with no expectations of winning or anything, and after that first round, we did really well and we thought, 'Hey, let's go for it and see how far we can get'."
Getting through that first round and being invited back, the group started to see the potential that was starting to form a picture on the horizon.
"We weren't sure where we stood compared to everyone else," said Syhra, touching on the sets performed by other groups.
"Originally, it was a lot about networking with other Saskatoon bands and trying to get to know people on the scene better," said Bailey.
"I think the connection-building is probably what I consider the most valuable," said Josh.
"I was personally just excited because we were playing against other bands that I'd already idolized a bit," Bailey added. "That was pretty cool because they were already well-established."
Upon realizing that they'd taken 2nd Place in the event, the band was thunderstruck to see how well they'd done when they remembered that at least a dozen more-established and well-seasoned groups were vying for such an honor.
"I was over the moon excited," Syhra remembered. "I wasn't sure if we'd place, as I knew there was going to be a lot of really good talent there, and so I was not prepared for anything. To get second place was pretty exciting."
"It was 'Huggin' Time', you know?" said Josh. "We were pretty happy. I remember Bailey and I, we were sitting together and this was when we were huddled together, and in a way, we really weren't even wanting 1st, but we were just like, 'As long as we place, we're happy!' As long as we're doing that Nickelback afterparty, it's cool."
"I just remember my immediate reaction was, 'Time to tackle Josh!'," said Bailey. "I was just so excited. I remember tackling him to the floor and cuddle-puddling it up. I was over the moon."
"I was pretty shocked," said Scot. "After seeing the final, I wasn't sure we were going to place because everybody did so well, and I thought it would just depend on what the judges like. Obviously, they liked the female vocalists, picking Lara first and then another female second."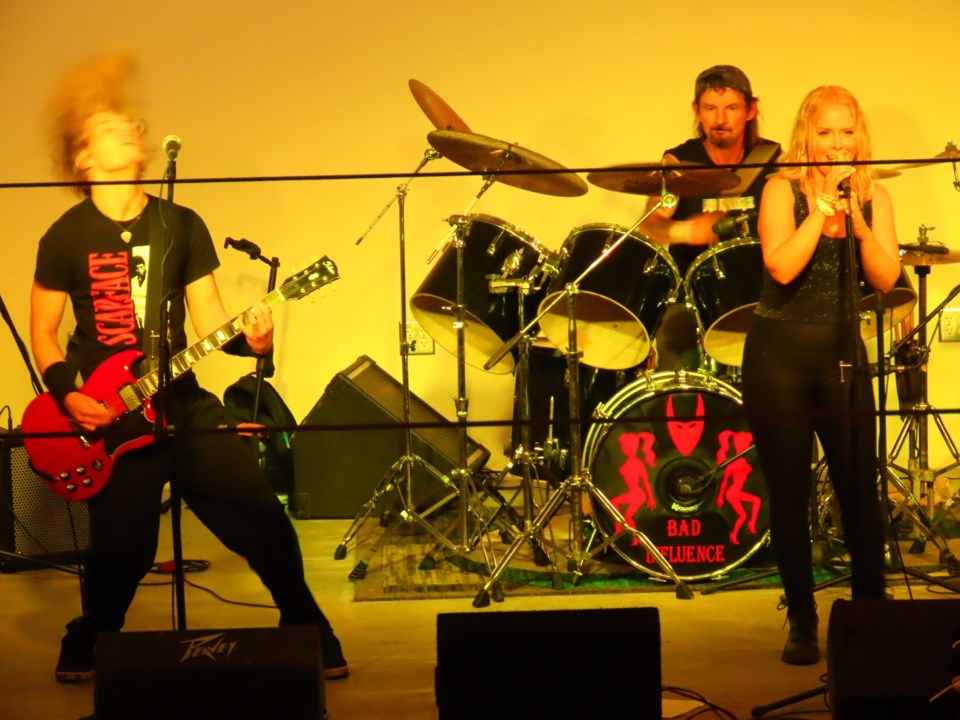 Going into a show, each of the band members brings something different to the stage when it comes to their own influences. For some, it's the freedom to do something completely different than what they're used to, while for others, it's harkening back to the classic vibes of performers from yesteryear.
"I wouldn't say I have any particular influences," said Syhra. "I just like playing heavy, and I wasn't able to do that on my piano. With this, I'm just able to let loose up there."
"Oh, there's tons of stuff," said Josh. "I grew up on all the big visual metal and punk bands. I tend to like the visual side of the show, too. I like people to leave a show feeling like they saw an action movie."
"In terms of my inspiration for playing bass, John Entwistle from The Who is a pretty big inspiration," said Bailey. "Being from a classical background, I kind of gravitated toward that classical finger style. In terms of actual stage presence, Sid Vicious from the Sex Pistols is a pretty big inspiration; I like to jump around, cheer the crowd and get energetic."
"I'm the old guy, so I go way back," said Scot. "I grew up with Led Zeppelin, Van Halen, KISS. I'm a huge Rush fan, and Neil Peart's the best in the world, in my opinion. A lot of drummers influence my style, and I played in a lot of rock bands way back in the 80's, and those kind of drummers were my inspiration, for sure."
Local music fans in Outlook and area might know Josh from a number of previous groups that he's performed with in the past. What sets this particular group apart, according to him, is the chemistry that everyone has in bringing together music and live shows that make a connection with the audience.
"Everything sets it apart," said Josh. "That's not to take away from anyone else I've played with because I'm friends with all of them and they're awesome, but when you get the perfect combination of people, you just know it. This was just the right blend. I always wanted a female lead vocalist because so much can be done with the vocals, and I like harmony blending with Syhra's voice. Scot is just metronome-solid and he's got all the flash that you need. He just lands the jet every time, and that's so valuable to have in a lineup. Bailey just learns everything lightning-fast, and he's got a dynamic that I really appreciate hearing from a bass guitar. I bring the songs to the table, but it wouldn't sound the same with a different lineup."
Rude, the band's primary songwriter, says being part of a group that blends and connects so well together is what's key to their growing exposure and what makes playing together so enjoyable. When he's approaching a new song, his influences allow him to craft it and then bring it to Syhra to put her harmonic touch on it.
"It's really like the roots of rock n' roll, but with big splashes of punk and heavy metal," said Josh. "That's kind of the blend that I like to work with when I'm writing a song. Syhra and I get together, and she arranges her own harmony parts, which is just crazy to me. That's something that's huge for me; when you have a vocalist who not only understands harmonies and can hear them, but can also structure them. Bailey, what he does on bass just adds this incredible dimension that he always kills. And Scot, well, no one drums them in like Scot!"
Watching the band onstage over those three nights in Saskatoon, it was hard not to notice the growth of Syhra as a performer and a stage presence. By Round Three, Ellis had the crowd in the palm of her hands as she took them on a vocal ride, and her sultry, not-so-innocent demeanor was definitely noticed by rock fans on those nights. She says that it's the crowd who helps drive her when she takes the stage, as she enjoys delving into something of a persona to give fans an experience.
"It really does, especially when the crowd is as fun as that crowd was," said Syhra, touching on how her role as lead singer helps boost her confidence. "It's a lot of fun to feed off of that energy, and it's something that I've never really done before. You kind of become a different character on the stage. I'm never really nervous before a show, but with those shows, I just wasn't sure how we were going to line up with everyone else. After the first round, we had really good feedback from everyone, and so when we came back, I thought, 'Okay, I don't have to be so nervous about this anymore', and I told myself I'd just do my best."
Keeping your eyes on bassist Bailey - when you can actually DO that, mind you - is almost a show in itself. The guy is just a bundle of physical energy, which is a surprise given that he just recently healed up from an excruciating injury.
"The ribs have finally healed!" said Bailey. "You see, I'm invincible, but unfortunately, I can still feel pain. You can't kill me, but I'm going to feel it! It's an interesting story: I was playing a show and I jumped offstage and I took something to the ribs. I'm still not quite sure what it was, but I heard a crack like as if my neck was cracking, and that was that! You can't keep me down. Honestly, I have an incredibly high pain threshold; I've broken just about every other bone in my body. When that adrenaline kicks in, there's just no stopping me."
As the seasoned veteran of the group, drummer Scot is the one who brings the thunder to each performance. One beat from the kick drum will go straight to your pulse, while one snap of the snare will feel like a gun shot. Wallace says that performing in a band with people younger than himself keeps him motivated and he enjoys every second of it.
"I'd say so," said Scot. "I try to not feel like I could be their grandpa, which I could! (laughter among band) They're all younger than my own kids, but it does keep me young. I had a lot of fun playing when I was younger, and this just gives me a chance to enjoy it again."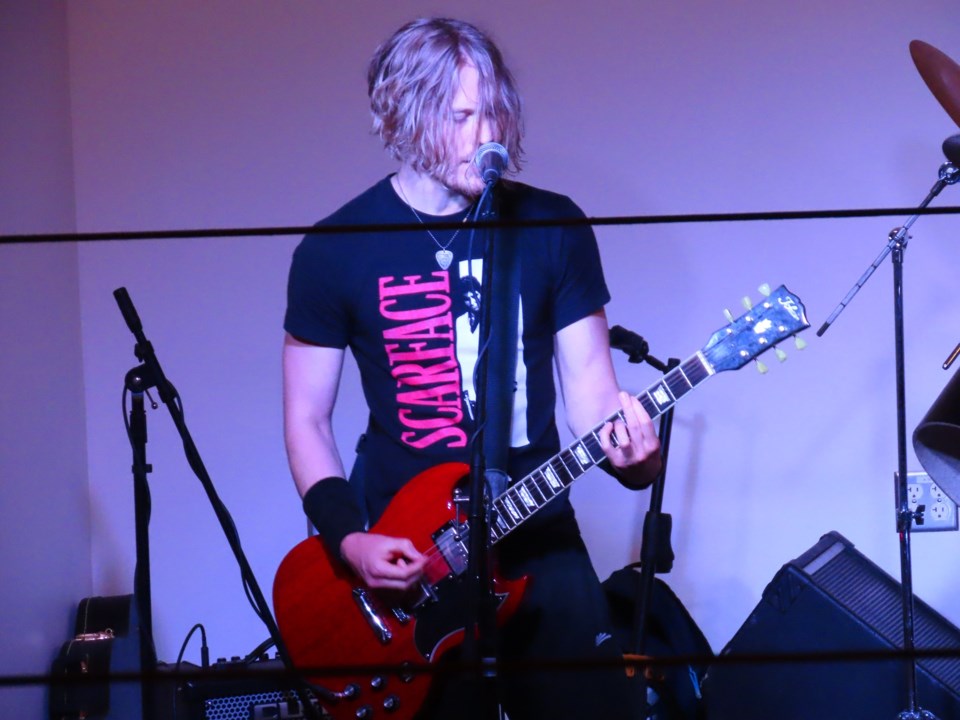 As this reporter has learned time and time again, asking musicians who their own favorite artists are and what their own favorite songs are is very much a loaded question. It's also, in a sense, all over the place; Syhra enjoys listening to a lot of rap music, but her favorite bands are the Eagles and Lynyrd Skynyrd as she grew up listening to a lot of classic rock. Josh, meanwhile, bows down at the altar of AC/DC, as well as the Misfits, and Bailey is quick to answer with Weezer as his favorite group. Finally, Scot points to bands such as Rush, Collective Soul, Aerosmith, and Led Zeppelin as some of his favorites.
Looking on what's coming up on the horizon for them, Bad Influence is very much looking forward to playing back at The Roxy on Thursday, June 22 as part of the lineup for the Nickelback afterparty show, which was part of the prize they received for coming in second in the Band Wars event. There's no rest for the wicked, though, as the group is also playing a show the next night on June 23 at Saskatoon's Black Cat Tavern, opening for fellow rockers Arcana Kings.
Ultimately, the band has come to the realization that by maintaining levels of drive, determination and patience, the sky could possibly be the limit.
"We'd love to go as far as possible," said Josh. "Things have moved very fast with this lineup and very quickly in the past two years. It was a dreary winter, and I think we were all getting antsy during that period. Let's just punch it and see where this thing lands!"