OTTAWA, Ont. – A Freedom of Information request reveals that law enforcement may have used ambiguous information about Canadian Forces veteran Jeremy MacKenzie and Diagolon, which in large part, led to the federal government invoking the Emergencies Act, say two investigative journalists.
Through Freedom of Information and Protection of Privacy (FOIPOP), independent journalists Caryma Sa'd and Elisa Hategan obtained 1,000 pages of internal RCMP documents on MacKenzie and Diagolon. The documents show that although the RCMP were investigating Diagolon, they didn't consider them a group, a militia, or a security threat.
"Diagolon does not pose a criminal or national security threat," the RCMP said in their reports. "The Canadian Anti-Hate Network (CAHN) is cited as the main authority on the group by all mainstream media outlets; due to the fact that all information traces back to one source, triangulation and the verification of facts is almost impossible at the current time."
On Feb. 14, 2022, the federal government invoked the never-before used Emergencies Act largely because of Diagolon's perceived threat to national security. After invoking the Emergencies Act, then Minister of Public Safety Marco Mendicino, told reporters: "Several individuals at Coutts have strong ties to a far-right organization with leaders who are in Ottawa."
In November 2022, during the Public Order Emergency Commission (POEC) inquiry into the federal Liberal government's use of the Emergencies Act, MacKenzie's lawyer, Sherif Foda pointed out that two days after the Emergencies Act was invoked, there was an article in the Globe and Mail quoting Mendicino that was later proven to have referred to Diagolon.
Mendicino had said: "It could have been deadly for citizens, protesters, and officers. We need to be clear-eyed about the seriousness of these incidents and indeed several of the individuals at Coutts have strong ties to a far-right extreme organization with leaders who are in Ottawa."
When pressed further by the media at the press conference, Mendicino told reporters to direct their questions to law enforcement.
SASKTODAY.ca reached out to the federal Ministry of Public Safety for comment but didn't hear back by publication.
Sa'd, who is also a lawyer in Ontario and is left-leaning politically, said that words like "could," "might have," "could have happened," replaced actual proof, and clickbait media reports and Tweets from anonymous twitter accounts were offered up by police to Parliament as proof.
"A hypothesis became a foregone conclusion, Nobody rolled it back."
Sa'd attended the POEC inquiry and looked over the documents. She said Diagolon seemed to play a big role in the use of the Emergencies Act.
"There were a number of factors that the commissioner identified as warranting the Emergencies Act but I do think (Diagolon) was a big part of it. Diagolon was a thread that appeared woven throughout."
On Tuesday, SASKTODAY.ca contacted RCMP headquarters in Ottawa and Sask. RCMP for comment. On Wednesday morning, Ottawa RCMP Headquarters said they would respond as soon as possible. A response wasn't supplied by publication. RCMP Ottawa followed up Wednesday afternoon and said a response won't be ready Wednesday, and they are hoping they will have one by Thursday.
Putting law enforcement on the spot
Mendicino telling reporters to ask law enforcement about invoking the Emergencies Act had police scrambling as questions from media poured in, reveals the FOIPOP request.
An email thread on Feb. 16, 2022, from RCMP officer Lisa McDonald-Bourg to her colleague Leslie Sohm read:
Hi Leslie,
We just received another request for the remarks made by Mendicino re: far-right extremism.
Deadline: ASAP
Again, I'm looking for your advice on this.
Thanks,
Lisa
Request:
During a news conference today, Minister of public safety Marco Mendicino said the following:
"Several individuals at Coutts have strong ties to a far right organization with leaders who are in Ottawa".
When pressed further, he advised media to direct questions to law enforcement.
A few questions then:
- Can the RCMP confirm a link between the individuals arrested at Coutts and members of the Ottawa protests?
- Does the far-right group the Minister referred to have a name? Can you provide any info on this group?
Any other info on this statement made by the Minister would be appreciated.
A flurry of emails between RCMP officers followed, said Sa'd.
Leslie Sohm forwarded the request to Inspectors Mike Saghbini, Simon Pillay, and cc'd Lisa McDonald-Bourg.
Hi guys,
Media request related to the Minister's recent statements about the protests.
I am not in a position to guide Lisa on the appropriate response to either of the questions posed by the reporter - if in fact we are even in a position to respond.
Can you please assist and if these questions we are not in a position to respond to (as in we don't have the knowledge) please advise.
Thank you!
Inspector Saghbini's instinct was to leave the whole thing alone, said Sa'd, adding, "He covered for the lack of knowledge by suggesting they ignore the query and get on with their day."
Hi Leslie/Lisa,
I don't think we at FPNS should be responding to this. It's an ongoing investigation.
"Undeterred, Leslie pressed Mike further, insisting some kind of response was necessary," said Sa'd. "Remember, other media requests had already come in, and the pressure was starting to weigh heavily."
We have to provide a response - what it will say, still remains to be seen and this is where Lisa needs some assistance.
Leslie Sohm offered Lisa McDonald-Bourg a helpful hint as to where she can look to "find" the needed evidence to back up Mendicino, said Sa'd.
Lisa - if you want to start crafting from your standing "ongoing investigation" lines and the IMVE standing lines, that should give us something to work with.
Inspector Simon Pillay finally weighed in with a solution saying:
"I […] think we could acknowledge what is already publicly available.
And he provided a hyperlink to a globalnews.ca article that had come out just a day earlier, titled "Anti-hate experts concerned about possible neo-fascist involvement at Alberta trucker convoy."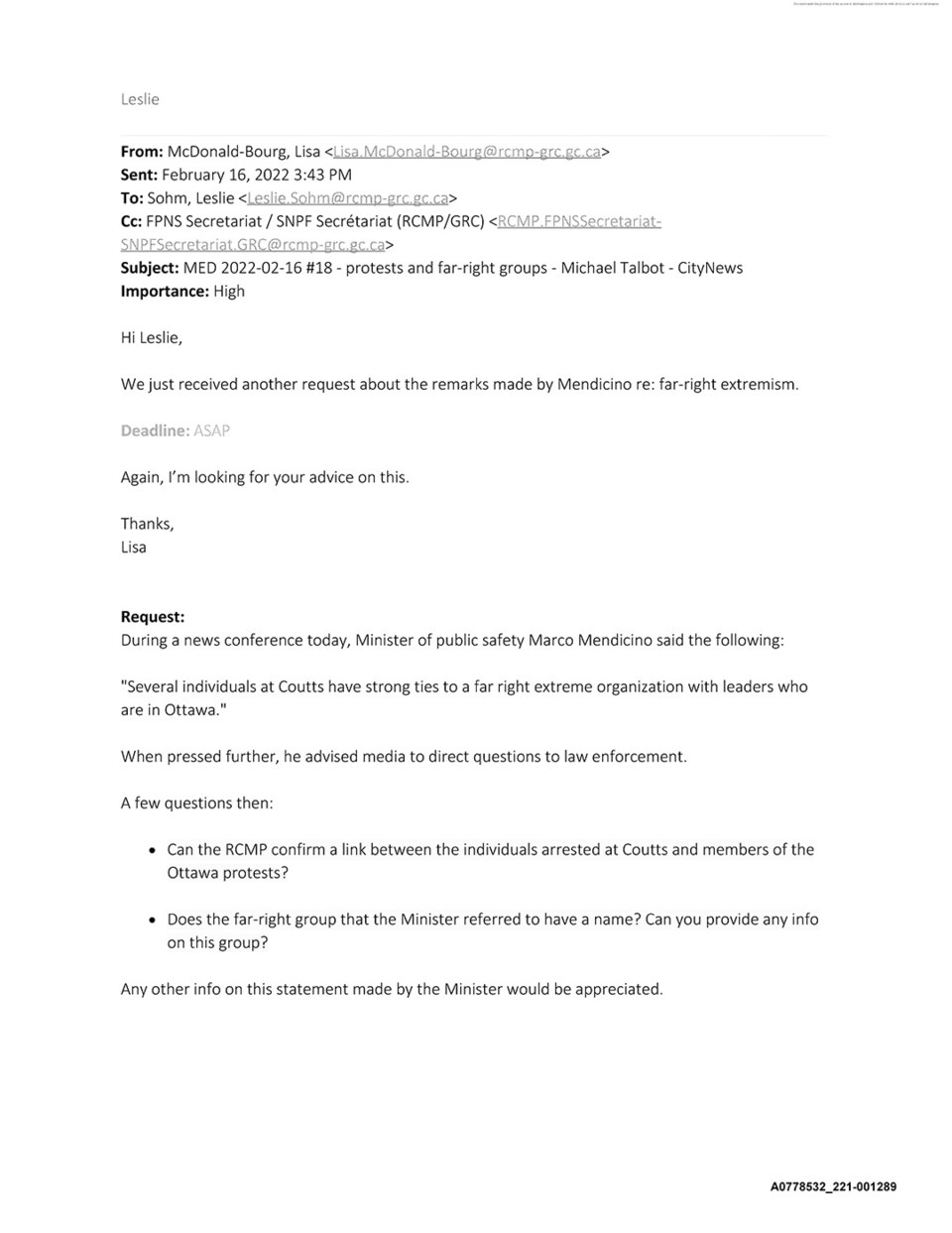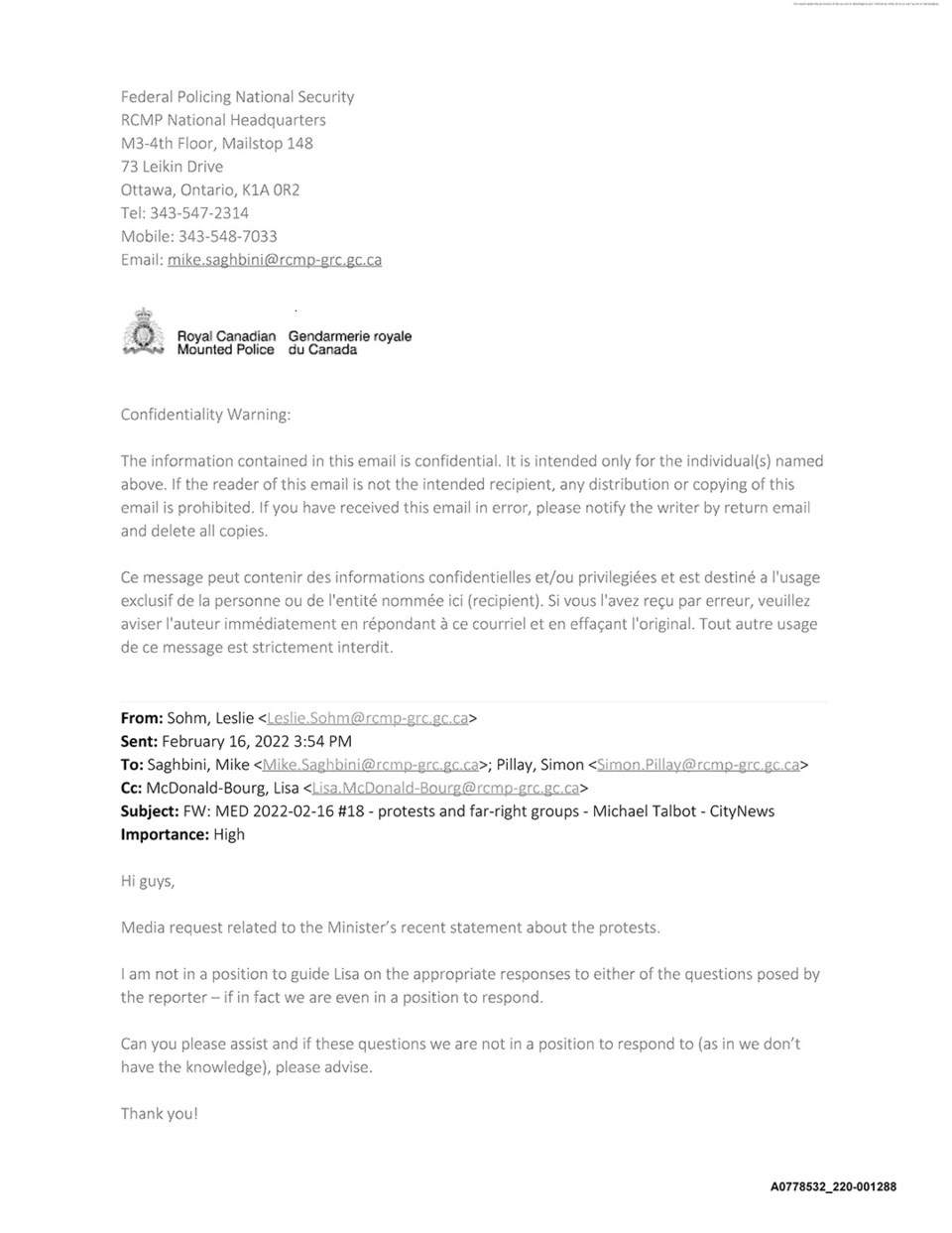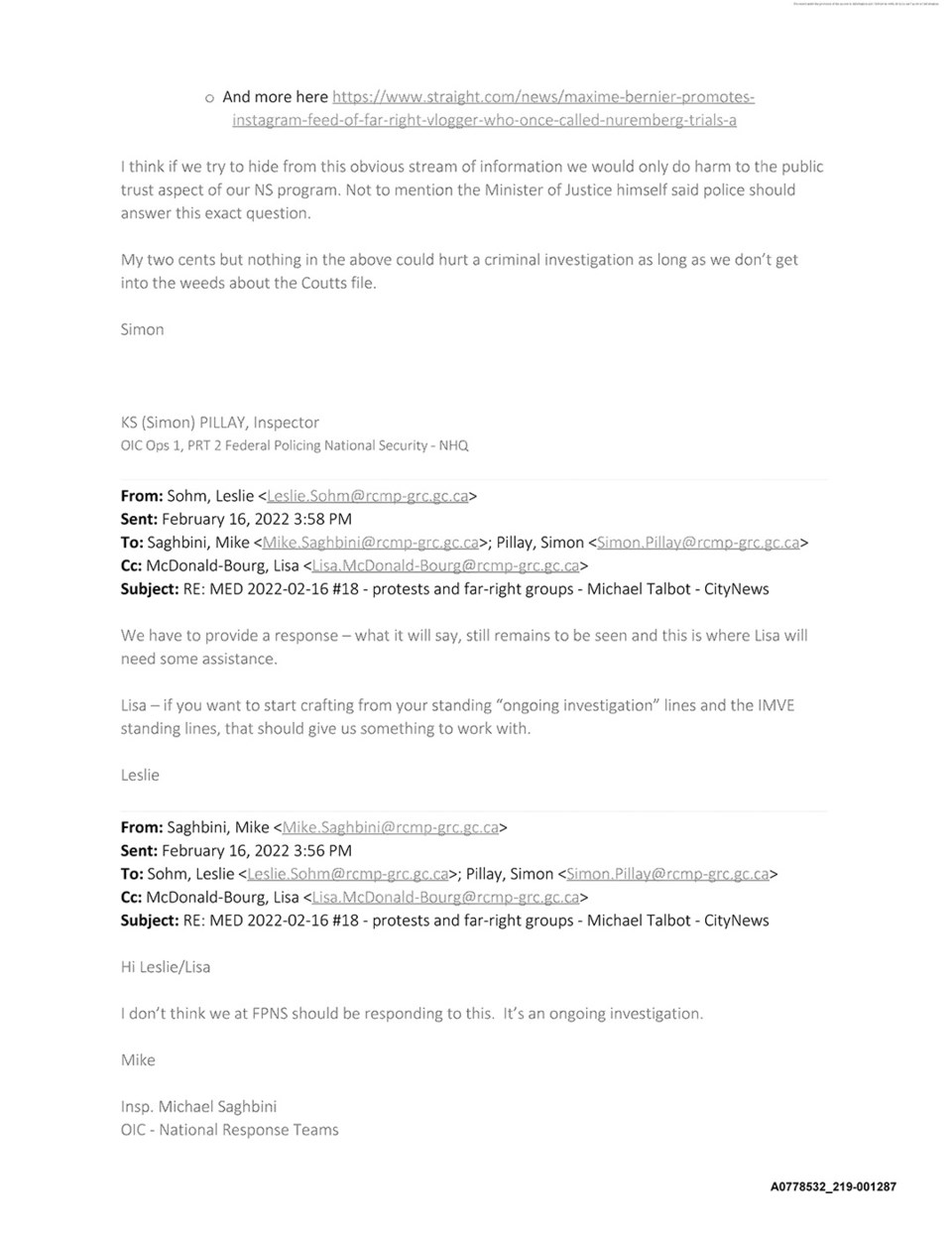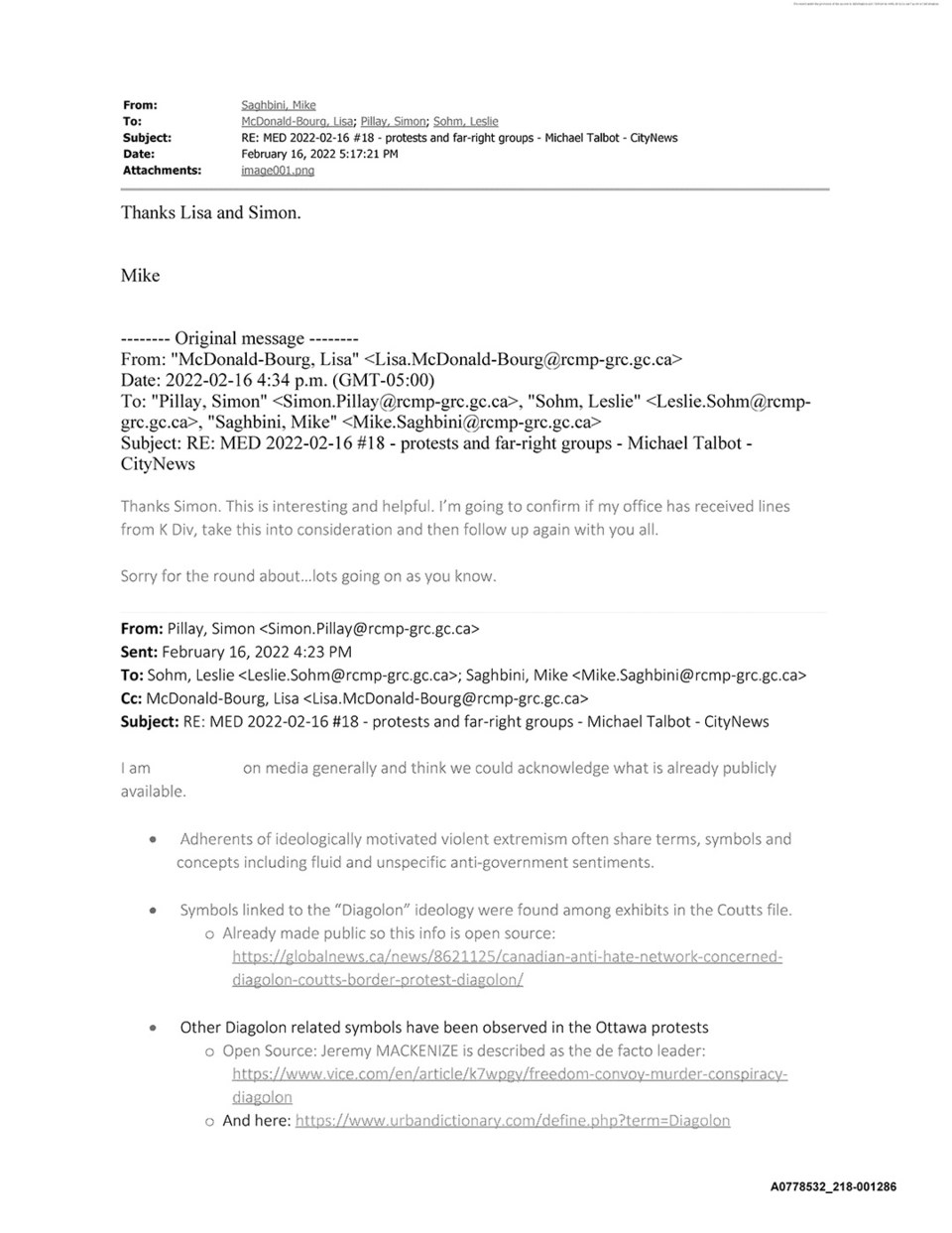 Sa'd said that the Global News article relied heavily on quotes from anti-hate expert and CAHN deputy director Elizabeth Simons, whose credentials and existence can't be verified.
"All we can say about Simons is that she is likely a female, going by the voice. We were not able to find any records of her appearing in person or on camera. CAHN cloaks its researchers in anonymity and refuses to disclose their credentials, conflicts of interest or track record, even as they are widely quoted in the media as subject matter experts."
Evan Balgord, executive director of CAHN, told SASKTODAY.ca on Wednesday that Elizabeth Simons is real but didn't elaborate, only saying, "Liz is a real person."
Sa'd said that the RCMP were "Forced to scramble and invent a story to cover for Mendicino's recklessness," and "a team of stressed RCMP staff Googled news media articles to quote right back to news media, in order to cover for their own lack of knowledge in the matter."
The police circulated a version of reality that might have been amplified by other journalists who continued this infernal game of broken telephone, said Sa'd.
"The FOIPOP documents heavily suggest that RCMP intelligence takes their cues from the press, relying on second-hand information rather than presenting as the originating source of information distributed to the press," added Sa'd. "One wonders how much of their 'intel' simply consists of scouring daily news and disseminating it through regular 'MEDIA SCAN' emails."
Sa'd said that the feedback loop between law enforcement, government officials, and media resulted in poorly sourced information being repeated into fact.
"Three institutions I think relied on each other to do the heavy lifting and assumed that everyone else is doing the fact checking so I can just rely on this," Sa'd told SASKTODAY.ca in a phone interivew on Tuesday.
"Anybody could have stopped and said, 'Hey, let's actually examine this a little bit closer,' but no one did for a variety of reasons. I don't think it's necessarily malicious. Although, I'm not fully ruling that out, but it's overall an institutional failure. That was my takeaway from the Freedom of Information documents."
Sa'd revealed that she is currently suing CAHN in Federal Court for trade libel and unfair competition. The case is pending.
RCMP report compiled in 15 minutes
The RCMP compiled a key briefing for top officials in only 15 minutes, reveals the FOIPOP request. The report was sent to Adriana Poloz, executive director, Intelligence and International Policing, RCMP, and listed Diagolon among Ideologically-Motivated Violent Extremists (IMVE) adherents, along with Three Percenters and Canada First.
Diagolon was described as a "meme-based and satirical movement," whose supporters "express desires to form a country based on right-leaning Canadian provinces and US states."
Sa'd said that a high-level official reading this assessment might easily conclude that a real threat to territorial sovereignty existed and should be taken seriously because Diagolon operated "under the guise of humour" to conceal its real intentions.
"In this way, alarmism was passed up the chain of command amid the turbulence of the convoy."
Even though the two-week blockade at the Coutts, Alta., border to the U. S., in protest of COVID-19 mandates, was resolved before the government invoked the Emergencies Act, the POEC commissioner also mentioned the Coutts situation as a reason for justifying the Emergencies Act. The media had alleged protesters at the Coutts blockade were linked to Diagolon.
"Hysteria about Diagolon reached fever pitch during the Freedom Convoy, particularly after a homemade patch was spotted on a tactical vest purportedly seized in relation to an attempted murder plot in Coutts, Alberta," said Sa'd.
"Jeremy had never been to Coutts, nor was he in communication with any of the accused leading up to their arrest," she added. "He was nonetheless repeatedly connected to the weapons cache by media outlets citing Canadian Anti-Hate Network (CAHN). Documents obtained from the RCMP reveal heavy reliance on open source intelligence, including news articles. Government officials took their cues from both the media and law enforcement."
MacKenzie's lawyer, Sherif Foda, said that he hasn't read the entire investigative document compiled by Sa'd and Hategan, and added, "But from what I've seen so far, it is apparent that narratives portrayed in Canadian media about Mr. MacKenzie and 'Diagolon' being national security, extremist, or 'accelerationist' threats are false."
In August, all Saskatchewan charges against MacKenzie were dropped. The charges of assault, pointing a firearm, using a restricted weapon in a careless manner, and mischief, were stayed by the Crown. The four charges stemmed from an incident near Viscount, Sask.
Foda also confirmed with SASKTODAY.ca that charges in a Nova Scotia court against MacKenzie were also dismissed. He said that MacKenzie still has outstanding matters in Pictou and Dartmouth, Nova Scotia, and in Gatineau, Quebec.
"My client is eager to proceed in relation to his outstanding charges," said Foda on Wednesday. "Any further comment at this time would be inappropriate given the potential relevance of these revelations to ongoing proceedings."
It's only humour
Sa'd co-founded 420 Cannabis Court, an outdoor comedy venue and said that she saw MacKenzie's humour.
Sa'd, a Muslim who has experienced racism, said that treatment allowed her to see MacKenzie's situation "through the lens of public hysteria and state overreach."
As a child growing up in Canada after the 9/11 attacks, she was walking from a bus stop when a stranger yelled at her to "Go home."
"I confusedly retorted, 'I am going home,' not realizing that I was being singled out as un-Canadian for my hijab or skin colour. That naïveté was sadly short-lived."
Likewise, Hategan – who has gone from being a member of a white supremacist group to an activist fighting hate – also saw MacKenzie's humour.
Hategan, a Romanian immigrant, was accused of being a neo-Nazi member of the Heritage Front, which is considered the most dangerous white supremacist group in Canadian history. At the age of 17, she acted as their spokesperson and appeared on the Montel Williams Show.
Hategan, a closet lesbian with Jewish roots, however, started secretly providing information to anti-racist activists and revealed details about illegal weapons and the identity of a Toronto police officer who was a group member. At age 18, she defected from the neo-Nazi group, stealing part of Holocaust denier Ernst Zundel's membership list, said Sa'd.
"Months later, her courtroom testimony was instrumental in securing the convictions of three Heritage Front leader– a fatal blow that triggered the group's decline and eventual demise," said Sa'd.
For two years, Hategan lived in hiding across Canada and relied on strangers, homeless shelters, and dumpster diving to survive.
Hategan, a ninth-grade high-school dropout with a history of familial abuse and foster care, earned a Nova Scotia GED and was accepted into the University of Ottawa's criminology program, said Sa'd.
Hategan was motivated to understand how extremists target youth for radicalization. She volunteered inside prison and youth detention centres, while working two jobs and relied on student loans. Then, in 1999, at the age of 25, Hategan graduated magna cum laude with a double major in criminology and psychology.
Mackenzie defends his humour
MacKenzie was summoned to testify at the POEC, and on Nov. 17, 2022, he appeared by video conference from the Saskatoon Correctional Centre.
On social media, MacKenzie has described himself as a podcaster, a comedian, unacceptable, extreme alt-right, and anti-government. He podcasts under the name Raging Dissident.
Videos played at the POEC inquiry showed MacKenzie urging peaceful protests while in Ottawa during the Freedom Convoy.
He testified that he came up with the idea of Diagolon as an analytical commentary on current events and politics. He said he noticed that the Mid-Western states of Texas, Florida, South Dakota, along with Alberta, Saskatchewan and Alaska, formed a geographical oblique line of states and provinces that were resistant to government-imposed mandates and were traditionally Conservative areas in the two countries.
"I kind of found it amusing that there was this kind of geographical divide," he said, adding that it became a joke that it was a pretend kind of parallel universe. He said he created the "Diagolon" flag on his cell phone and it became synonymous with his name and podcast.
He said Diagolon is a figment of his imagination in a fictional world and admitted that many of his followers, or fans, were former Canadian Forces members because what he says resonates with them.
Video: Watch Canadian Forces veteran Tom Marazzo explain Diagolon to the Public Order Emergency Commission inquiry
At one point during the time frame of the Freedom Convoy in Ottawa, MacKenzie said he became concerned about some individuals who could potentially become violent and he had called the RCMP to notify them, the inquiry heard.
At the inquiry, Foda questioned MacKenzie about the organizational structure of Diagolon.
"Sir, you were asked questions about whether Diagolon had any structure. I think you were asked if you had any formal authority over anyone in the Diagolon community, and I believe you indicated that there was no hierarchy or no formal structure?"
"Correct," replied MacKenzie.
"To be fair, you have a vice- president," said Foda.
"Yes," replied MacKenzie.
"Could you tell the Commissioner who your vice-president is?"
"The vice-president of Diagolon, which is of my imagination, he is my sidekick that has evolved over the years. He's a demonic goat figurine named Phillip with a very, very serious narcotics problem and a time-travelling goat."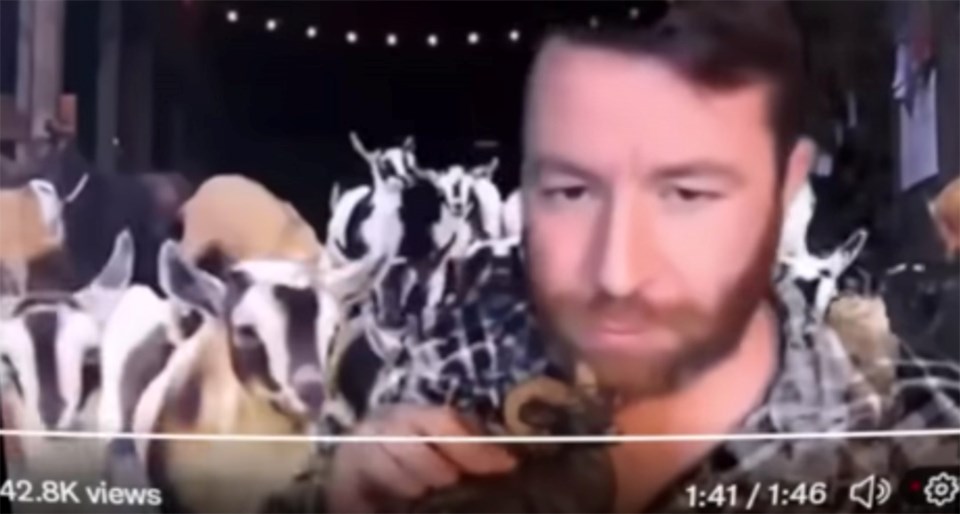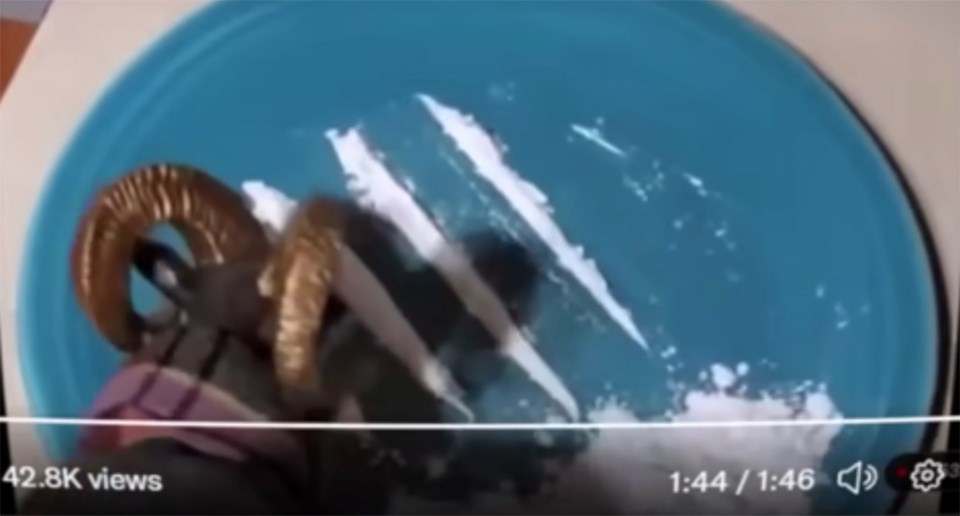 "Do you think any reasonable person who consumes your content, either regularly or semi-regularly would actually consider Diagolon to be an organization?" asked Foda.
"I would think not, no," replied MacKenzie under oath at the POEC inquiry.
Video: Watch Jeremy MacKenzie answer his lawyer, Sherif Foda's questions about Diagolon during the Public Order Emergency Commission inquiry
Not humour, it's hate: CAHN
Not everyone, however, shared MacKenzie's sense of humour.
"The Canadian Anti-Hate Network (CAHN) misconstrued Diagolon to place it in a false, nefarious light as a 'far-right separatist,' 'anti-government,' 'neo-fascist,' and 'militant accelerationist group,'" said Sa'd.
"In the absence of evidence, CAHN relied heavily on negative association and innuendo. The constant repetition of misleading or false information produces the illusory truth effect; repeat a lie often enough and people will believe it.
"CAHN described Diagolon as wanting to establish a white ethnostate, although this idea was never articulated in hundreds of hours of livestreams," added Sa'd. "Jeremy's fanbase was called "militia-like"—at some point the qualifier was dropped, then added back. In fact, there is no evidence of an organized group of armed civilians outside of CAHN's imagination. An affinity for gun culture (which appeals generally to military-inclined people) cannot be conflated with the definition of militia."
But Sa'd said that the more CAHN vilified a stubborn and defiant MacKenzie, the more he doubled down with sarcasm.
"The joke became people not getting the joke, in a meta way. Community members began referring to themselves as 'bigots,' intending to dilute the sting of a word carelessly misapplied. This was interpreted as an admission of intolerance. In November 2021, Jeremy circulated a group photo taken at a family barbecue gathering in Viscount, Saskatchewan. The ominous image depicted masked men with hunting rifles and the Diagolon flag. This was interpreted as proof of a weapons training camp."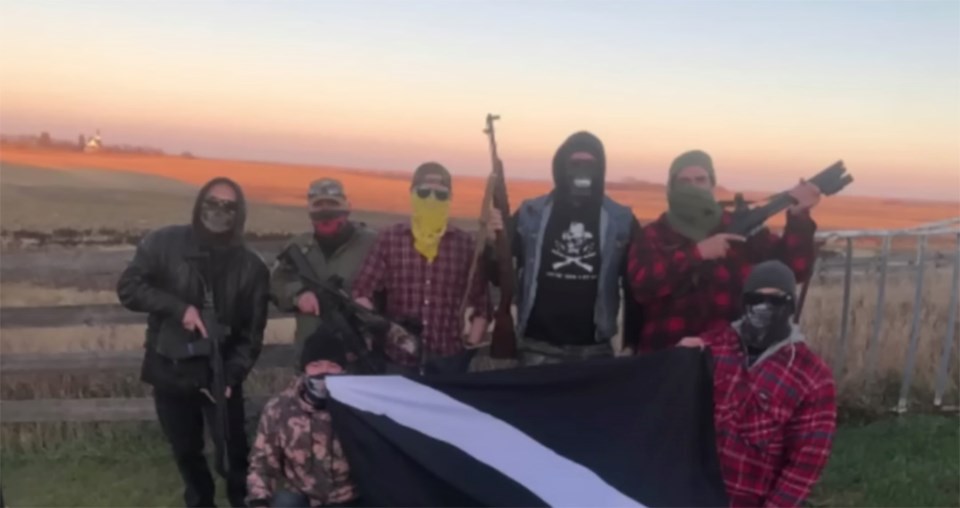 The Saskatchewan media took the group photo of the November 2021 shooting party at Viscount, Sask., and used it as proof that Diagolon was a militia. In response, on social media MacKenzie posted on social media, "I guess we're a militia now."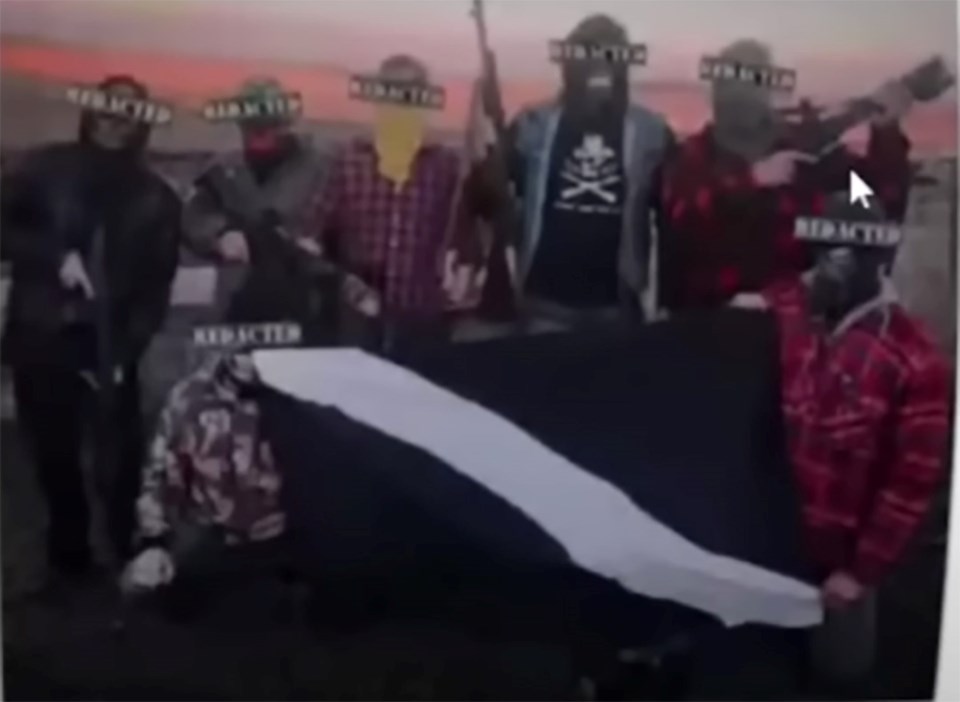 On his podcasts, MacKenzie, said that as a joke he baited the media to sensationalize Diagolon – and they bit.
"The media started echoing CAHN's far-fetched conclusions, despite unequivocal statements from Jeremy about his satirical intent," said Sa'd.
"Poe's Law, a prominent adage in internet culture, posits that parodies or sarcastic portrayals of extreme perspectives may be misconstrued as genuine expressions of those beliefs," added Sa'd. "This principle can be manipulated by individuals who genuinely hold extreme views, using it as a shield when confronted with substantial criticism, and claiming that their statements were merely satirical in nature. When in doubt, consider the evidence, or lack thereof.
"There was a degree of separation or less between CAHN and every news article about Diagolon. CAHN's 'Elizabeth Simons' was the primary spokesperson, making a range of speculative and unsourced claims about Jeremy and his fanbase."
CAHN defends it assessment of MacKenzie
Balgord said that during the POEC, MacKenzie and his lawyer attacked CAHN's research because they have published "damning things about him and his movement."
In response to MacKenzie and his lawyer's attacks on CAHN, Balgord said that in December 2022, the POEC commissioner allowed them to submit an affidavit rebutting MacKenzie's testimony.
"Recognizing that a principle of fairness had been violated, the Commission allowed us to submit an affidavit in response to MacKenzie's testimony. It is a sworn affidavit and it appears in the official materials."
Sa'd, however, maintains that because the affidavit contradicting MacKenzie's testimony was submitted after the inquiry was over, his lawyer didn't have a chance to test its accuracy through cross-examination.
"The evidentiary value of such an affidavit would be next-to-useless in court, if not inadmissible altogether," said Sa'd.
Balgord said that MacKenzie has not provided any evidence that Bernie Farber or CAHN have ever lied or, in other words, knowingly shared dis or misinformation.
"The Canadian Anti-Hate Network strives to be as ethical as possible in its reporting," said Balgord. "This includes correcting rare errors in its reporting. CAHN has never falsified information, knowingly spread false information, or engaged in defamation.
"MacKenzie accuses CAHN, through Bernie Farber, of spreading misinformation. During the convoy, Farber received an email from a lawyer and family friend which stated that her son's friend had seen an antisemitic flyer in Ottawa, and attached a photo. Bernie, trusting the source, posted the photo on Twitter on his personal account with a statement to the effect that he had been told that the flyer had been spotted in Ottawa. This was a case of broken telephone. The picture had originated in the United States weeks before. CAHN noticed the error, and helped Bernie correct the record within hours. This included deleting the original tweet.
"CAHN also set the record straight when testifying in front of a House of Commons committee," added Balgord. "In no case did CAHN deliberately spread misinformation, which is the plain and ordinary meaning of MacKenzie's words. Taking responsibility and correcting an error in fact demonstrates CAHN's commitment to ethics."
Although MacKenzie hasn't been charged with any hate crimes, CAHN labels MacKenzie an antisemite and racist who promotes violence. Balgord said that few people are ever charged for hate crimes under s. 319(2) in Canada.
"There are many structural issues that explain why. It doesn't mean that MacKenzie hasn't broken the law, it simply means a charge hasn't been laid."
Balgord pointed to MacKenzie's Telegram and livestreams as evidence of his antisemitism and racism, which he said are publicly available.
CAHN, which gets funding from the federal govenment since 2019, also maintains that they haven't misrepresented MacKenzie.
"Our reporting on him is based on his own livestreams and writings, which can be independently verified," said Balgord, in an email to SASKTODAY.ca.
"He calls himself a comedian, in my opinion, to try to escape responsibility for his words and actions."
Balgord also said that the RCMP should have researched MacKenzie themselves.
"The fact that they didn't suggests there were deficiencies in how they researched Diagolon and Jeremy MacKenzie," said Balgord.
Don't count on social media to deliver your local news to you. Keep local news a touch away by bookmarking SASKTODAY.ca's homepage at this link.

Click to bookmark our Crime, Cops and Court section.

Here's why you should bookmark your favourites.