OTTAWA – Federal Justice Minister David Lametti introduced proposed Criminal Code amendments to create an independent commission to review wrongful convictions.
The new commission would replace the current ministerial review process and be called David and Joyce Milgaard's Law.
David Milgaard's brother Chris Milgaard, who lives in Saskatchewan, was pleased with Lametti's announcement.
"I was happy to see the announcement today," Chris Milgaard told SASKTODAY.ca. "I think it is another step forward to helping the wrongly convicted. Anything that can raise the chances of a person being set free after such an ordeal is a good thing.
"I sent an email to the Justice Minister thanking him for his time and effort in making this happen," added Chris Milgaard.
David Lametti, Minister of Justice and Attorney General of Canada, said the federal Liberal government believes that a fair and equitable criminal justice system must guard against potential miscarriages of justice.
"Wrongful convictions are a matter of deep concern to me, and to many Canadians," said Lametti.
David and Joyce Milgaard's Law is a critical step forward in establishing an independent review process to examine whether a miscarriage of justice may have occurred, added Lametti.
"An independent commission will help make miscarriage of justice reviews more efficient and make the process truly available to all who want to access it."
David Milgaard was the victim of one of Canada's most notorious miscarriages of justice. In 1969 he was arrested when he was only 16. In 1970, at the age of 17, he was wrongfully convicted of raping and murdering Saskatoon nurse Gail Miller and sent to Canada's toughest prisons for life.
David Milgaard spent almost 23 years in prison for the rape and murder of Saskatoon nursing assistant Gail Miller before DNA evidence exonerated him. Milgaard insisted that the Crown and police knew he was innocent but buried the truth to save themselves, their careers and their reputations.
Milgaard's longtime friend, former CBC reporter Byron Christopher, was ecstatic with Lametti's announcement. Christopher was the first reporter to get an interview with Milgaard after he was released from prison and became a close long-time friend of the Milgaard family.
"I bet David and Joyce are smiling right now," said Christopher. "David will be beaming even more if something concrete comes from this."
David Milgaard's ashes were spread over the Rockies shortly after his death in May 2022, said Christopher who was a lead pallbearer at David Milgaard's funeral, along with lawyer James Lockyer.
This clock pictured below says "David Joyce Forever." It was made in Louisiana and was in Joyce Milgaard's hospice room where she passed. After David Milgaard died his sister gave it back to Byron Christopher who had it made.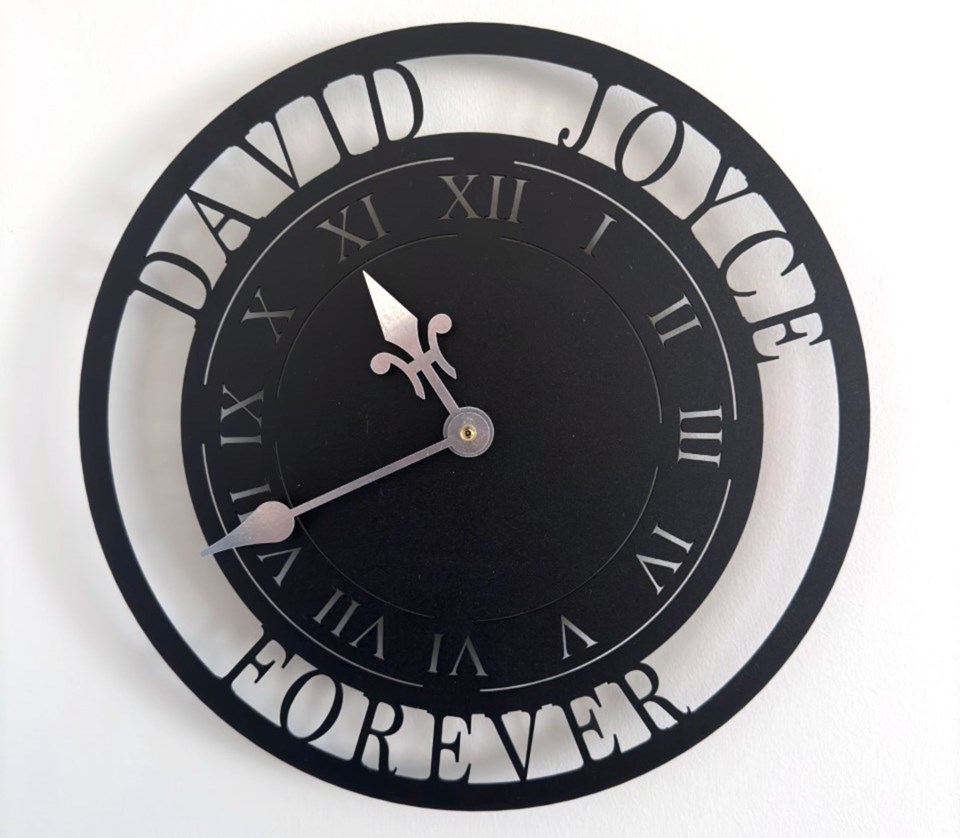 The commission is aimed at addressing miscarriages of justice faster to lessen the devastating impact they have on the potentially wrongfully convicted person, their family, victims, and improve access to the justice system.
The independent commission would review miscarriage of justice applications and decide whether to grant a remedy, such as ordering a new trial or new appeal. These applications would no longer be decided by the Minister of Justice.
Email Lisa Joy at ljoy@glaciermedia.ca
— Click for more from Crime, Cops and Court.