OTTAWA, Ont.– Update Oct. 2, 10 p.m.: Groups of protesters from across the country revealed their locations and protest plans.
They are camped at two locations and invite others to join them. They are at 225 County Road 8, Cassleman, Ont., and 2041 Flos Road 4 West Phelpston, Ont. On social media they are using the hashtag #SaveCanada.
During a live stream on Monday afternoon, Ron Clark said there won't be anymore hidden agendas. He said they will start their "marches" in Ottawa Tuesday and will continue every day, until they are heard.
The protesters are supporting various causes. On Tuesday, they will be joining the MMIW march in Ottawa. Clark said they won't be carrying any flags, won't block any streets, and will abide by all laws.
At the start of the live stream, tensions rose when two people attending started hollering at the rest of the organizers saying that the protests aren't about Save the Children or any other issue other than Trudeau for treason.
The organizers tried calming the two people down and when that didn't work, they were escorted off the private land. They also reiterated that many are there for various issues but they are all still there to protest against the prime minister.
They also urged everyone to stop the in-fighting and work together.
"Do not rip each other apart. That's what they want," said Colin Bigbear during the live stream. "Let's do this movement with love."
Clark said the protesters can't re-create what happened in 2022, but added, "We just want our voices heard. We are outside of Ottawa. We are going to be here until we are heard."
Original story:
VIDEO: East and west convoys meet up, call for Trudeau's resignation
Groups of protesters from Eastern and Western Canada have started meeting up in Ontario on private land in preparation of protests to call for Prime Minister Justin Trudeau's resignation.
Several of the original organizers from the trucker Convoy to Ottawa in 2022 are participating and have drafted a letter to deliver to the RCMP asking for their help. They say that the truckers were the victims during the convoy to Ottawa in February 2022.
"In January 2022 we took our trucks to the streets of Ottawa to protest in the Freedom Convoy 2022 against the COVID-19 vaccine travel mandates," states the letter. "The convoy was a peaceful, lawful protest of these harmful, unlawful, vax mandates, nevertheless Trudeau shut us down by police force."
Protest plans still not revealed
Even though groups have started arriving at various undisclosed locations in Ontario, the organizers from different parts of the country remain tight-lipped about their plans.
The protesters are travelling in small groups and on social media, participants have posted, "Confuse the police. We are everywhere!"
Watch video compilation of social media clips of protesters on the move.
One of the Quebec groups participating listed seven things they are seeking by going to Ontario. They include the resignations of Justin Trudeau and the Liberal Party, and the NDP, the protection of children against sex education ideology, all public health order charges against everyone over the last three years dropped, the release of "patriots" from prison, transparency from the government, and the protection of the voices of immigrants.
The live streamers have thousands of followers from across Canada and the world. They have been communicating on Telegram, an end-to-end encrypted messaging app popular for its "secret chats."
RCMP Headquarters in Ottawa told SASKTODAY.ca last week that they are aware of the groups headed to Ontario.
"RCMP O Division, in concert with our policing partners, is aware that a group from Alberta and Saskatchewan is travelling eastward in the direction of Ontario," said Robin Percival, Media Relations, National Communication Services. "Together, we remain attentive to this developing situation.
"The RCMP's top priority is the safety and security of our communities," added Percival.
Calling for Trudeau's resignation and arrest
The letter the protesters have drafted to provide to the RCMP is asking them to arrest Prime Minister Trudeau.
"We are now returning to demand that the RCMP arrest Prime Minister Trudeau for treason because of his unlawful violent vaccine mandates, and his unlawful use of force to break up the protest."
The letter goes on to state that the police and the courts have found their protest to have been peaceful.
"Also, CSIS announced that the convoy protest did not meet the standards of a national security breach required by the Emergencies Act," it added. "These counterfeit emergency regulations infringed upon our basic human rights and our fundamental freedoms. We were beaten for no reason, our trucks were damaged and confiscated without legal cause or authorization, and many of us were criminally prosecuted with unreasonable bail conditions; all because we were exercising our inalienable right to freedom of speech, peaceful assembly, and association. We had an important public message and we protested peacefully in a symbolic location."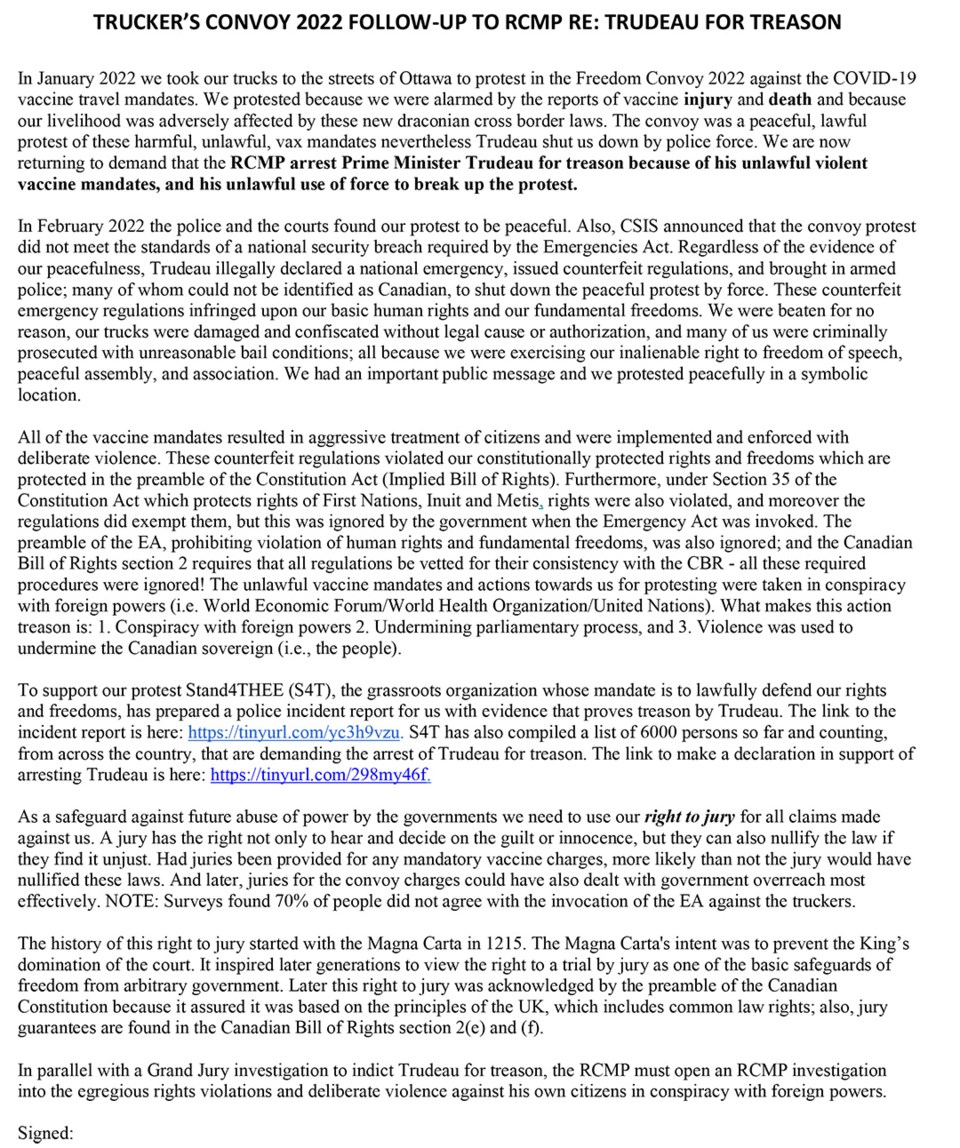 SASKTODAY.ca has reached out to several of the protest organizers asking them if they think calling for the arrest of Prime Minister Justin Trudeau is too extreme. They have not responded to interview requests.
RCMP HQ in Ottawa was asked if they have received the demand letter from the truckers yet and if they plan to "arrest" Trudeau. They have not responded to the questions.
V4F warns Canadians not to join any violent protests
Veterans 4 Freedom has been warning Canadians not to get involved in any planned violent protests.
"Who is controlling these useful idiots who encourage people to fight with police?" said Veterans 4 Freedom on social media late Saturday night. "How is that going to turn out? Disbanding government or going around and arresting voted in politicians? Sounds fairly treasonous to us. Stay clear of this."
Veterans 4 Freedom posted a recording of a private meeting they say is of the organizers discussing their plans. In the recording, organizers say they are going to go to Toronto's financial district and put up blockades. Once police are brought into the area they say that they will bring in another wave of protesters from behind so the police can't move forward or backwards.
The organizers say they will be carrying white flags, adding that they are staying until the government is disbanded or arrested. They claim to have many ex-military and ex-police ready to arrest politicians.
In addition, they say highways will be blocked and a group of Natives in Quebec plan to burn a bridge.
It isn't clear what day the recording was made or if it was referring to the group of protesters currently coming to Ontario.
LISTEN: Audio allegedly of convoy organizers discussing plans
Ron Clark Freedom Advocate responded on social media late Sunday afternoon to the audio posted by Veterans 4 Freedom saying that he isn't going to Toronto and there won't be any blockades of roads. He also said he knows nothing about the Toronto group's plans.
Organizer Colin Bigbear also said they don't plan on participating in road blocks.
"Absolutely not we are following the law and being peaceful this is not what we are doing what so ever," he responded late Sunday evening.
LISTEN: Audio of Ron Clark denying there will be blockades
SASKTODAY.ca reached out to the federal public safety minister but didn't get a response.
Story updated with comments from V4F, Ron Clark Freedom Advocate, and Colin Bigbear.
Don't count on social media to deliver your local news to you. Keep local news a touch away by bookmarking SASKTODAY.ca's homepage at this link.

Click to bookmark our Crime, Cops and Court section.

Here's why you should bookmark your favourite