HUMBOLDT — This year's provincial U18 curling championship, hosted in Humboldt, was a unique situation, as two men's and two women's teams won spots in the nationals.
At the South 20 Dodge U18 Boys Open Provincials, hosted by the Humboldt Curling Club Dec. 27 to 30, Team Drewitz of the Saskatoon Sutherland Curling Club snagged the first spot, while Team Heistad of the Regina Highland Curling Club got the second spot.
At the South 20 Dodge U18 Girls Open Provincials, held at the same place and time as the boys, Team Taylor of Saskatoon Sutherland won the first berth, while Team Kessel of the Balgonie Curling Club got the second.
Steve Turner, event manager with CurlSask, said that any time they get to crown a new provincial champion, it's a highlight.
"To see the joy of this team, to put on the green jacket, you can't put it into words," Turner said. "That is what every curler in Saskatchewan aspires to. With a storied history of curlers and championships in this province, putting on that green jacket is really the pinnacle for any curler in this province."
The 2022 U18 National Championship will be held Feb. 14 to 20 in Timmins, Ont.
Girls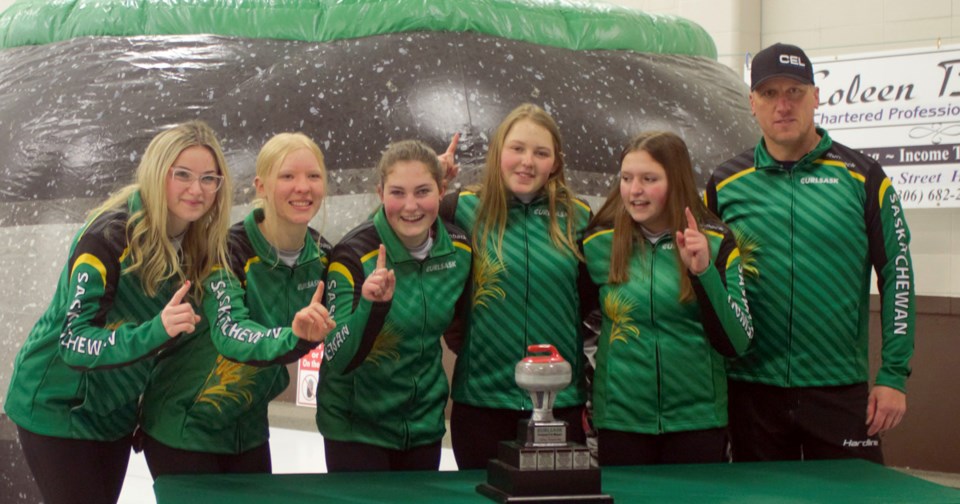 In the round robin, Team Taylor had won five games and lost one, while Team Kessel and Team Hoag had each won four and lost two.
In the playoffs, Team Taylor won the game against Team Kessel 6-5, securing the first berth. By the seventh end, both teams had managed to tie against each other, with Team getting one more point to secure the win.
Annika Steckler, Team Talyor's third, said this has been a life goal, after beginning curling with her family when she was five years old.
"It's been forever, and I'm so happy to finally be here," she said. "It feels so good, I'm still a little bit jittery."
Steckler began curling with Taylor, the team's skip, about five years ago. Two years ago the team fully formed, consisting of members they felt that they worked well together with.
In recent years, she said their training has gotten more involved, with professionals being brought in to offer advice as well as a mental health coach for team members to utilise.
"I'm so happy with the results."
Coach Brian Steckler said the team's biggest strength is their ability to work well as a team.
"They all supported each other, played well together, brought each other up, and kept each other level headed and prepared for the games," he said.
"This is a goal that they had set two years ago when they first came together as a team. They've been working for it since that time and putting in a lot of hours. To achieve that goal is a big momentous occasion for them."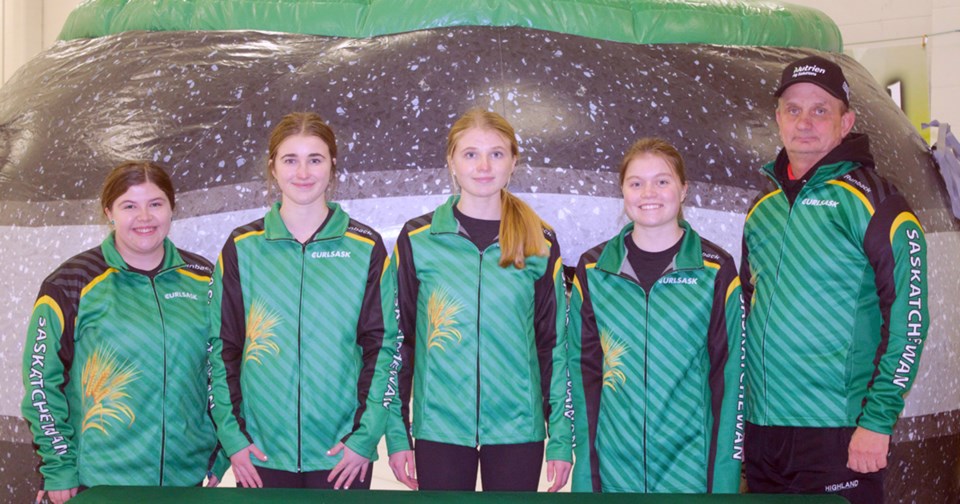 Meanwhere, Team Kesslering defeated Team Hoag 6-5, setting up a showdown between them and Team Kessel. In that final game, Team Kessel won 7-4.
Team Kessel had only been training together for three months prior.
"We just started curling together this year," said Elizabeth Kessel, Team Kessel's skip. "We were curling in a Balgonie bonspiel, I was with my third and second curling, and Hannah came up and approached us and asked us to do competitive curling just before COVID started."
For training they curled in a league on Wednesday and Thursday or Friday, then practised on Sundays. For the holiday break Kessel said they added extra time on the ice to prepare for provincials.
"We were just coming in to play, see how it went. We were hoping that we would get here, but didn't really expect it."
Garnet Zummack, the team's coach, said a lot of the recent training focused on their hits, as with junior curling hits tend to be a weakness.
"I have to give credit to the Learn to Curl programs at Balgonie and at the Highland because they taught these kids and I didn't have much to work with. They all had it down pat."
Boys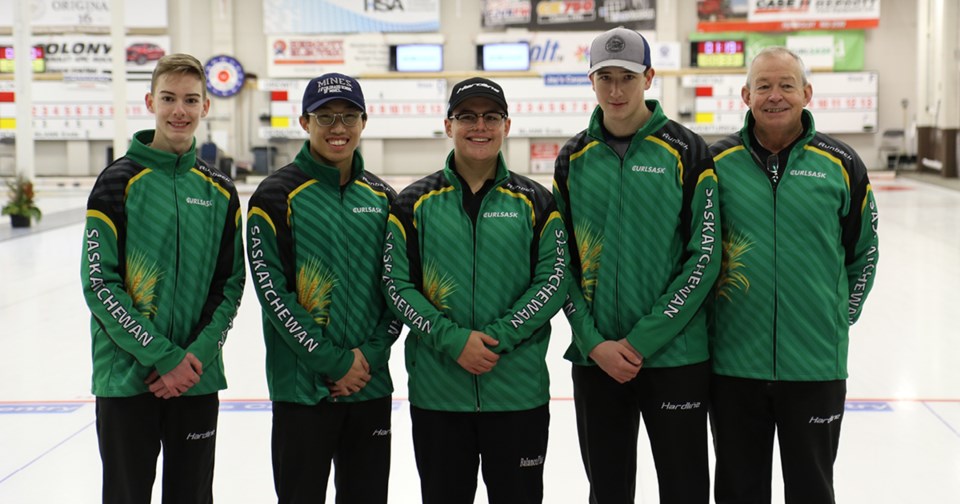 In the round robin, Team Drewitz won all five games.
"We never slowed down," Matthew Drewitz, the team's skip said. "We played solid throughout the week and didn't get down on ourselves in tough situations."
Meanwhile, Team Heistad, Team Derksen and Team Laventure got into a tie, winning three games each and losing two.
"Unfortunately, our LSD [last stone draw] just wasn't great," said Brayden Heistad, Team Heistad's skip. "We struggled with that this week and so we didn't get the benefit of the tiebreakers."
In the playoffs, Team Drewitz faced off against Team Derksen. Team Drewitz got three points in the first end, two in the second and four in the fourth, while Team Derksen got one point each in the third, fifth and sixth end, resulting in a 9-3 victory for Team Drewitz.
"We just got off to an early start there and then just kept going, kept pushing through and held on to the lead," Drewitz said.
Drewitz said he was really excited to secure the first berth.
"It's just the dream to win a provincial championship and wear that green jacket."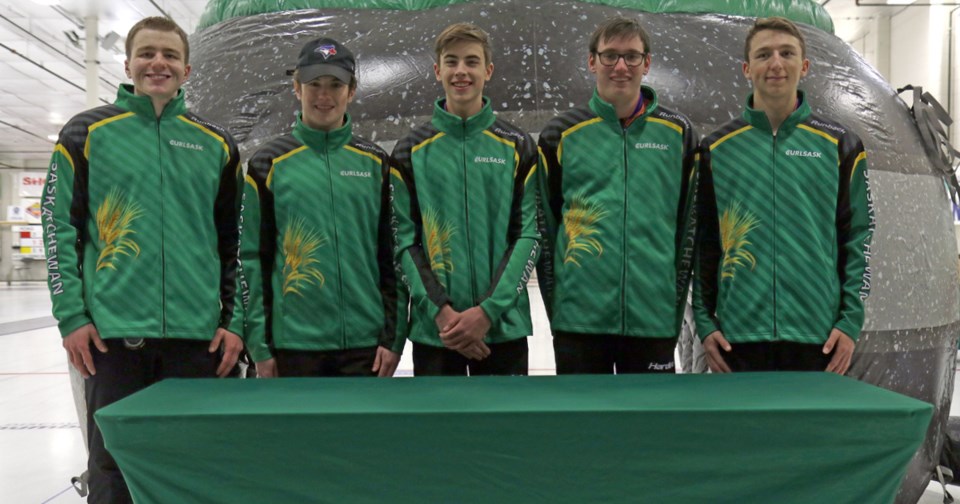 Meanwhile, Team Heistad won against Team Laventure 6-5 and then defeated Team Derksen 7-5 to secure the second berth.
The Team Heistad-Team Laventure was a close affair. At the end of the fourth end, both teams had two points each. The fifth end saw Team Heistad get four points, while the sixth and seventh ends saw Team Laventure get three points in total. At the start of the eight end, Team Heistad was only ahead by one point.
"That was the most stressful end I've ever played," Heistad said. "Just coming down to the last rock they had a good one, top button. It was looking like it's going to be hard to count that one, so that on my first we made that run, which was perfect and they just slid deep and I did not have to throw my last. It was a good end and we got the job done."
Team Heistad scored another point to secure the win.
"It was our goal to come here and get on the two spots to represent Saskatchewan in Timmins, Ont.," Heistad said. "We had a tough day yesterday, so we just wanted to come into today and have a good day and get two wins and that's what we did."
'First class venue'
Shawn Wempe, the Humboldt Curling Club's co-president, said CurlSask approached the club about holding the two provincial championships in Humboldt. Having hosted plenty of bonspiels and tournaments before, the club put in a bid and were able to get it.
"It's been awesome curling, everything's running smoothly," he said.
Wempe said having a good volunteer base and community support in the region makes events like this possible, as well as keeping the club operating.
Turner acknowledged the Humboldt Curling Club for hosting the event, calling the Humboldt rink a "first class venue."
"It's not the first time CurlSask has been in Humboldt for events and it definitely won't be the last."
Similar sentiments were echoed by the champions.
Wempe said some more local bonspiels are being planned for the season, with the men's and ladies opener scheduled for the last weekend of February.