TISDALE — The Tisdale Trojans have bolstered their coaching staff with history making additions and high-level pro playing and coaching experience.
The Saskatchewan Male U18 AAA Hockey League squad has brought on Courtney Tremblay as an assistant coach. She is believed to be the first female assistant coach in the successful program's history. The Trojans have also added another female staff member in goaltending coach Ashley Kuechle. Former Trojans player Joey Leach joins the team as a skill coach. All three new additions played the game professionally - with Leach having a six-year career at the minor pro level.
Last spring it was announced that then North East Wolfpack U15 AA head coach Gavin Brandl would be an assistant coach for the Tisdale team. The incoming coaching quartet – who are all 30 or younger – join returning assistant coach Rob Pollon and head coach Dennis Kubat.
"I'm looking forward to learning from them, mostly all younger ... They have coached or played at a high level. They are all great people and want to learn as well," Kubat said.
Courtney Tremblay
Growing up, Tremblay lived in various places but early on she resided in Tisdale. Her family billeted a Tisdale U18 AAA male player. Later she lived in Carrot River and played U18 AA with North East. A pair of Trojans practiced with that team.
"I've come full circle where I'm actually coaching for the team that my family billeted a player and I looked up to him as my big brother," Tremblay said.
Tremblay, who has previously coached in the successful Regina Rebels U18 AAA girls program, is looking forward to the challenge of being the Trojan's first ever female assistant coach.
"Being on the male side as a girl, I am going to have to earn that respect," she said. "I'm going to have to prove my knowledge. Prove that I know what I'm talking about. I think that there is something about that challenge for me that is different. I'm going to work really hard to prove to them that I know what I'm talking about and earn their respect and their trust so when I'm asking them to do something, they know it's the best thing."
A personal banker for Melfort's Affinity Credit Union, Tremblay said she is looking forward to coaching at the U18 AAA male level. She is also excited to work with the Trojans coaches and said that is one of the reasons she reached out to team in the first place.
"They are younger, very creative, and forward thinking … They're very creative and thoughtful in the way they do things and building the team and their strategies," Tremblay said. "I think I have a lot to provide to that and to learn from them as well."
Tremblay grew up playing boys hockey until she was in Grade 10. She played female U18 AAA with the Prince Albert Bears and helped the team win the 2009 provincial title. The next season Tremblay and the North East female team won a Saskatchewan AA championship. She went on to play for Red Deer College. After that, Tremblay played semi-pro in Australia and won a national title with the Adelaide Adrenaline.
In boys hockey growing up, she competed on the blue line. At the U18 AAA female level with Prince Albert, Tremblay was moved to forward. In college and in Australia, she played both positions.
When Tremblay entered the workforce, she volunteered for parts of two seasons as the head coach for the Meadow Lake male U18 team. She moved onto coaching for the Rebels. After a fourth-place finish in her first season, Tremblay helped the team finish second and first, respectively, in the league standings. In that final season, the Rebels were ranked No. 1 in the country and won a 32-team tournament in Detroit. Now headed to her third U18 squad, what is it about that age level that Tremblay enjoys?
"I love being a part of the strategy and the thinking of the game," she said. "Watching a game and seeing maybe our powerplay isn't working. Why isn't our powerplay working? Looking at it – it's maybe what the other team is doing for its penalty kill and how do we adjust to counteract that? At that age group, you can make mid-game adjustments. They can listen and act on that because they're at the level where they're understanding that."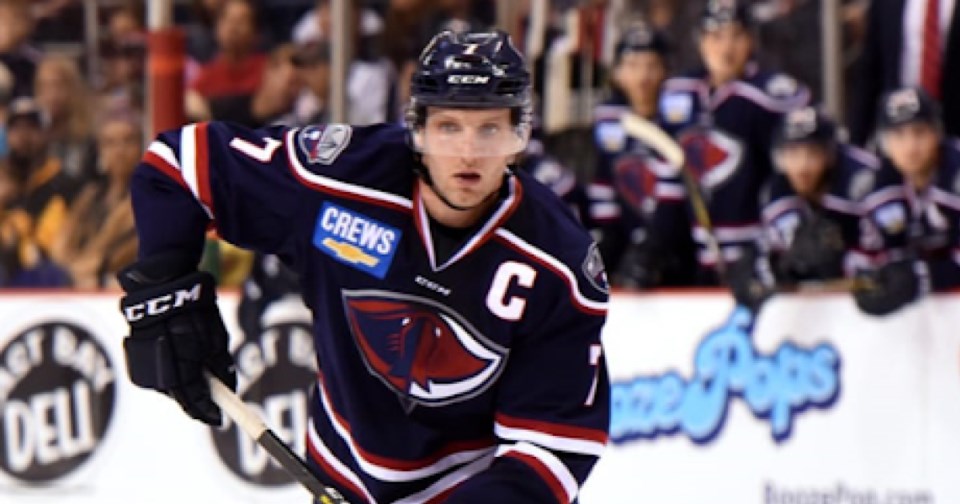 Joey Leach is a new skills coach for the Tisdale Trojans. Photo courtesy of Tisdale Trojans
Joey Leach
Leach, who grew up in Wadena, returns to the team and community he played for and in. Growing up, he played a year of Pee Wee AA and two U15 AA seasons in Tisdale. Leach suited up for two years with the Trojans. "What I remember most about my time in Tisdale is the friendly small town with passionate fans and great people within the organization," Leach said. "We were treated great, and the organization was focused on helping everyone succeed on and off the ice."
He played four years with the Western Hockey League's Kootenay Ice before embarking on a professional career. In a half dozen pro seasons, Leach competed for seven teams between the ECHL and the American Hockey League, which is one step away from the National Hockey League.
"I feel that I can bring a variety of ideas that I have learned throughout my journey in the WHL and the professional ranks," Leach said. "I have been taught by many great coaches that all had different ideas of what was best for their players at each position. Even though I have been a defenceman my entire career, I feel that I can help the whole lineup meet their greatest potential. I have always viewed the game in a unique way and believe that my experience and attention to detail will help the young athletes see more than their own position. I have seen the work and skills that it takes to help players advance to the next step whether that's Junior A, WHL, school or the professional level."
Leach lives in Wadena with his wife Karlee and son Tate. He has run several hockey clinics and schools as well as conducting private sessions in the area with Leach Hockey. He has also helped some Wadena minor hockey teams.
"I had the privilege of being coached by many great coaches; my dad (Lyle) growing up, locally by Colin Ruether and Barry Archibald and onto former NHL players and coaches that are still coaching today in the NHL, AHL and other professional leagues," Leach said. "I soaked up as much knowledge as I could from each and every one of them, on and off the ice, to help in my career and now I have the privilege to share it with young athletes that are eager to succeed."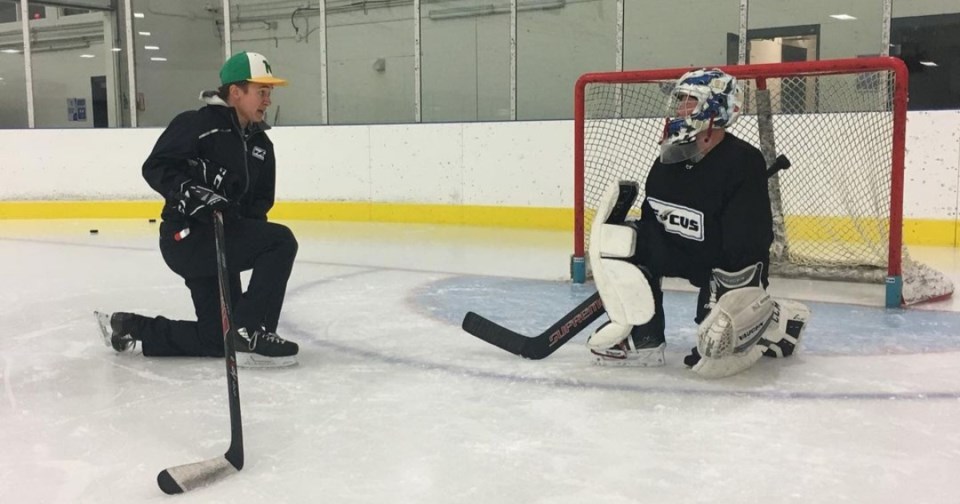 Ashley Kuechle, right, is the Tisdale Trojans' new goaltending coach. Photo courtesy of Tisdale Trojans
Ashley Kuechle
While she spends plenty of time doing clinics and camps and private goalie sessions, Kuechle is pleased to have the opportunity to work this season with the Tisdale netminders.
"The in-season stuff is really fun because you are going with a group through the ups and downs of a season and kind of providing the support of 'OK, how do you handle a slump? How do you handle maybe a hot streak and not getting complacent? Or how do you handle the pressures of going into a big tournament like the Mac's or trying to move on through provincial championships and the maybe onto nationals or westerns …' You get to know the individuals much better – and not just the goalies."
Kuechle, who now works for Focus Goaltending, has coached extensively in the northern half of the province. For several years, Trojans returning goalie Cody Wilson of Archerwill has participated in a North East goaltending program Kuechle has been a part of. She also knows incoming goalie Brady Kashuba of Preeceville.
"Both goalies are definitely guys I'm familiar with and excited to work with," Kuechle said. "Different goalies and different people – that's a good challenge as a coach."
She has enjoyed working with minor hockey players over the years.
"It's been really exciting to see the ones like Cody and a number of others who have actually moved out of those programs into higher-level hockey … You see them all the way from wee little to not so little," Kuechle said.
Based in her hometown of Saskatoon, Kuechle developed her game there before playing U18 AAA for Battlefords for three seasons. She spent an injury redshirt season at Chatham University in Pittsburgh. Kuechle transferred to the University of Wisconsin – River Falls. In each of the next four seasons, she helped the Falcons make it to the NCAA Division III quarterfinals. In Kuechle's final season, the team finished third nationally. After university, she traveled for a year before playing professionally for KMH Budapest in Hungary.
During summer breaks from university and while in Hungary, Kuechle did some coaching. She took it on full time when her playing career was over. As a young goalie, Kuechle sought out coaching.
"I really wanted that kind of help because I was hungry to learn," she said. "When I got it, it was so beneficial … The mental side of the goalie is really, really important. I know getting the same kind of support I'm trying to pass on would have been a huge help. That's part of the reason I like doing it. I understand, 'hey, this stuff really does help.' Not just as an athlete but as a person.''
Kuechle has worked with U18 AAA female and male goaltenders over the years. She enjoys coaching athletes at that level.
"It is the first kind of really, really serious step in hockey," Kuechle said. "It shows they've decided they really want to give it a go and that they are motivated to continue to develop and learn and kind of see where they can go into junior hockey and beyond. They are just really motivated individuals. All the goalies I've worked with at that level prior, they are just really driven and willing to basically do anything that makes them better and push them on."
She noted that goaltender is a longer development position. Kuechle said that players in the U18 age group are still early in their development as netminders and people.
"Working with teenagers is always a really fun age," she said. "They are really still trying to figure out what their path is. If they're playing at that level, they've decided that hockey is going to be part of it. … In just a year, two years, or three years at that level, they can really change and grow, which is super exciting."