MOOSE JAW — Beth Crabb has been a basketeer — a person who weaves baskets — for over 30 years, after taking a basketry course in Crete, Nebraska in 1991. Since then, she has taught herself from books and through trial and error to weave masterpieces recognized across the country.
She's been a teacher at art schools in Saskatchewan, Alberta, and B.C., and at many local guild workshops and art galleries. Crabb has also produced artwork in pottery and watercolour painting.
Crabb's husband Byron is a retired veterinarian and a carver in bone, wood, and stone. His masterworks are of the animals he spent his career tending to, and the couple have enjoyed working and teaching together throughout their marriage.
In 2007, they travelled together to Ottawa for Canada Day, representing the Moose Jaw arts community, which Crabb said was a true honour.
Beth and Byron Crabb share artist's initials, and Byron enjoys carving a tiny crab as his mark. A sign at the door of their home "warns" that "two old crabs live here."
"I think I've probably been an artist my whole life," Crabb muses. "Always sketching as a kid, that kind of thing. Probably the first thing I did, though, to pursue art aside from just sketching was a basketry class down in Crete, Nebraska. We were going down there because Byron was taking a carving course, learning how to do antler carvings."
She had intended to treat the trip as a holiday. While browsing a brochure from the school, however, she noticed a basketry course was being offered as well.
"I've always been intrigued by baskets, like, how do they happen? I didn't understand. So, I took a week-long class down there, and that was it."
She hasn't taken any further basketry classes, aside from one or two for willow-weaving.
Willow is substantially different from the reed Crabb normally uses. The tough, stiff twigs must be steamed and bent and hand-worked into compliance — a difficult process that results in aching hands.
Her materials — rattan, also called reed — are imported from Southeast Asia, the only place rattan grows in quantity. The necessity of importing reed can be a barrier to those wanting to start in the craft, she admits.
"If you want to do willow basketry, fine, there's willow everywhere," Crabb explains. "But reed only grows in other parts of the world… There's a lot more basket weavers in the States, so I bring mine in from there."
Reed can be flat, semi-rounded, or rounded depending on the shape of the final basket. The width and thickness of the stem also varies.
Leaving the stems their natural colour is popular with basketeers. Part of the art form's attraction is its thousands of years of history as a practical technology. Allowing the pale, gentle colour to speak for itself is traditional.
"I really encourage anybody who takes one of my classes to take what you've made home and love it and use it," Crabb said. "It wants to be used, it wants to be part of your life."
The beauty of functional art does intersect with colour, though — and with the artist's attempt to capture memory, emotion, and concept through abstraction.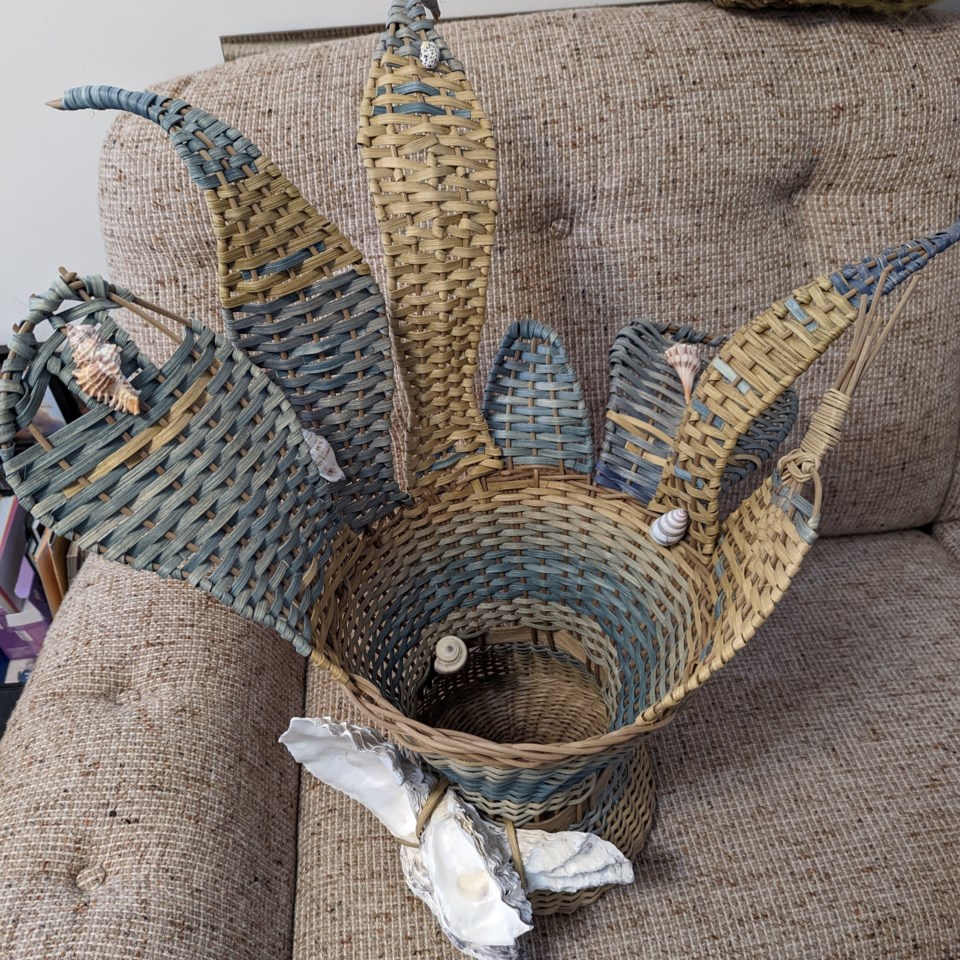 "To me, this was a really fun, favourite piece that I did for a show at the (MJMAG) once. We had been in New Zealand and driving along the coastal roads. You're looking right down at the sea, and in one spot there was this little cove and all the seagrass was just swirling, and the ocean colours and I thought, 'Oh… I have to try and do that.'"
Crabb uses high-tech cold-water dyes — necessitating goggles, gloves, and a respirator — when she needs colour. It doesn't fade. With experience — and oodles of notepaper — she has also learned to get just the blend and shade she wants.
"I'd also been given all these oyster shells that were clustered together… and I got the blend of the green and the blue, and then sort of the wild tendrils coming up. It was really fun to have that memory and to try to capture it."
Crabb is as much a businessperson as an artist, she notes, but she does sell her work and take commissions. She is a juried member of the Saskatchewan Craft Council, which helps her sell her pieces at shows throughout the province.
Contact Beth at bbcrabb@icloud.com or by calling 306-690-4424 for more information.
Beth will be teaching a basketry class at the Moose Jaw Museum & Art Gallery (MJM&AG) on Saturday, Nov. 5 from 8:30 a.m. to 4:30 p.m. Students will complete a basket, start to finish, in one day. Sign up at mjmag.ca/art-class/basketmaking.
She will also be at the MJM&AG gift shop on Oct. 15 from 10 a.m. to 5 p.m. for the 10th annual Moostletoe Artists Studio Tour. Tour participants will meet Crabb alongside Indigenous beadwork artist Jazenta Saultier. They will be answering questions and displaying some of their work.