The Estevan Market Mall now has a fully equipped electric vehicle (EV) charging station.
The renovation of the parking lot near Peavey Mart included the construction of a two-vehicle electric plug-in, which is now available for local EV owners as well as travellers passing through the Energy City, free of charge.
The EV charging station is the first and only one in Estevan. It's a level 2 charger, which is similar to charging a vehicle at home and takes about six to eight hours for a full charge.
"With the support of Peavey Mart, we have now dedicated two stalls near the entrance of the Peavey Mart for electric vehicle parking and charging. The charging unit was activated at the end of January," said Martin Blair, who is managing director of First Aberdeen Properties Ltd., the owners of the Estevan Market Mall.
There was a plug-in by the store before as the store network committed to offering customers free charging a while ago. But it was on the side of the building, and after the renovations, a new station opened at a more convenient spot at the lot.
The Mercury talked to Estevan's Mark Kroeker, who is a Saskatchewan Electric Vehicle Association (SEVA) board member, about the new feature and the world of electro cars.
There are currently two people who own EVs in the Estevan area, but Kroeker said the popularity of EVs in Saskatchewan is growing every year. As of December 2020, there were about 1,650-1,675 registered EV and plug-in electric-hybrid vehicle owners, and the team is steadily growing.
"It's growing exponentially for sure. As of about April last year there was only about 350 electric cars registered in Saskatchewan," Kroeker said.
Kroeker bought his new vehicle last year and said so far, he is happy with the decision.
"We purchased our Tesla Model Y at the beginning of October. We ordered it online. Everything is done online with them, it's a different way to buy a car. We ordered it in July and took delivery in early October.
"So far, we've been really happy … It has a really good range. On a summer day, we can drive from Estevan to Saskatoon without stopping. It has a 520-kilometre range. And in winter you lose, depending on how cold it is, on the worst day you lose up to 40-50 per cent of your range."
Kroeker added that while in winter Tesla's performance is not as great as in summer, EV owners leave home fully charged every morning and usually have no problem with charging their vehicles if needed. All a driver needs is a plug, similar to what a regular oven uses – 220V and 50Amp, and it costs way less to charge a vehicle than it is to fill it up with gas or diesel. Besides, the cold weather is not a challenge for EVs at all.
"Anybody who owns one would tell you it's excellent (even during the cold weather), because you don't have to worry about whether it's going to start or not in the morning. It will always run. It's on all the time … It's almost like a cell phone. It goes to sleep, but it's still on. And when you get in, it comes back awake and you just drive away."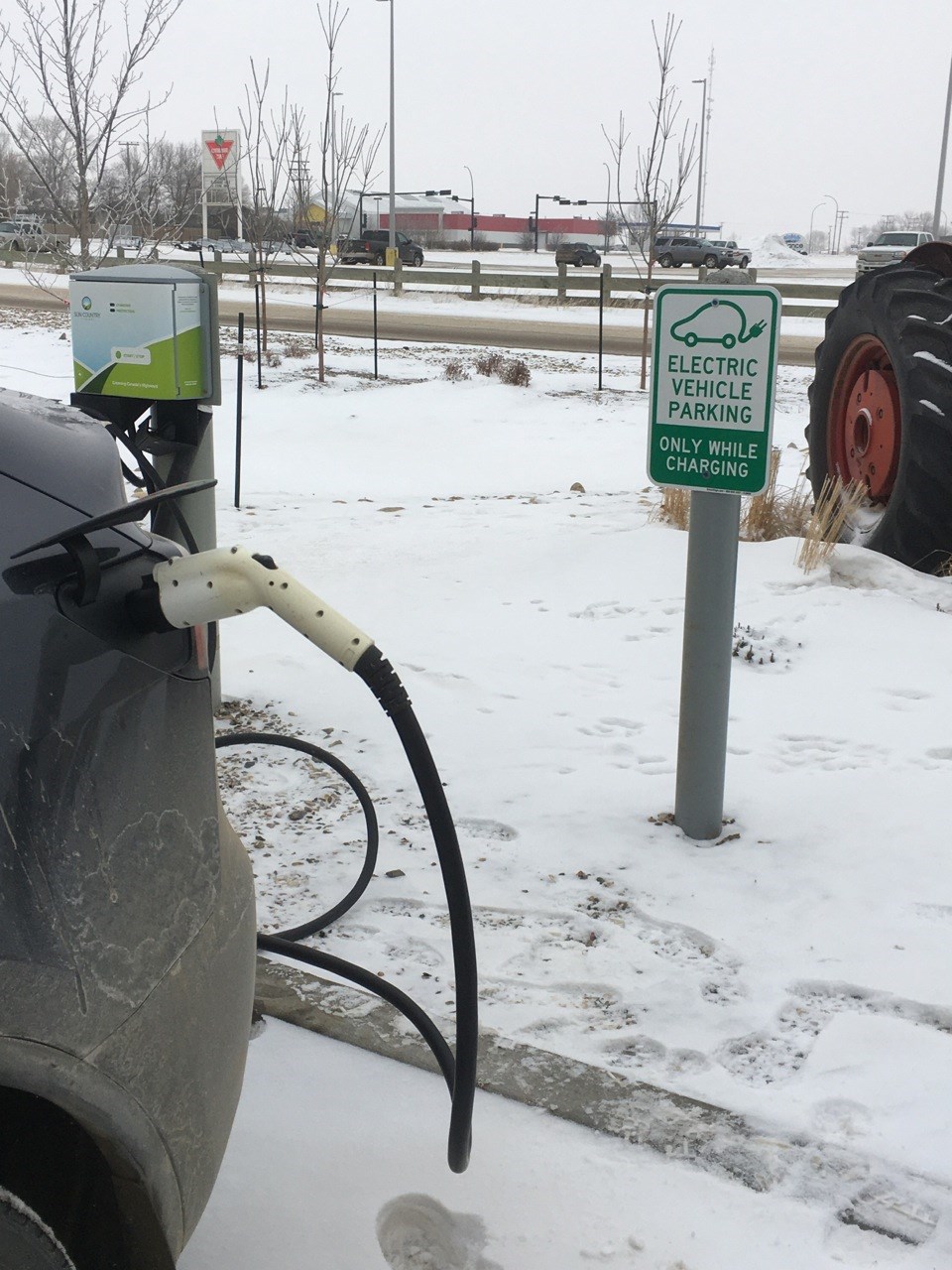 Even now there are enough charging stations, especially in the Tesla system, to freely travel across Canada, and Kroeker said that the network keeps growing with a few serious players joining it as of right now.
"I believe this summer Canadian Tire nation-wide has committed to installing chargers at all mini locations including Estevan and Weyburn. We are getting DC fast chargers, level 3 charging, which means a car like mine plugged into it can charge in 15-20 minutes."
He added that Federated Co-ops started installing charging stations as well. And that's how Kroeker said he sees the development of the industry, with charging stations being an incentive and a courtesy of shopping centres and coffee shops.
"Nobody wants to be left behind. This transition is happening. It's going to happen fast, I think," Kroeker said.
Out of Kroeker's experience, buying an EV is more expensive than purchasing the same class of gas or diesel vehicle, however, owning one is cheaper.
"That's why we bought one because we had to replace our vehicle. And you sit down and you do the math. And even though they are more expensive to buy up front, they are cheaper to own over the life of the vehicle," Kroeker said.
It cost their family about $15 in electricity last fall to get from Calgary to Estevan, and with more players joining the market it will get even better. Kroeker added he believes that the new free charging station will probably make more EV travellers stop in Estevan now.
Currently, Teslas with their more developed charging network are quite popular with Saskatchewan drivers, and the second person in the Estevan area also drives a Tesla, but a Model X. However, some SEVA  members also own other brands including electric BMWs, Nissans, Hyundais and others, and every year more and more manufacturers join the market. Kroeker said that Ford, GM and Toyota are also working on electric vehicles.
Kroeker added that if people have questions about electric vehicles and their performance in Saskatchewan, they can visit their website at sevaonline.ca.
"There is lots of great information there. There are a lot of myths that are propagated about electric vehicles that are really not true … We encourage people to go on our website and read and get some of the answers to their questions.
"And once COVID stuff is over we are really hoping to actually have electric cars rallies, and have some of my friends off of Regina to give people rides and show them what it's like," Kroeker said.
The new EV charging station is located at the southeast corner of the Estevan Market Mall's parking lot, by the antique tractor in front of the Peavey Mart.