Estevan's business family recently had a new addition. Aleksandra Szlapacka, better known to the community and suppliers as Aleks, opened the Polish Kitchen – a beautiful little store at 421A Kennsington Ave that makes customers feel like at grandma's.
Szlapacka came to Estevan from Poland about six years ago. She says that it was the Energy City that chose her. She never thought that she would open a business until a few months ago when her cooking talent got her trapped.
"I was making cabbage rolls, just on the side for people before Christmas. And they were, 'We love it, we love it. Why don't you sell them?' And I was, 'I don't want to do this, I don't want to sell cabbage rolls.' It started with cabbage rolls. And then I started thinking, "If I start selling cabbage rolls, it can't be just cabbage rolls. It's gotta be more than this.'"
And after numerous sleepless nights, hours and hours of research, piles of paperwork, days of renovation and planning that all was her after-work activities, enthusiastic and goal-oriented Szlapacka opened the doors of the Polish Kitchen.
Szlapacka's bacon wrapped cabbage rolls cooked after her own special secret recipe, that she refused to share with the readers but which makes the meal exceptional, are the store's biggest hit along with the variety of her homemade perogies. Ukrainian Co-op sausages were in high demand since day one as well.
In general, it seemed like Estevan has been craving Polish and Ukrainian cuisine for a long time, as the store was emptied the first three days after opening April 17.
"There was nothing on the shelves, and I was laughing because it was like the 1980s back home, empty shelves in the meat store," said Szlapacka.
Since then she had to almost triple her sausage orders. She brought in a lot of new positions and constantly keeps growing. Every time she puts an order in the suppliers get surprised with how much food she goes through. Szlapacka even assumed that her meat supplier may end up hiring more people to meet Estevan's demand.
"They do their best to put the order together, but it's getting more and more, and I keep adding, keep bringing more stuff like ribs or beef jerky."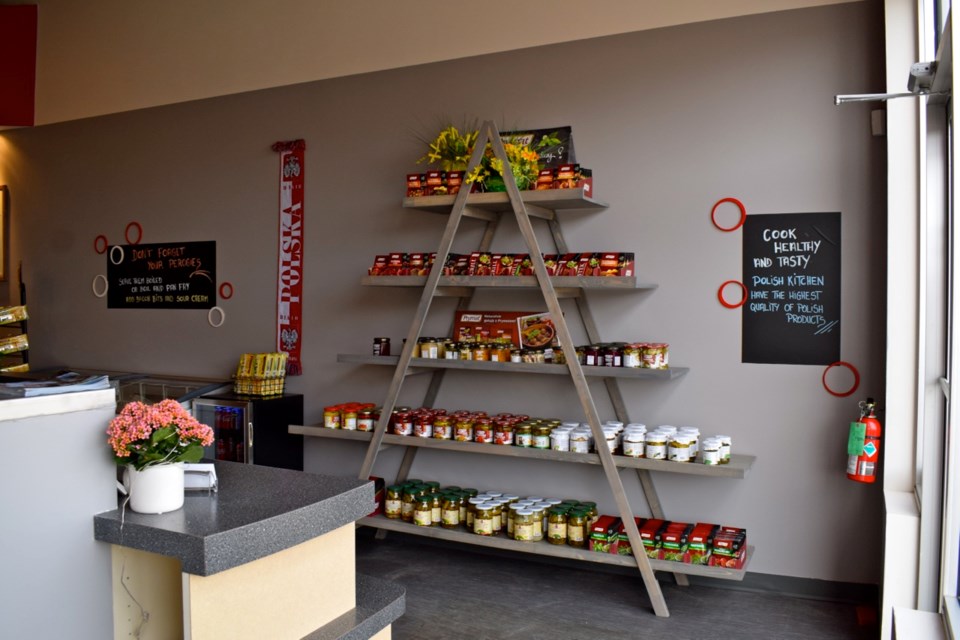 Szlapacka hopes to eventually develop the deli part of the store and add a variety of ham and other sliced meats to the initial sausage, pepperoni and bacon. She looks into getting a deli supplier, but when it comes to the quality she is very picky.
"I'm in the testing mode right now, I'm trying to find (the supplier). It has to be the same quality. I have to like it. If I don't like it, I'm not going to bring it."
She also offers a variety of traditional high-end pickled vegetables, jams, and other Polish and Ukrainian groceries and snacks.
Another attraction is hot, homemade grandma-style lunches, which are different every day. Szlapacka never wanted to open a restaurant, but her childhood and background in Poland got her used to having nutritious full lunches and various soups.
"In my house, for my dad every day we had to have soup. For him a day without soup wasn't a day," remembered Szlapacka.
And she decided to forward this tradition down to her customers, offering different meals-to-go. However, nobody ever knows ahead of time what kid of food each day will bring.
"People keep asking, 'What's for lunch?' I don't know… Thursday is (always) cabbage rolls. 'And what's for Friday?' I don't know, whatever I created... It's from my list in my head from what my mom used to cook," said Szlapacka laughing.
She creates and works her magic in the kitchen, using old-country recipes, spices and even salt and allowing people to try something new and not that widespread in Canada. Some meals people like, others not so much.
"I'm trying to put meals out to see what people like the most," said Szlapacka.
Every morning she comes to the store with new ideas and usually has about two hours to bring them to life and have fresh meals before the first customers come in.