A time of wonders, this past Christmas brought something that many would consider a miracle to the Estevan community.
After years and years, an abandoned Second World War era airplane found just outside of Estevan received a second life, thanks to a group of friends led by Estevan's Lester Hinzman.
By now, one could say that preservation of the military history of the region has turned into almost a full-time job for Hinzman, a man known in the community, across the province and even further for his involvement with the Soldiers' Tree, Forever in the Clouds and the latest Returning Soldier monuments created by sculptor Darren Jones.
Just before Christmas, Hinzman finalized another project, giving a new home and a new purpose to the training Avro Anson airplane that was abandoned for many years.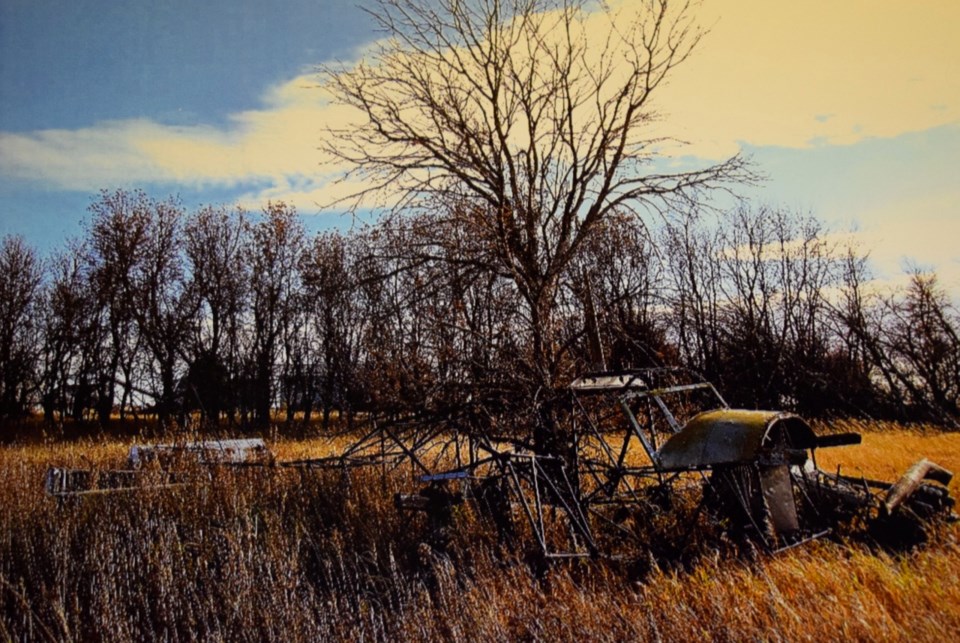 This plane will never fly again, but Hinzman hopes it will help to educate others about the history of the area, and the brave men who took their first flights in this machine and who later fought for peace and freedom on the other side of the world.
The plane was first discovered by local taxidermist Gary Leslie when he was hunting southwest of Estevan. Well aware of Hinzman's passion for the history of the region and war relics, Leslie contacted him right away.
Hinzman said when he first saw the plane he was "pleased."
"Gary phoned me and asked me if I wanted a propeller, and I said, "No, I'll take the plane," Hinzman recalled, explaining that for him the most important part was to preserve the historical piece.
"I knew it would be an old training plane because there used to be lots around here at that time. But then they hauled them away for garbage or whatnot."
At one time, this vintage airplane was part of the British Commonwealth Air Training Plan and was used for training pilots in Estevan.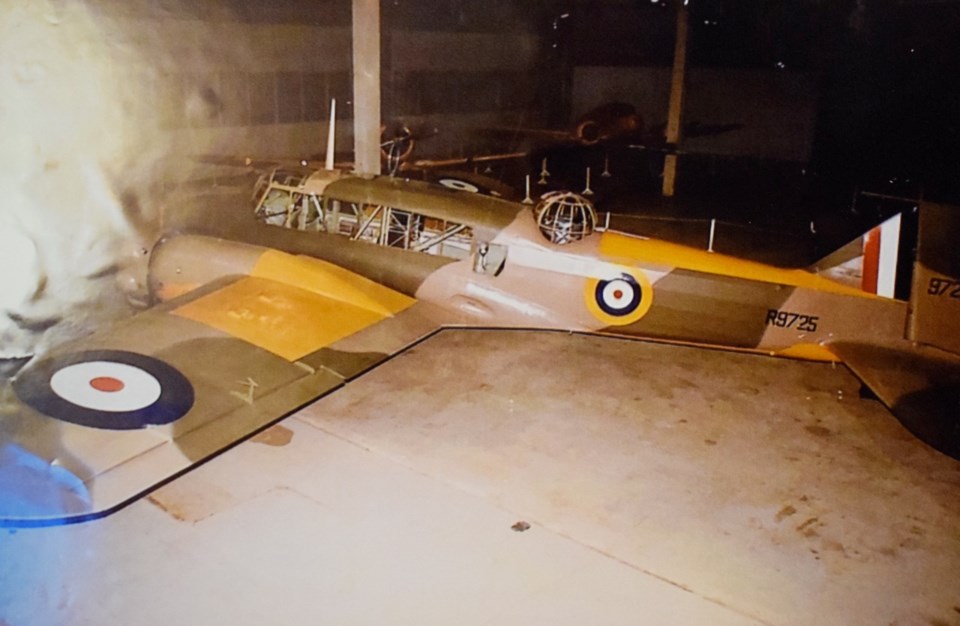 During the 1941-45 period, about 200 flying schools were organized all across Canada to train pilots, both local and other from countries, fighting in the war alongside Canada. Saskatchewan, not densely populated with its beautiful Prairie land, was perfect for pilot training. Only in this province, there were over a dozen such schools including the one near Estevan, which was using the old airport as their base.
Once the war was over, the training planes weren't needed anymore. They were sold for a few dollars and mainly used for parts. Some people would utilize the plane cab to rebuild their trucks, others adapted Jacobs engines – also known as Shakin' or Shakey Jakes for their tendency to vibrate heavily at low RPMs – for their snowmobiles.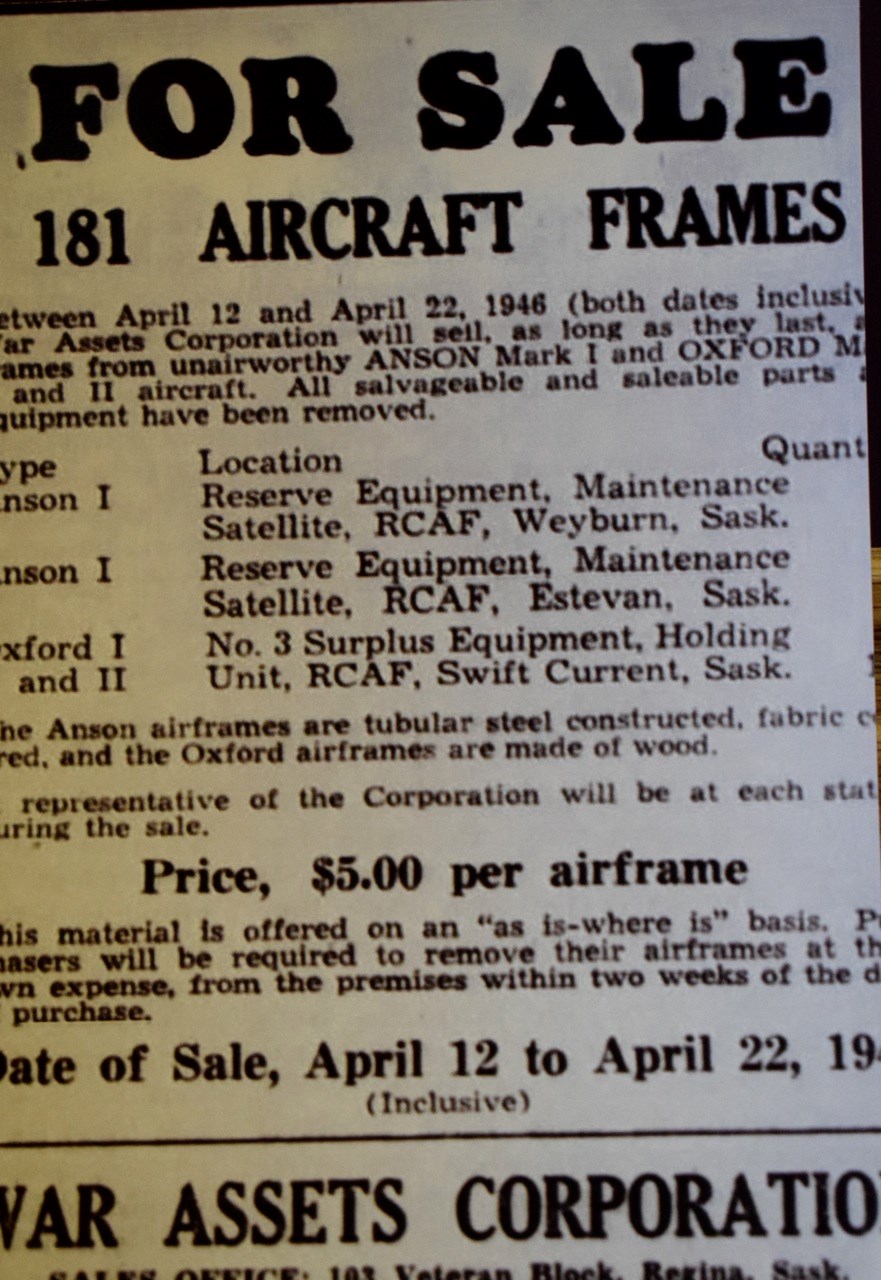 "Back then they took planes and made whatever out of them. It was a whole different generation," explained Hinzman.
The plane was sitting on Stefan Seipp's land, which used to belong to Elvin Haukeness before.
"The landowners knew about (the plane), it's been there for years," Hinzman said.
According to the Haukeness family, this particular plane was purchased for $50 and used for parts.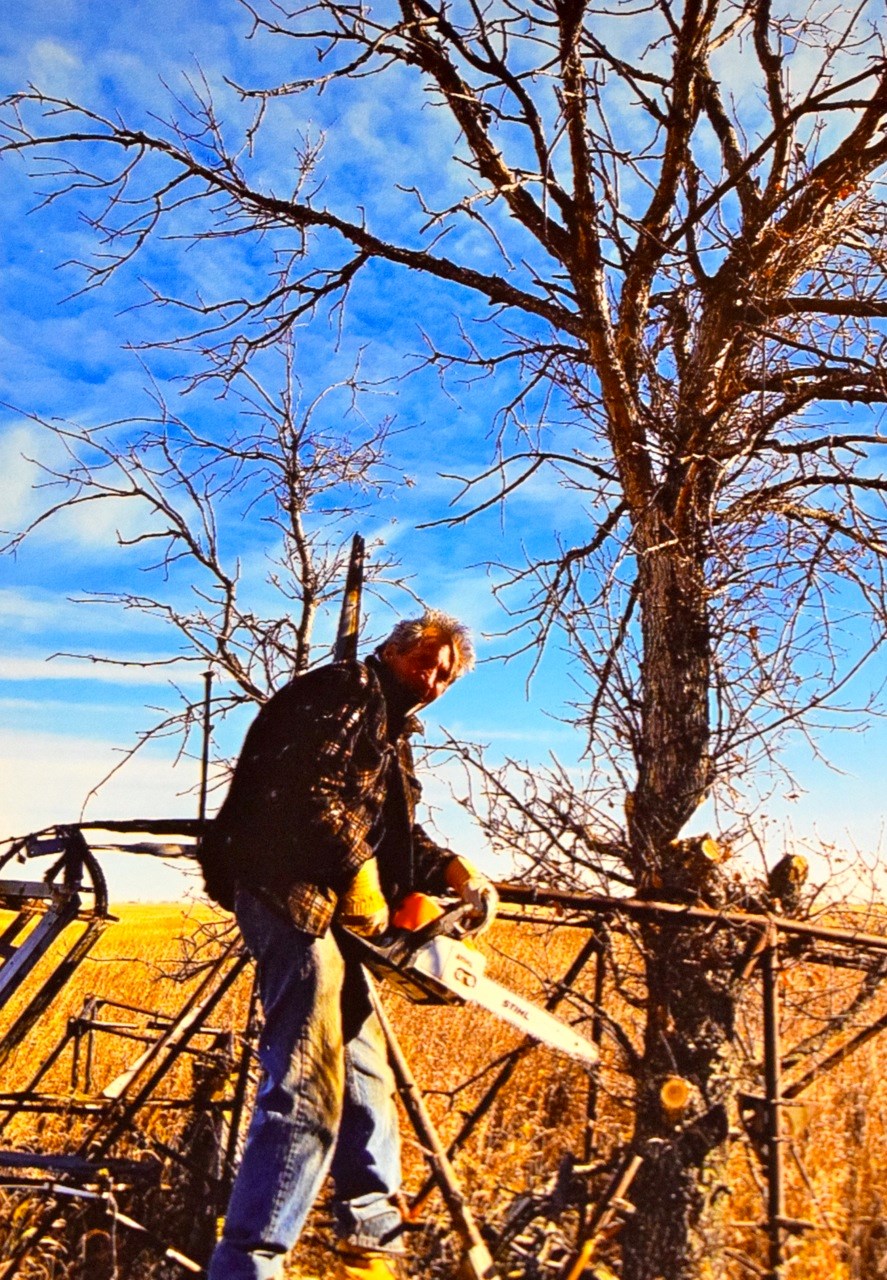 The rusty frame and what was left of the plane by September 2020, when it was found, were half-covered with grass and a tree was growing through it. So wasting no time, the group of like-minded fellows started working on recovering the plane. Kelly Hanson, Rodney Jacobs, Wladimir Ejrich, Rick Malaryk and Wayne Stubel were working alongside Hinzman to make sure that the piece and history behind it are preserved for generations to come.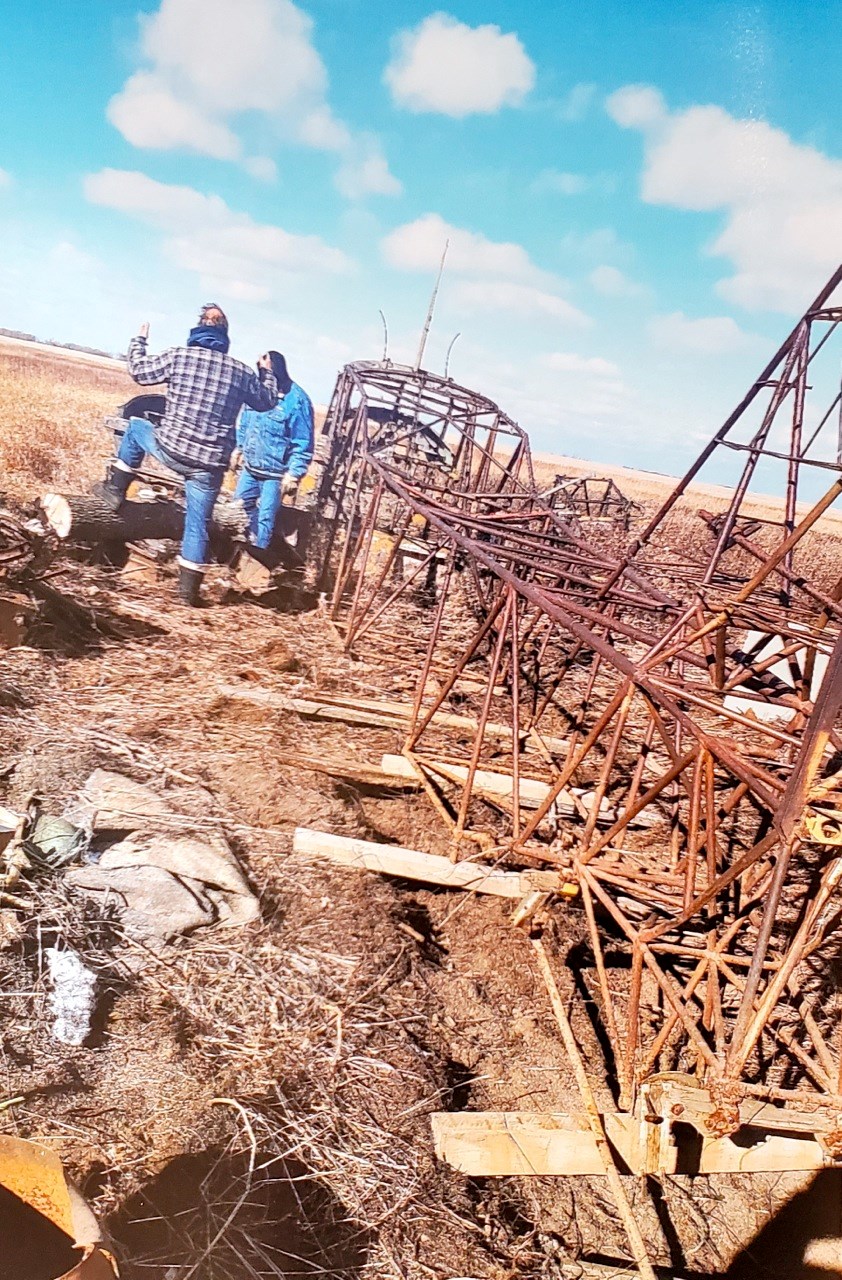 First, they had to clear the plane of debris, and then they were able to place boards under it to ensure that when the ground freezes it doesn't get stuck. It took a lot of work and some patience, but finally, in mid-December the weather was co-operating and the group was able to bring the equipment down and safely transport the historical piece to Hinzman's yard, which is located in the area known as Death Valley on the side of the old Estevan airport.
"Kelly worked out the game plan to bring it home, and then he decided when, because he wanted the ground frozen before he went there with the truck."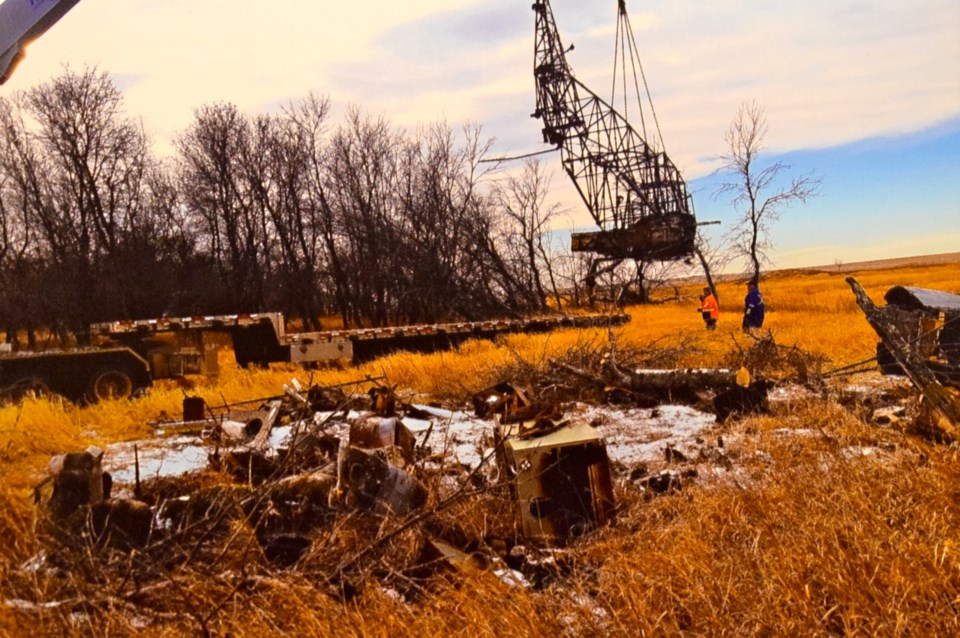 Bert Baxter Transport supplied the equipment to lift and transport the artifact. Hinzman added that the local business was very supportive of their project, as was 15 Wing Moose Jaw, the centre of Royal Canadian Air Force aircrew training that Hinzman reached out to about the plane.
Former Estevan resident and welder/sculptor Mike Beaudoin, who made several art projects in the community including the Sacred Heart School/École Sacré Coeur iron teepee and the metal band students sculpture that sits between the Estevan Comprehensive School and Spruce Ridge School, was also helping Hinzman with the project and shared his knowledge about similar restored planes that are exhibited at the Western Development Museum in Moose Jaw.
"In a lot of these little towns, people don't realize that there used to be airports on the outskirts, and people from all over the world were coming to learn how to fly these planes and hopefully survive the war. A lot of people don't realize this.
"The same about the way those planes are made. There was a steel frame and a couple of big motors, and the rest was 'paper,'" Beaudoin said.
While the restored pieces displayed at the museum give an understanding of how those planes looked during their best times, Hinzman's artifact shows how it was built and the materials used to put it together.
"They were used as training planes, and you stop and look, the wings were held on by wood … This is a real learning tool. People are shocked to see what (the pilots) were in," said Hinzman, adding that the plane's body was covered with material similar to what's used for flags.
"It was light and it was cheap to build … But there were a lot of young men that died … in crashes." 
There are still a few planes of this kind around. Some of them are restored and are sitting at different museums or private collections, and others are lost somewhere in the wilds. There are also not many people left alive who were the ones restoring those once very important machines. 
There are just two men in Moose Jaw who used to rebuild these kinds of planes after the war. Beaudoin shared the information he received from Jim Goostav, the person who had first-hand experience working on similar machines back in the day.
Avro Ansons were brought over from Great Britain and here every plane was modified to do a certain job. One would have a gun, the other would have a camera.
"The reason these planes were so popular was that when they put the Jacobs engines in them and did all the modifications to the cockpit … then they would become very durable planes, and easy to fly," shared Beaudoin.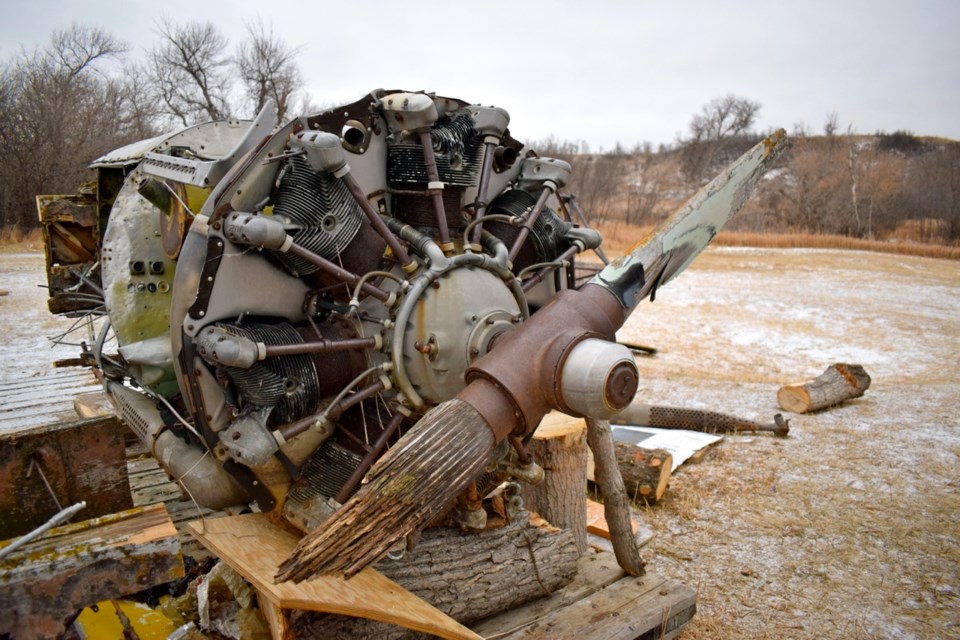 Planes, remodified in Saskatchewan, were used solely for training purposes, but they were educational tools not only for pilots but also for mechanics.
The actual planes of similar construction were designed to be extremely fast to get into an area, take pictures and get out of there, thus, working the way up for bombers or fire planes.
"They were extremely durable and could take a lot of punishment," Beaudoin said.
The engine cowlings were intentionally designed to have a smaller diameter in order to reduce their negative impact upon external visibility. Depending on the size of the engine, planes would look slightly different.
The recovered plane that has a smaller engine will keep serving the training purposes but in a new way.
"It's going to be a learning tool. Different people said, 'Are you going to fix it?' No, you can't, it's rusted, " said Hinzman adding that while the plane will not go in the air again, it will still be of great use.
"Our young don't understand our history, we are not taught it," said Hinzman, whose father Bill Hinzman fought in Normandy. "Our history has been forgotten, and we have a real history."
"Anybody can come down and look at it. This is our history."
Hinzman and others involved with the project are planning on preserving the plane to ensure it doesn't keep disintegrating. Beaudoin said that during the warm season he'd like to see the artifact put on a trailer and taken around to share its story and history behind it.
Hinzman also asked anyone who knows of any other planes to contact him at 306-461-8208 or Beaudoin at 306-861-0001.