Difficult times bring up the best in us. Navigating through the current uncertainty, St. Mary's School Grade 8 students and staff came up with a heart-warming community project. 
"Every week in lent we focus on one of the three pillars of lent, either prayer, giving or fasting. And this past week we've chosen to focus on giving. Our lenting team, which is composed of a variety of students and staff, came together and decided what could we do in a short time that we have to best serve our community. We came together with this initiative making cards and letters for healthcare workers and seniors in our community," explained Agnes Garrioch, who is a Grade 8 teacher at St. Mary's School.
Students could choose if they wanted to make a card or a letter. It was also up to them to decide where to mail those cards and letters, but they didn't personally know people who they were writing to.
They also were given some direction as to what they could write about.
"We talked as a group about some ideas they could write (like) jokes, some ideas they could find watching YouTube, thank you notes, pictures drawn, funny stories …  an idea for an invention, teach them something or (talk about) something cool they learned, or 'I always wondered about you…', or they could write a prayer for the recipients," said Garrioch.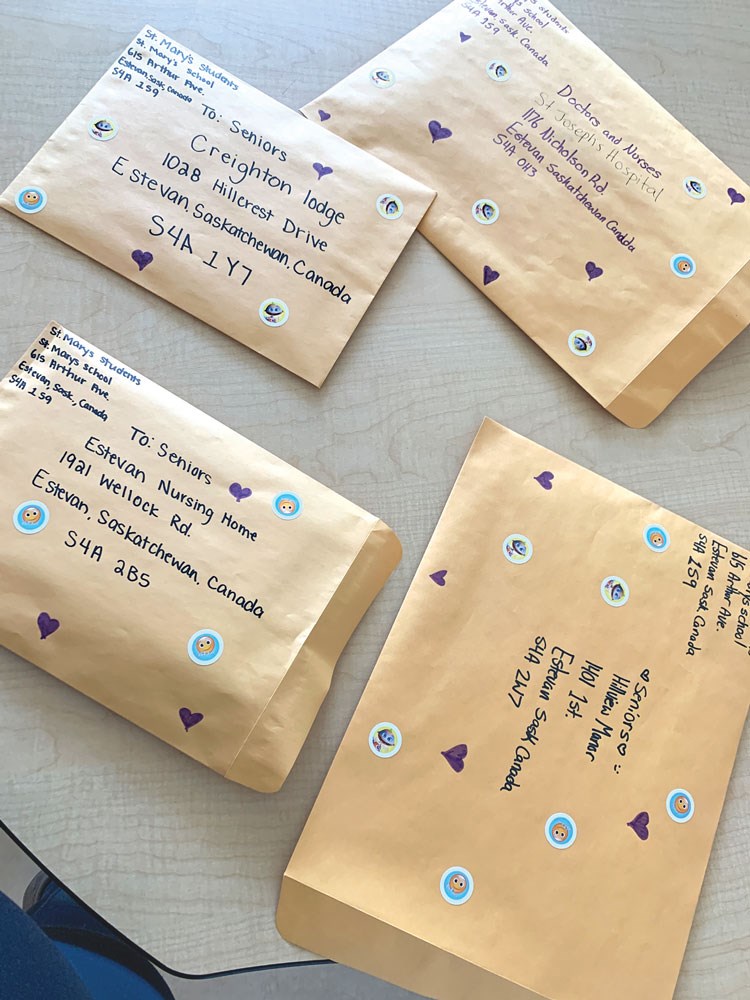 The goal of the initiative was to enhance the wellbeing of the recipients and focus on staying connected with the community in the safest way possible during this time.
Garrioch said that it seemed that while working on the project students actually felt connected and really enjoyed it.
"There was a lot of pride in the work that they did, that feeling of staying connected in this time in a safe (way) was important to them."
Letters and cards were mailed out last Thursday and Garrioch said they hope that they should find the recipients by the end of this week.
Many project participants were curious if their messages would be well received, but Garrioch pointed out that they weren't doing it for a response or feedback.
"We are not necessarily wanting responses to them," said Garrioch. "(These were ) just uplifting cards. We reiterated to the students that the reality is that the nurses and the doctors are so focused on helping everyone that we would just wrap our love around them. And we reached out to seniors, who many students have close relationships with, who recently have closed down their doors to visitors and may be experiencing feelings of increased isolation. So we don't need a response, we just want to make them feel that we are still connecting, we are thinking about them and focused on their wellbeing."
Over 60 cards and letters were created and sent to different locations in Estevan to spread some love and support the community.
"I think it's just so important to stay connected in the safest way we can. And the idea was to focus on our community's wellbeing and just wrap our love around the vulnerable and all the hard-working people in the community."