Keely Shaw will be part of Team Canada in Para cycling at the Tokyo 2020 Paralympic Games this summer.
Shaw, who hails from Midale, will suit up for Canada in the women's C4 classification. A member of the Canadian team for four years now, she is one of nine athletes on the team.
The track events (time trial and individual pursuit) will run from Aug. 25-28, with Shaw among those set to race for Canada. Competition will then shift to the road (time trial and road race) from Aug. 31-Sept. 3, with Shaw once again among those competing for Canada.
"I don't know if it's fully hit me in all of its entirety yet, and I don't know if it will until I'm on a plane to Tokyo, but that being said, it was definitely a sigh of relief when the team was named yesterday (July 7)," Shaw told the Mercury from Milton, Ont., where she is training. "I had a pretty good feeling that I should be named, but there's always the what ifs that run through your mind. It was really nice and a weight off my shoulders when the team was announced yesterday and my name was on it."
Her focus for the track competition will be on the individual pursuit.
"That one's just a little bit easier for me to focus on, just because there's a lot fewer outside factors, because it's inside, the terrain doesn't matter. It's the same terrain. It's a 250-metre track. There's no wind. There's only one other person on the track with you."
With the road race, there are a lot of variables that could impact how she would do one day versus the other.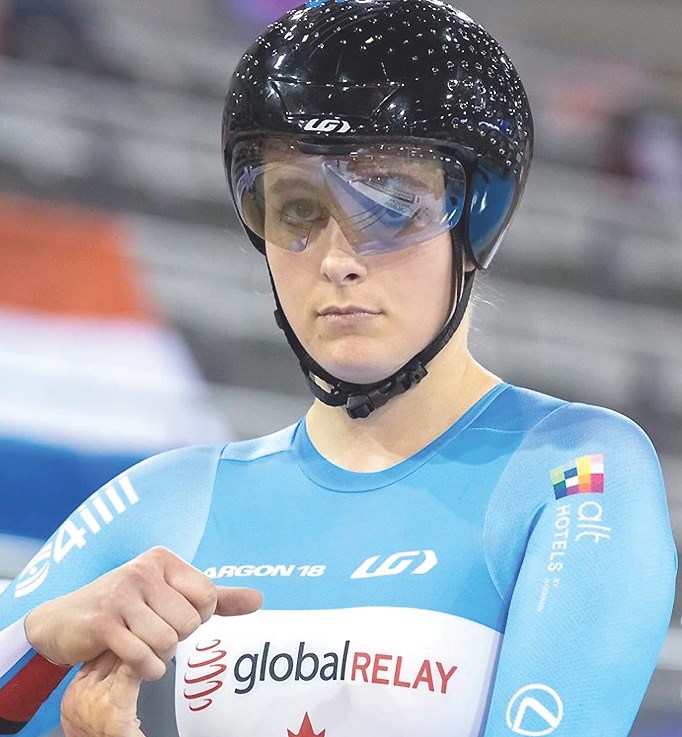 Her last bike race was at a world championship event in Milton on Feb. 2, 2020. She considers herself fortunate that as a cyclist, she doesn't require special facilities, so she was able to train during the pandemic. Since January, she has been able to be in Ontario to do some specific work on the velodrome, allowing her to make big gains on track cycling.
Cycling Canada and the other members of the Para cycling team have been "incredible" to work with, she said.
"We were working where we would have team calls about once a month. Sometimes they were more educational calls, so it might be more talking about how to make the most out of indoor training or maybe nutrition stuff or maybe it was mental training," she said.
Other times team calls would be fun, with a Netflix watch party or a Zoom-based Jeopardy! game.
During the next few weeks, Shaw will be continuing to train, and will talk with her coach about what needs to be done to be ready going into the events.
"I will be in Ontario for training, one last training camp, in early August, and we'll go straight from Ontario to Tokyo around the 14th or 15th so we can be in Tokyo for a week before our event," she said.
Once August arrives, she wants to be focused on the Games.
Shaw said she has no reservations about going to Tokyo for the Paralympic Games. The fight against the COVID-19 pandemic is in a much better place than it was a year ago, when the Olympic and Paralympic Games were postponed. Hopefully a large percentage of the athletes, coaches and staff will have two doses of the vaccine, she said.
"In spite of the Games undoubtedly looking different than any of us might have imagined for the Paralympics, especially for my first Games, I can't wait to get out there and race on the international scene again."
The International Paralympic Committee (IPC) and the Tokyo organizing committee have been releasing what they call play books, so there was an edition released late last year and another one early this year.
"They outlined all of the steps for us. We know that we can't be … in Tokyo any earlier than a week before our events. If you're done racing early, or you're not competing until the very end, you're not supposed to stay in Tokyo until the very end."
It's an effort to limit the amount of time people in Tokyo as much as possible.
Athletes will be tested every day, and they will have a few different apps on their phones for tracing and isolating close contacts.
"The entire organizing committee, along with the IOC (International Olympic Committee) and IPC have been working really hard to put as many measures in place to make sure everybody stays happy and healthy," she said.
Since the individual pursuit is the day after the opening ceremonies, and the road race is late in the Paralympics, she will be in Tokyo throughout the Paralympics.
Since entering the sport in 2017, Shaw won has won a silver medal in the individual pursuit in 2019 and was fourth in 2020.
She became a Para cyclist in 2016 after dabbling in several sports after an accident while riding a horse left her with partial paralysis on her left side in 2009 at age 15. She entered her first road race in 2017, and that same year was invited to a Cycling Canada camp and won two medals at a national championship.
Shaw said she never imagined four years ago that this could be possible.
"I thought maybe 2024 would be more of a possibility, maybe get my feet wet and get onto the international scene. But never would I have imagined that four years after doing my first bike race, three years after doing my first track race, would I be ranked No. 2 in the country and on the plane going to Tokyo to race at the greatest sporting event in the world."
Shaw said she has been overwhelmed with the support from Midale since she was selected.
"I've always known that the people from Midale, from southeast Saskatchewan, are rallying around me, and I feel that when I race at any World Cup, world championships, what it might be like. But being named to the Paralympic team has brought that support to the front and centre."