The Estevan Comprehensive School Elecs senior girls basketball team's annual Shoot for a Cure tournament tipped off Friday night.
The Elecs defeated the Moose Jaw Central Cyclones 77-45 in their opening game of the tournament. Estevan will face the Weyburn Comprehensive School Eagles in the semifinal game at 11:50 a.m. on Saturday.
The eight-team tournament is more than just a sporting event, as it is also a fundraiser for the fight against cancer. Proceeds from the tournament will be directed to help William Sinclair, a former Estevan resident now residing in Kenosee Lake who has had multiple bouts with cancer since 2015.
During the opening ceremonies on Friday night, announcer Levi Stepp shared Sinclair's fight against cancer.
He was first diagnosed with esophageal cancer in the spring of 2015. He went through several chemo and radiation treatments in Regina, which then led to him receiving life-saving surgery in Saskatoon where they removed his entire esophagus.
In April 2018, the cancer returned, except this time it had spread to his colon. He went through a more aggressive treatment of chemo for about four months. Surgery was performed on Dec. 11 as a precaution, with a large section of his colon being removed.
The Elecs captains presented Sinclair with a gift, and each of them gave him a hug.
The Cyclones then presented a cheque to Sinclair, who lived in Moose Jaw at one time.
Sinclair said he was humbled to receive funds through the tournament. Funds raised will be directed towards the costs associated with his cancer treatment, including medication. 
"It was definitely something that was much needed in my life right now, because I can't work outside of the home right now, so it's just a blessing for me. I'm just overwhelmed at how generous people are."
Sinclair said he still has a lot of friends in the Estevan area who have been very supportive during the past four years.
The Elecs and the Cyclones carried pink balloons with names inscribed on them of someone they know who has or is currently battling cancer. After reading off those names, they released the balloons into the air.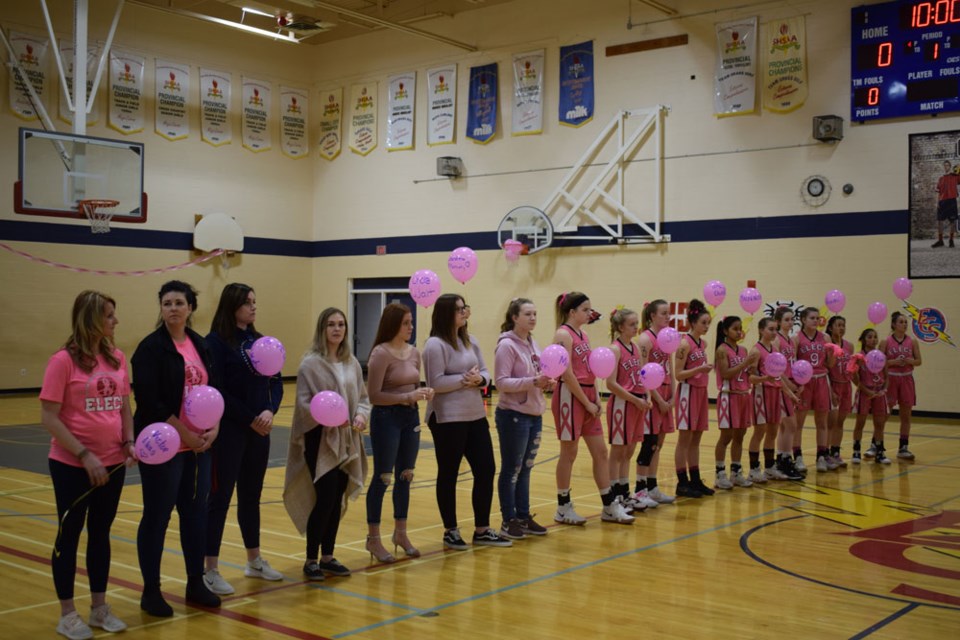 ECS and several other teams were wearing pink jerseys and other pink attire for Friday night's action.
The Elecs had several fundraisers prior to the tournament, and there was a raffle and a concession to raise funds as well.
This week's edition of the Mercury will have more on this story.