Lacrosse is a growing sport around the world, but it's one in which Canada remains a global power.
Estevan's Wyatt Haux can attest to Canada's place in the game, thanks to the role he played at the recent World Junior Lacrosse Championships in Mississauga, Ont.
Haux was a defenceman and the team captain for Canada at the tournament. The Canadians defeated Iroquois 13-10 in the gold medal game to capture gold for the second straight year.
Canada opened this year's tournament by defeating Australia 24-4, a game that was actually tied 1-1 early on, and then they trounced Israel 16-2. Haux recorded a goal and an assist against Israel.
The Canadians faced Israel again in the semifinal, and came away with an 18-4 win. Haux recorded two assists in the victory.
Canada faced Iroquois in the final. The Iroquois team had been the best in the other pool, going 2-0 and beating the U.S. 23-6 in the semis.
"The gold medal game was one of the craziest lacrosse games that I think I ever played in. First quarter, we go down 5-0, and everyone is confused on what's going on, and why aren't we burying (our chances), and why is our defence breaking down."
Canada responded with six unanswered goals to take a 6-5 lead. It remained a back-and-forth game, until the Canadians pulled away to take a bigger lead.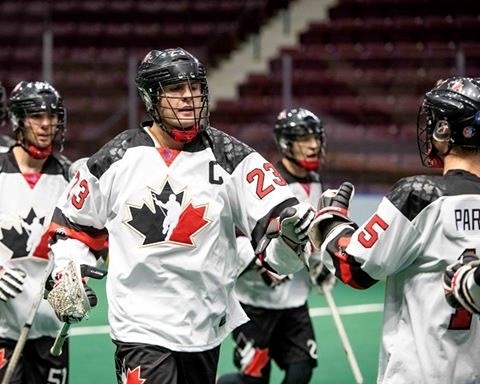 Haux said Canada expected to face Iroquois in the final from the outset. The squad is made up of Canadian Indigenous athletes, and Haux knew many of them.
"There are some big names that have done really well in the Ontario junior lacrosse league," said Haux.
Also at the tournament, Haux was named as a first team all-star defenceman.
This was the second time that Haux has competed at the tournament, so he believes he had a good idea of what to expect. But with three more teams and greater talent, he knew it would be more difficult than a year ago.
Haux participated in tryouts at the start of the summer, with players from every province selected for a watch list. His tryout was essentially based how he played this summer with his junior team, the Saskatoon Swat.
A 40-man roster was selected, and from there, 23 players were chosen to represent Canada.
Coaching the team was Jeff Dowling, the third time that Haux has played for him.
"I knew his systems, I knew what he wanted, what he looks for, and he said that when someone needed to do something, I was a hard-working guy, and more of a leader by my actions than anything."
Haux admits he was "speechless" when he was picked to be Captain Canada.
"He told me a little bit earlier, and then when he told me in front of the team, I knew it and I was ready for it, so it was nice that way," said Haux.
Only three or four players were new to the team for this year.
"Our strengths were that our defence was strong and fast, so we could really push the ball, so if we didn't score on transition, chances are our offence still scored. We were a very offensive team from the back door all the way to the front."
While they didn't come together as a team for the first time until three days before the tournament, it seemed like everyone on the team knew somebody.
"We clicked pretty fast, I think. The way it was set up, we were forced to connect like that."  
Haux says lacrosse is growing globally, and it means you can have teams such as Poland, Australia and Israel in an international tournament. The Czech Republic wants to join for next year's tournament in Winnipeg, and Haux anticipates the tournament will only continue to grow.
Haux credits the Estevan Lacrosse Association for playing a big role in his development as a player. The organization taught him how to play the sport, and gave him a passion for the game.
"I think I had to play there before I would have gone anywhere else," he said.