REGINA - Producers across Saskatchewan continue to make tremendous progress with their seeding operations, according to the crop report for the week of May 16 to 22. Currently, 68 per cent of the 2023 crop in the ground. This is still behind the five-year average of 76 per cent, but it is a very good sign that many producers in the western half of the province have wrapped up seeding or are only a few days away from finishing. Some producers would like to see some rain to ensure their crop has the moisture needed to emerge evenly and not be held back by dry conditions.
Producers in the northwest are almost done seeding with 84 per cent of their crop now in the ground followed by the west central with 81 per cent, the northeast with 76 per cent, the southwest with 73 per cent, the east-central with 58 and the southeast with 51 per cent. Producers in the southeast and east-central are still struggling with excess moisture hindering field operations.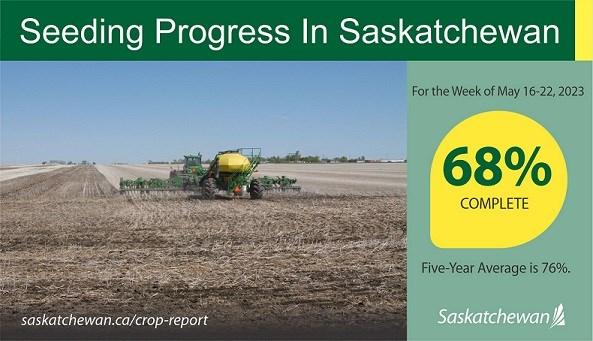 There were small to moderate rain showers across the province over the week with close to an inch falling in some areas. The Rosetown and Livelong areas received 21 mm, the Kenaston area 15 mm, the Hafford and Hazenmore areas 10 mm, while other parts of the province received anywhere from 1 to 8 mm. For the most part, the rain was not enough to relieve the dry conditions that some producers are facing. This issue is greatest in the west central region where topsoil moisture has quickly dropped after weeks of minimal precipitation.
After another warm, windy week, topsoil moisture ratings have continued to drop in many regions. Province wide, crop land topsoil moisture is rated as 2 per cent surplus, 63 per cent adequate, 29 per cent short and 6 per cent very short. Hay and pasture land is rated as 59 per cent adequate, 31 per cent short and 10 per cent very short. The driest regions are the northwest, west-central and southwest, where some producers are worried their newly emerging crop will not have enough moisture to make it through the heat of July without a good soaking of rain.
Pasture conditions have improved this year from previous years due to some late spring storms bringing much needed moisture. Overall provincial pasture conditions are rated as 6 per cent excellent, 45 per cent good, 29 per cent fair, 14 per cent poor and 6 per cent very poor. Livestock producers are happy to see their pastures green up and improve after two challenging years in many parts of the province.
Early seeded crops have emerged and are looking good across the province. Producers are reporting that crop development is around 70 per cent normal for spring cereals, oilseed and pulses. In parts of the west-central and northwest, some are behind in development due to dry growing conditions, while in the southeast and east-central crops are delayed due to the excessive moisture conditions.
Most of the crop damage this week was due to minor flooding, light frosts, drought conditions and flea beetles. Some producers have reported short term delays in seeding due to an inability to access phosphate fertilizer. However, as supply increases, they have been able to proceed with seeding as planned. Now that seeding has wrapped up for some producers, they will be busy conducting their infield herbicide applications, as well as scouting for pests that pose a risk to their crops.
With the dry conditions, producers are reminded to stay vigilant about fire risk and to have fire prevention equipment at the ready. Stress is high this time of year and producers are reminded to take safety precautions in all the work they do. The Farm Stress Line can help if you are managing farm difficulties by providing support for producers, Toll Free: 1-800-667-4442.