Trenna Keating first fell in love with acting during her youth in Weyburn, and has been enjoying different roles and experiences ever since. Recently, Keating has finished filming in Vancouver for a new role in "The Mysterious Benedict Society", which will air on Disney Prime starting June 25.
Rounding out our Salute to Women, the Weyburn Review interviewed Keating about her successful career in acting.
"I caught the acting bug very early on. I did a speech in Grade 5 or 6, where I dressed up like the historical figure and spoke about (that person) and that was it. I said 'I wanna be an actor' and I never changed my mind," said Keating.
"Mr. (Randy) Bangsund was an excellent drama teacher in high school and I have such fond memories of those days."
"I also was in Crocus 80. I remember my mom phoning them and asking them if I could join even though I was just a teen. Kim Wheeler gave me a part and I was over the moon," added Keating.
The City of Weyburn recognized Keating's acting career by adding her name to the Walk of Fame outside of City Hall in 2019. 
"Receiving a plaque on the Wall of Fame in Weyburn was the greatest honour ever. I feel so supported by the Weyburn community and that means the world to me. I have great admiration for everyone on that wall as well as so many other Weyburnites. It will always be home to me."
The last year, and dealing with the pandemic, has been strange for Keating. She felt fortunate to have the chance to get onto set for "The Mysterious Benedict Society".
"It was sad to see more and more businesses closing their doors permanently. I feel very blessed to have had work during this time," said Keating.
She also started painting during the pandemic. "I had no idea I liked it so much! It's been a wonderful gift to discover. It keeps me sane, keeps me inspired and keeps me busy. There have definitely been many good things that have come out of this time of isolation. I think it's important to give thanks every day for the little things."
Keating is best known for her role as Doc Yewll in the sci-fi series, 'Defiance', as Mrs. Pye on, 'Anne with an E', as well as various roles in shows like, 'Workin' Moms', 'Cardinal', and 'Combat Hospital'.
Some of these roles have earned a special place in her heart. "My role on 'Defiance' will always be very dear to me. I loved playing a sarcastic crank and being part of a show like that was really exciting."
"I love the role I have in The Mysterious Benedict Society too. And being part of Anne with an E was also special to me as I was such a fan of the original as a child."
Keating finds inspiration from other well-known Canadian actors. "Catherine O'Hara is one of my favourites. She is a comic genius and I want be like Catherine when I grow up," joked Keating. "I also have a lot of admiration for Tatiana Maslany's career. Watching a Saskatchewan woman's career soar like hers is very inspiring and she's wickedly talented."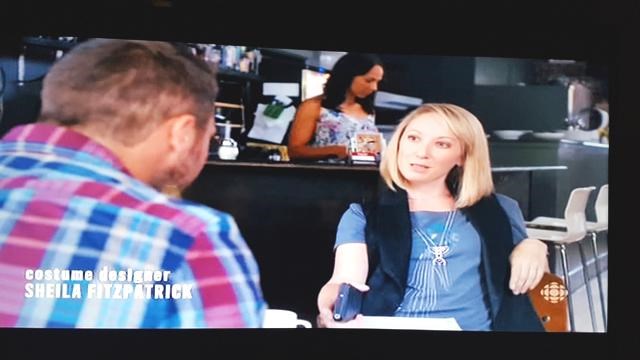 Now residing in Toronto, Keating is married to Alden Adair, who has also been in a few acting roles. He is best known for his part on 'Workin' Moms' as Marvin the manager.
"We've been on three of the same shows (Workin' Moms, Defiance and Cardinal) but we've never got to actually act together," said Keating.
Trenna's sister, Tara Keating-Jaap, still resides in Weyburn, as do her aunt and uncle Diane and Neil Eddy and cousin Tyson. Her parents, Jan and Jim Keating, now reside in Kenosee Lake. Jan Keating is well-known as a published author of the books 'A Normal Boy: Living in an Asylum' and 'A Prairie Girl Living in Baghdad: The Story of Sarah Powell'.