An Estevan woman has taken a story that she came up with spontaneously, and turned it into a new illustrated children's book.
Forever and Ever is based on a tale that Raquel Klassen shared with her children one night. Swedish artist Emilie Wiklund is the illustrator.
The genesis of the book came four months ago when Klassen was sitting down with her three little girls: Annorah, aged four, Hariett, two, Gracelynn, who is six months old.
"They wanted a story, but instead of reading something off of their shelves, I just started talking, just some little lines, but with my heart towards them as a mom. They rhymed, and I thought it was cute. When I was done, they just loved it, and they wanted me to tell it again," Klassen told the Mercury.
She wound up writing the story on one of the utility bills in her kitchen; that utility bill is still in her possession.
"My book is written in spreads … so each spread has a little rhyming thing."
Originally she had 12 spreads, but she needed to have at least 16. Klassen said coming up with four more was pretty easy.
After her mother, grandmother and a friend all heard Klassen tell the story, they encouraged her to get it published.
Publishing a book had never crossed her mind, but she looked into it, and had a rough idea of what she needed to do. Klassen then found an illustrator, and they worked together for the next six weeks. She also found a publisher.
"None of this was knowledge to me whatsoever," said Klassen. "There was a lot of problems and a lot of hurdles and a lot more money than I thought."
But she has a beautiful hardcover book dedicated to her three daughters, and a story that is suddenly in hot demand.
Klassen was also thrilled with how the illustrations turned out. She posted on a freelance illustrators' website, looking for someone to supply the artwork for the book. Twenty hopefuls responded in about 10 minutes, saying they read her manuscript and wanting to illustrate her story.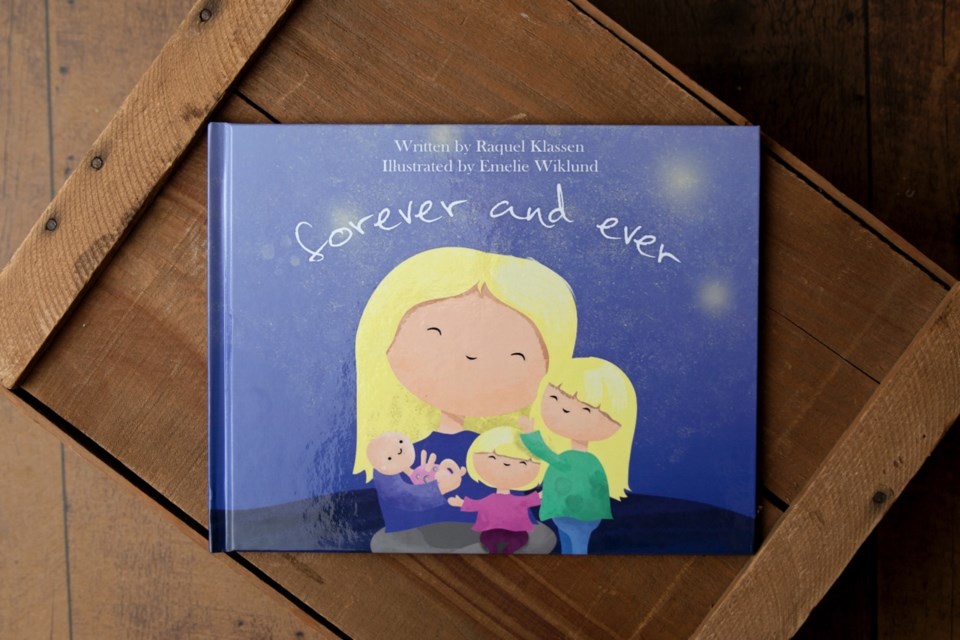 "I spent a whole day going through all these people's portfolio, and I found this one illustrator, Emily Wiklund … and she was awesome to work with, I sent her my manuscript, and she did everything by hand initially.
"It was a long process, so she would draw something over each page, send it back to me, we went back and forth for six weeks, and eventually she put it into her computer."
Forever and Ever has a lot of personal details. All of the characters are designed to look like her girls, so she had to share pictures and videos. Klassen's youngest is a rainbow baby, which means Klassen experienced a miscarriage in the pregnancy before Gracelynn.
"On each page where Gracelynn is, she has rainbow somewhere on her, which is just a cute little detail."
Each page also has pink and blue butterflies.
"Even though it's dedicated to my kids and my three girls, it can be enjoyed by anyone, whether you have kids or not," said Klassen.
Initially she was going to keep the book for herself, but she promoted it on a Saskatoon mom's group and the interest soared. Numerous copies have been sold in the pre-sale, and now it's going to be carried at Chapters in Regina.
"It's been cool to see something that was meant to be a personal project actually mean a lot to other people. I wasn't expecting it. I didn't do it to get publicity or get any money or anything."
Klassen is also going to donate a couple of copies to the Estevan Public Library.  
Pre-orders of the book have closed, and she is waiting for the first shipment to arrive. Klassen hopes a local business will carry the book in their store.
Once she has the copies of the book in her possession, and she's happy with the print job, then she will be announcing a release date.
It is hoped the book will be available in the next couple of weeks.
Anyone who would like a copy can email her at RDthiessen@outlook.com.