The top vote-getters in the James Weir People's Choice art competition were announced live on Thursday evening via Facebook from the Allie Griffin Art Gallery, and international online voting played a big part in the final results.
The top three winners were, in first place, Kendra Garbe for her painting of a dog named "Rimbly"; second was an embroidery by Melanie Hiske, entitled "The Plant Lady"; and in third, Olha Matiusheva for her bead embroidery picture of a lion, called "The King".
Regan Lanning, curator for the Weyburn Arts Council, said the 24 artists who entered this year received a total of 1,024 votes, with 213 of them cast in the gallery, and 811 were online.
The votes came from Canada, the United States, Mexico, Venezuela, Brazil, Peru, South Africa, Nigeria, Jordan, Greece, Italy, France, Germany, Poland, Ukraine, England, Scotland, Ireland, Wales, Norway, Japan, the Philippines, Taiwan, Thailand, Viet Nam, India, Australia and New Zealand.
Garbe explained her piece was commissioned and given as a Christmas present to Emma Guest.
"This the last one I did which I really felt was the best one I had done in the last couple of years," she said, noting Guest had had her present for five days before Garbe borrowed it.
Garbe had been given a photo of the dog and she was asked to do a painting of it.
"I'm not a painter, I don't know all the artistic terms for it. I paint what I see, however I can attain it," she said.
Garbe had entered a painting of an owl in the 2020 People's Choice competition, and she earned a third-place finish.
More of her works can be viewed on her Facebook page, "The Gert Rocks".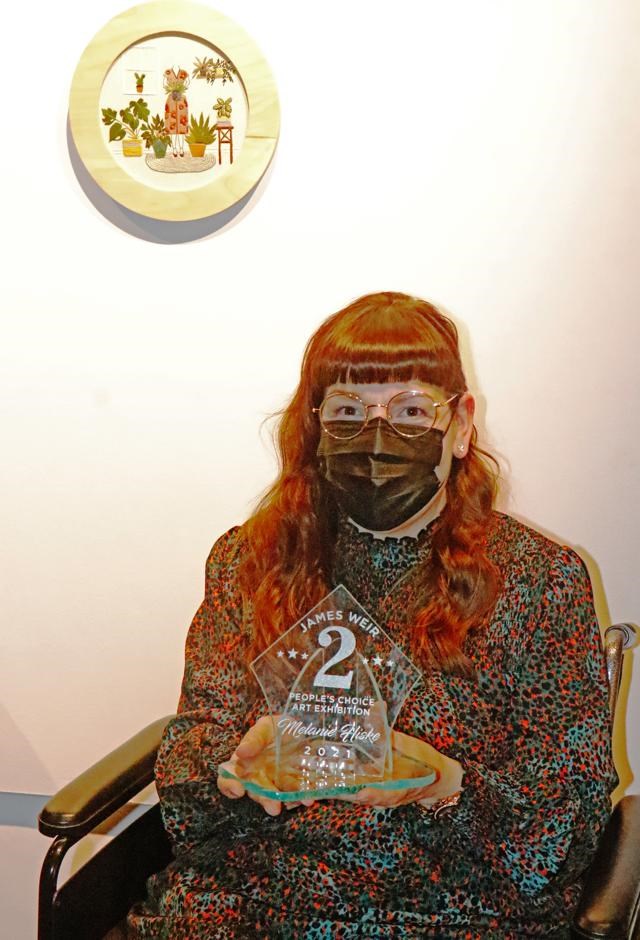 Hiske said this was her fourth time to enter the James Weir competition, and was excited to place second this year.
Her embroidery piece, "The Plant Lady", features a number of plants in her home, she said. "Those are some of my plants at home, and I've finally figured out how not to kill them."
One part of her picture features a textured rug, and Hiske said she has always wanted a rug like that so she put it into her picture.
The embroidery was all done by hand, as she was taught by her mom when she was 11 years old.
"I went from there, and I picked it up later on in life, and I've learned a few new stitches. She taught me the basics that she learned when she was a kid. Now I can do more, and I can learn more through the magic of YouTube and the Internet," said Hiske, adding that her current work involves some new stitches that she's been learning.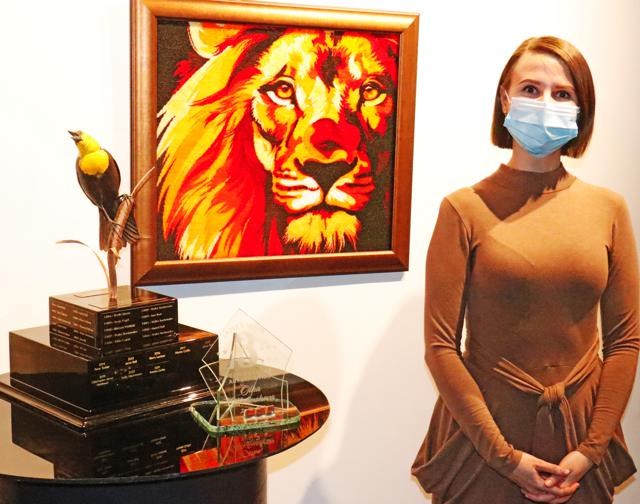 Matiusheva said her bead embroidery picture of a lion was like a baby, as it took her nine months to complete. The picture was made with over 80,000 individual tiny seed beads, each one a stitch.
"All my life I dreamed to paint, but it's not my strong suit. My strong suit is to work with beads, and I learned how to embroider with beads. I took a couple of lessons online," she said, adding she makes her own patterns for her work.
She has posted videos and tutorials online of her work on Facebook, at "My Vision Art.Craft" that people can check out. She makes necklaces, bracelets and earrings, and also displays some of her works for sale at the General Store in downtown Weyburn.