Alynne Fichter knows firsthand how difficult it can be to move around when you are in a wheelchair.
To allow for more freedom, most of the time she uses a power wheelchair, which lets her go wherever she wants. Many places these days are labelled as wheelchair accessible, but Alynne's experience suggests that way too often, accessibility is still very limited. To change it, Alynne decided to organize a movement to raise awareness about the problem.
She explained that quite often entrance and bathroom doors in public places are too narrow, ramps don't fit the wheelchairs or are too steep, handicap parking spots don't allow for unloading a wheelchair, and spaces don't have enough room to maneuver. This means a lot of people like Alynne are left out.
"We're in this field, but we didn't realize it until when Alynne tried going in some places that even though they're wheelchair accessible, they're not for all wheelchairs," noticed Roberta DeRosier, who is program co-ordinator at the Estevan Diversified Services, where Alynne is one of the participants.
Wheelchairs come in different models and sizes. Alynne mainly uses a power chair, which weighs a lot and is more difficult to maneuver but gives her the freedom to go where she wants. She also has a manual chair, which her parents rely on when they know that the place won't be accessible.
"We take Alynne out into the public an awful lot. So we have come across issues like this a lot," explained Alynne's mother Shelly.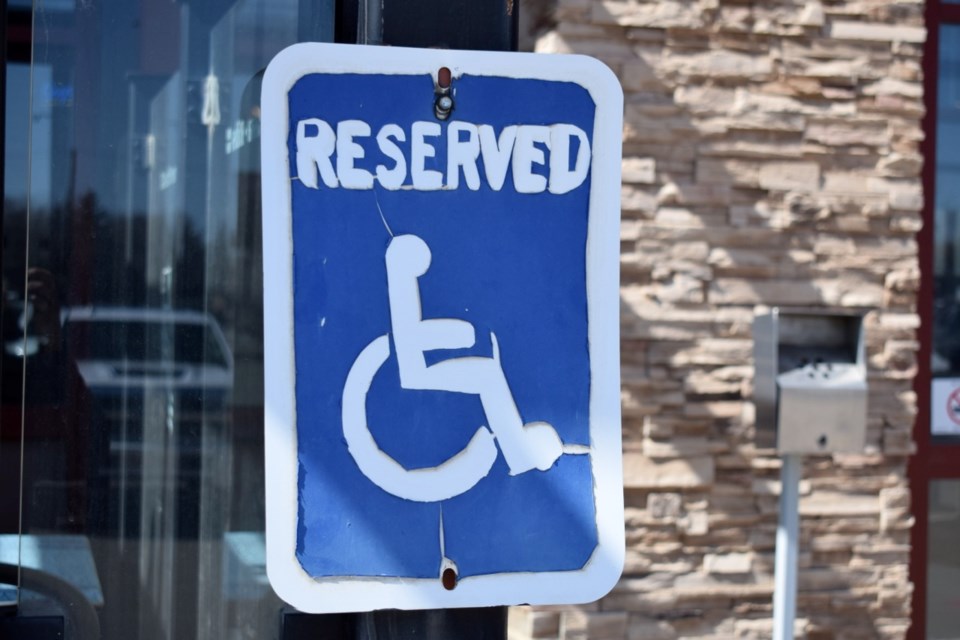 She added that not only are many places difficult to access, but even parking areas are not universal and often don't serve the needs of people in wheelchairs. The family purchased a special van, so Alynne could go places, however, unloading a wheelchair out of the vehicle often is a challenge on its own.
"Handicap parking is (often) small, so they're more for just a vehicle. If you have to take a ramp out of the vehicle, then we're parking way down on the outskirts of the parking lot. And they have those cement blocks (by handicap parking lots), so I can't even pull into one and then pull up the ramp because of the cement blocks being right there," Shelly said.
The handicap parking lots on the streets may be challenging to use as well. If the special van unloads from the back, often there is not enough room to put the ramps out with other vehicles parked right behind it.
Such places as outdoor handicapped bathrooms are also not always accessible for wheelchairs, as they are often not flat with the ground.
These numerous personal experiences inspired Alynne to step up and do her best to make the world more accessible for everyone.
"Power or just regular wheelchairs, we should have real accessibility," said Alynne in an interview with the Mercury.
"It'd be great to have the whole province realize how hard it is to have a wheelchair person that you take around into the public a lot when even bathrooms are not really wheelchair friendly," said Shelly, explaining that in many places they go, bathrooms are awkward to get into as there is not enough room to turn the power wheelchair to get into there.
As her motto, Aylenne chose the phrase "Be brave, be strong, be fierce."
"Just like a tiger," she explained.
Which resonates with the colours she chose for her movement – orange and black. She hopes to raise awareness about the lack of accessibility, and thus change the situation not only in Estevan or Saskatchewan but worldwide.
Shelly said that there are easily accessible places in Estevan and there are also ones that are not so much. Some places, once they realized they weren't accessible for everyone, did their best to make sure Alynne and other people in different wheelchairs could come in and use the location. But out of the family experience, even Estevan is far from being fully accessible, let alone the province or the world.
The hope is that the campaign will make people put extra thoughts into designing their places to make them really accessible.
"Places need to have somebody actually in a wheelchair to try it before they can say that it's accessible," said DeRosier.
A wheelchair limits Alynne with many things, but she still finds good about it and stays positive, just trying to make the world a bit better for herself and others who have to use wheels to move around.
"I don't have to look for a place to sit," Alynne said with a laugh.
Alynne hopes that her campaign will attract attention and make people put more thought into designing places really accessible for wheelchairs. She suggested that people who support her and want to keep the movement going should share the idea, spread the word and also wear orange and black.
"Do what you can to get it all over the world," said Alynne.