Parade, fun and rides at Weyburn's 102nd Fair
The 102nd annual Weyburn Fair will be held at the Weyburn Exhibition grounds, running from Monday, July 5 to Wednesday, July 7, hosted by the Weyburn Agricultural Society.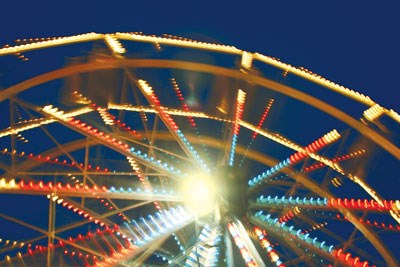 The 102nd annual Weyburn Fair will be held at the Weyburn Exhibition grounds, running from Monday, July 5 to Wednesday, July 7, hosted by the Weyburn Agricultural Society.To start the Fair Days off, there will be a parade put on by the Weyburn Chamber of Commerce on Monday, July 5, starting at 10:30 a.m. The parade starts off from Fifth Avenue North before winding its way south on Fifth Street to First Avenue, south on Second to Prairie Avenue, then over to Third Street and through the downtown, back north on Second Street to Bison Avenue, and ending with some parade entries going out to Tatagwa View care home. The parade will be fun with surprises promised by parade organizers.The Canuck Amusements midway will be open on Monday at 2 p.m., and at noon on Tuesday and Wednesday. Coupon pricing for single coupons is $0.75, sheets of 10 are $7.50, sheets of 20 are $14 and sheets of 40 cost $26. A wristband, which allows riders unlimited rides, is $30 per person per day. Closing time for wristbands will be posted on the ticket booths daily.Rides at the fair will include bumper cars, Tilt-a-Whirl, Zipper, Raiders and a variety of kiddy rides. There will be a petting zoo for children on Monday and Tuesday at the McFadden Building. On Wednesday, there will be a horse pull competition held at the grandstand.Daily attractions will include the Magic Caravan Show featuring magician James Grant and Pinky the Clown at 2, 4 and 7 p.m. There will be karaoke at 9 p.m. and Dan the One Man Band will also perform.Entertainment at the grandstand will be pony chuckwagon and chariot races on Monday and Tuesday from 3 to 6 p.m. On Monday, starting at 8 p.m., the talent search junior competition will be held, and the senior competition will be on Tuesday at 8 p.m.The demolition derby and lawn mower races will be held on Wednesday, July 7 starting at 6:30 p.m. in front of the grandstand. There is a 20-car limit and those who wish to participate must pre-register by contacting TJ Metheral or the Ag Society office. There will be a $1,200 cash prize as well as prizes for best decorated, hardest hit and mechanics heat. This year there will be a Powder Puff heat for the ladies.There will be an exhibit display located in the Curling Rink with a variety of displays such as home products, junior work, school work, household arts, agricultural products, 4-H displays, photography and much more.Located around the fair will be a variety of concessions as well as the 4-H beef show and sale on all three days. There will be many events to attend throughout the three days such as the 4-H judging competition, heavy horse show, jackpot steer show and 4-H female show.The beer gardens will be located upstairs in the Curling Rink lounge from 3 to 11 p.m.The fair days gate admission will be $8 for an adult daily pass and $16 for a three-day pass. Students aged 13 to 18 pay $5 for daily and $10 for a three-day pass. Children aged six to 12 will have a daily fee of $3 and a three-day pass costing $6. Children five and under will be free. A family pass can be purchased for the three days which costs $35. The family pass consists of two adult passes and three students or three children or a combination. These tickets are by advance sale only and can be purchased until 8 p.m. on Sunday, July 4.Admission to the exhibition will be a one-pay system with free grandstand. All admission tickets may be purchased at the show office prior to the Fair.