Students from St. Mary's and Sacred Heart School/École Sacré Coeur as well as students from the Estevan Comprehensive School, Carnduff Education Complex and Oxbow Praire Horizon School had a chance to join the Tour for Humanity and learn about genocide and human rights.
The mobile human rights education centre called Tour for Humanity could be spotted in Estevan on May 13 and 14.
Daniella Lurion, the education associate with Friends of Simon Wiesenthal Center for Holocaust Studies, talked to students about the history of genocide, along with topics of diversity, democracy, and Canadian civic rights and responsibilities.
"We have three different presentations for different age groups," said Lurion.
The senior program, called the Global Experience, is designed for Grades 9-12. It starts with the documentary on a global history of genocides and then discusses the stages of genocide, explained through the example of the Holocaust.
The Canadian Experience is an intermediate presentation for Grades 6-10. It begins with the overview of the Holocaust as well, and then talks about Canada, including Residential Schools, Japanese internment camps, anti-Semitism in Canada and hate crimes today and how it all comes together.
The junior program is designed for Grades 3-6 and is called Simon's Story. It tells participants the story of Simon Wiesenthal, who was a Jewish Austrian Holocaust survivor and later a Nazi hunter, as well as the Holocaust in an age-appropriate way.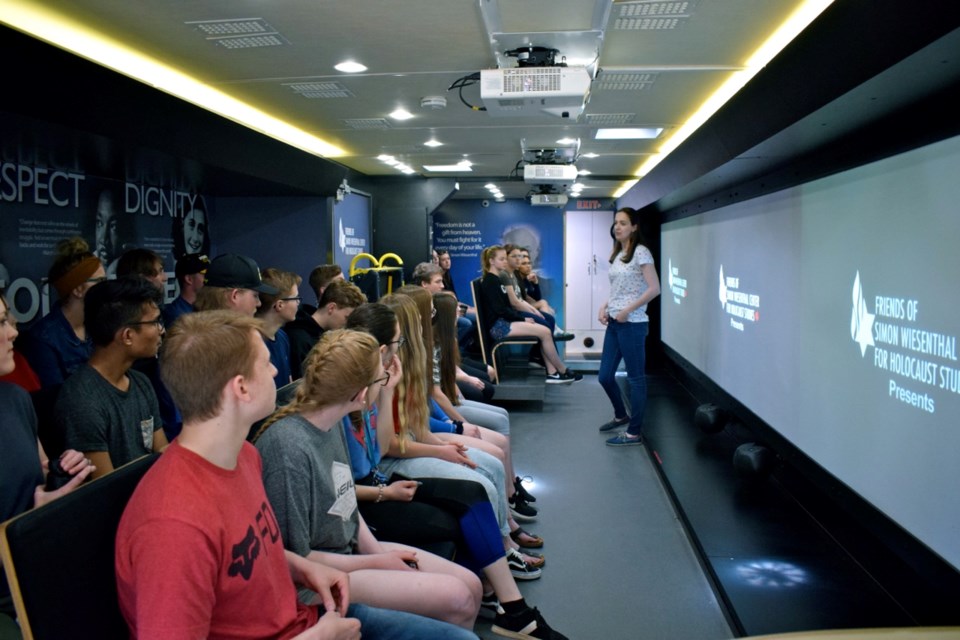 "We are essentially grounded on lessons of Holocaust, but how … essentially discrimination exists everywhere. We are taking one event to talk about global issues," said Lurion.
She noticed that often students know bits and pieces or some myths and misinformation, and the programs help them to see a bigger picture.
"Typically, they know a little bit, but they don't know enough to make the connections to the real world. And that's what the goal is… It comes down to stage one, it comes down to not targeting someone because of what they look like or where they come from. These are the lessons that we can pull out of the Holocaust and that's the goal," said Lurion.
The purpose of the tour is to start the conversation, inspire and empower students to raise their voices and take action against hate, intolerance and bullying and to promote justice and human rights.
"It's important (to talk about genocide) because it didn't end with the Holocaust… Kids will have some background information, so you just build on that to let them understand how this is not in the past, this is in the present and future if we are not careful," said Lurion.
The Tour for Humanity was launched in November 2013.
"We have a centre in Toronto, so classes from the area can come to us, but he (Avi Benlolo, president, CEO of the Friends of Simon Wiesenthal Center for Holocaust Studies) wanted to find the way to reach more students even in Ontario, let alone beyond. So Tour for Humanity was created to do exactly that, to travel outside the GTA … to places that can't come to us so we can spread the message and everyone can be inspired," said Lurion. 
Since 2013, the mobile education centre has visited almost 700 schools across Ontario and Quebec, delivering presentations to more than 100,000 students.
The contemporary trip for the first time took the Ontario bus further west to Manitoba and Saskatchewan.
"We've been on the road for three weeks straight, going through northern Ontario-Manitoba-Saskatchewan route, so after this week it heads home," said Lurion.
Before heading back to Ontario the bus also stopped in Weyburn to deliver presentations to students there.