The Preeceville and District Heritage Museum recently received a special addition to the collection of artifacts already on display at the Museum.

The grandchildren of Minnie Reynolds and great grandchildren of "Granny Preece" donated a secretary (piece of furniture) which is a special heirloom that had been in the family for many years.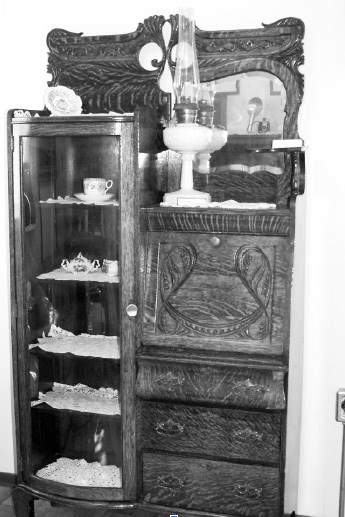 "It was difficult to part with the furniture that has been in our family for generations," said Benita Letnes, great-grand-daughter. Letnes is the daughter of Walter and Elsie Roste. Elsie Roste is the youngest daughter of Marshall and Minnie Reynolds and Minnie Reynolds is the daughter of Granny Preece.

"We realize that our loved ones reside in our hearts and minds and that by donating this furniture others can reminisce and enjoy those memories also. This secretary came into Minnie's home after the passing of Granny Preece. We are not sure if the secretary was brought with the Preece family when they moved from the States by train or if it was purchased from a catalogue.

Many of the older grandchildren remember this piece being on the family farm when Grandpa and Gramma Reynolds lived south of Preeceville. The girls, in particular, remember playing bank, post office and office secretary with this furniture.
"We know this secretary served Granmma Reynolds well over the years and held a prominent place in her living room and was then moved into Preeceville when she left the farm. Rather than use it for books and as a writing desk, which is its purpose, Grandma Reynolds used it to display her fancy tea cups and saucers, small decorative pickle and cheese bowls and salt and pepper shakers.

The writing desk side was used for envelopes, papers and stamps. As grandchildren we were always allowed to play with it," she said.
"We are grateful that the museum wanted this piece of furniture. We all know now that by having this furniture here, we can visit it as often as we like. A trip down memory lane to our carefree days as children is only a visit to the museum away. It is our hope that others will enjoy reminiscing either down our family lane or down a lane of their own," Letnes concluded.