Battle River Ranch Camp manager Ernest Salmond and ranch hand CJ Volk spent a cold day in December building an air compressor, made of a variety of parts donated by a variety of people.
Referring to the air compressor, Salmond said, laughing, "One guy donated the motor, one guy donated the pump, one guy donated the belt."
The next day, Salmond turned on the air compressor for camp director Harold Stephan.
"Well for crying out loud, look at that," Harold Stephan exclaimed, as the motor roared.
For four men in a shop, there was a noticeable lack of swearing.
Battle River Ranch Camp, located along Highway 17, a few kilometers west of the Alberta border, is a non-profit charity dedicated to giving lifeskills and workplace training to those who stay at the ranch.
Trainees spend five months at the ranch and try a number of trades, including carpentry, plumbing, welding, operating heavy equipment, mechanics, electrical work, and others. The ranch then finds jobs for trainees, and/or trainees go on to pursue further trades education.
Battle River Ranch Camp was founded by camp directors Harold and Diane Stephan. They're open about their pasts which involved drugs and alcohol, and their embrace of the faith, a motivating factor behind establishing the ranch. Harold and Diane have been married 40 years and have six children.
These days Diane and Harold handle outreach and fundraising roles, while Salmond and his wife Shannon tend to things around the ranch. Ernest and Harold, along with the numerous volunteers who spend time helping out at the ranch, have many years of experience working at the trades they teach.
Harold is tall, has long, gray hair and a beard, and rides Harley Davidsons. He's also a storyteller.
The Stephans acquired the land where the ranch is in 2007.      
"I was working for a company doing estimating and commercial supervising kind of jobs, and our boys were working with the company. And I had to stop here at this little farm to pick up some supplies for my wife, and she met the lady once. And I got the supplies, and she asked me to come in for a cup of tea.
"So I share with her in no time about this vision about this ranch that I felt God put my heart to build one day to help people. And she just listened and listened to it all and when I was done, she said 'for 15 years I prayed over 80 acres of land, and I have Bible verses laminated on the posts all around that land,' and she said 'I knew you were coming,' and she said 'that land's for you now, build that ranch.'    
"So what do you say to that eh?"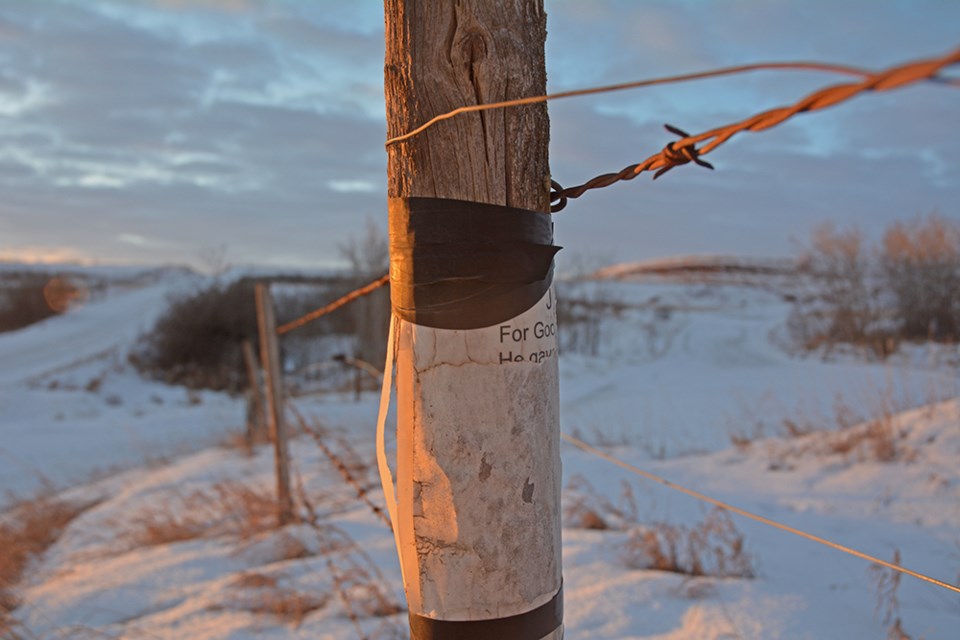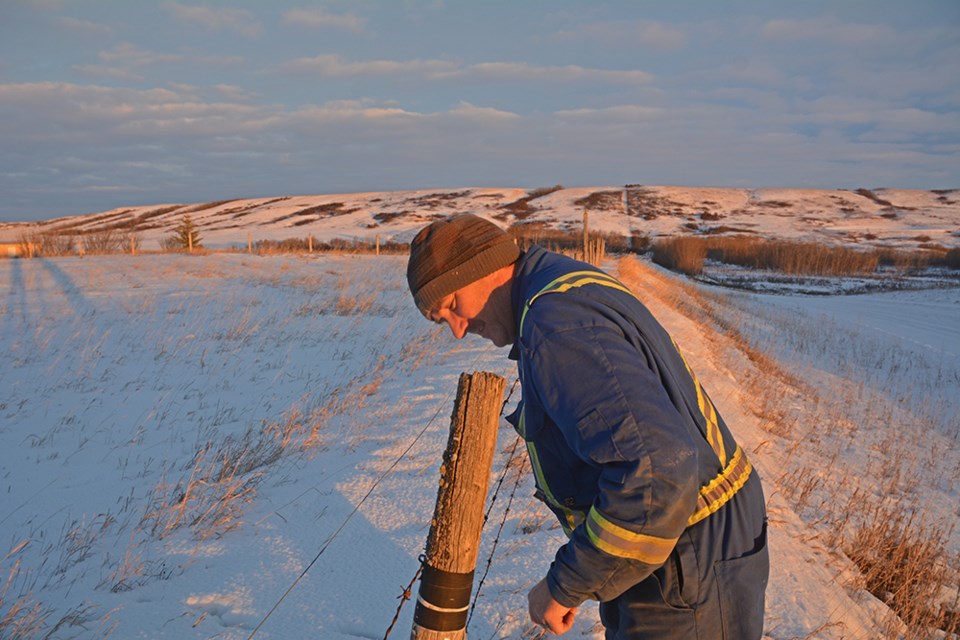 On the land, Stephan said, there were only cows, a pasture, and a well, and no natural gas, sewer lines or power.
In the time since, the ranch has a large lodge that houses trainees, a shop, a church, a trailer, and various pieces of equipment, along with about 10 head of livestock.
The lodge that is currently on the property is the second lodge that stood on the property since the Stephans acquired the land. A spell of bad luck occurred in the summer of 2011, when a storm and plough wind hit the area, and took out the first lodge.
"A plough wind hit it and everything was done," Stephan said. "The windows and doors were sitting just across the road, and myself and James Friesen finished shingling that day, and we went home and that night a massive storm went through."
The lodge wasn't the only building in the area affected by the storm.
"There was a guy who built a new shop and he was just sweeping up the floor, and all of a sudden the storm hit, and it shook his building so hard that he went and climbed into the sump and covered it with a steel grate because it scared him so bad. When he came out, the building was gone. But his shovel and broom and the dirt were still laying in a pile beside where he was." 
Stephan said everyone involved with the ranch made the best of the situation.
"It probably did us more good than harm, because people really knew. It's like one pastor said 'Harold, if people see you help rebuild lives, what's this rebuilding a little building.' It wasn't easy, but we got through it and here it is today, stronger than ever."
Battle River Ranch Camp began offering training in 2012. People who go to the ranch to learn skills come from all walks of life, and a number of different backgrounds and situations.
Stephan has trainees write about their experiences before they leave. One former trainee arrived at the ranch from Moose Jaw, completed an electrical apprenticeship, and now works on the new Saskatchewan hospital. Two trainees from Ontario went on to plumbing apprenticeships. A German missionary spent some time at the ranch gaining trades skills before going to Thailand.
"We know everybody's got a skill and a gift, and if you can find what it is, confidence just starts to come out like crazy, and self-esteem and everything," Stephan said. "Next thing you know you got a young man or woman who are working at a job."
Volk, from North Battleford, went to the ranch after having completed a year at Teen Challenge, a faith-based drug and alcohol recovery program, in Priddis, Alberta. Volk finished the five-month program at the ranch, and now runs the backhoe, does carpentry and farm work, welds, and tends to a few beehives at the ranch.
Skills Volk learned helped him land a job reclaiming oilfields, which he said he might return to in the spring.
"I've been around since CJ came," Salmond said. "To see the changes has been good to watch."
While the ranch offers opportunities to try a number of trades, Salmond said instilling confidence in trainees and changing attitudes is fundamental to training.  
"The realization of [trainees] that they're capable of doing something is huge, and most employers are looking for somebody with that kind of an attitude," Salmond said. Other training goals include willingness from trainees to try anything, and the ability to take instruction.
Salmond said some of the people who've passed through have "almost been an annoyance whether it be to society or parents, whatever the case may be.
"Rather than being taught anything, they've been kicked to the side and so they end up feeling that they're not worth anything, that nobody wants them around. That's the attitude that we want to change, the attitude that they are worth something."
Salmond said he sees the breakdown of the family unit as the reason for some social issues. In broken families, youth often end up "on the bad end of things."
While some people occasionally go to the ranch to perform community service, Salmond said there are misconceptions among some neighbours about what the ranch does.
"When we started people had the idea that we'd in essence be bringing in criminals, and so they were pretty against what was going on initially, so locally we're still fighting that perception to some degree.
"But it's getting better. We've been here long enough and they're seeing what we're doing. They're seeing the types of folks we're working with."
Salmond said trainees must be clean and sober for a year, and if they're not, they're referred to a place like Teen Challenge. The ranch isn't an addiction recovery centre, Salmond said, but the next step.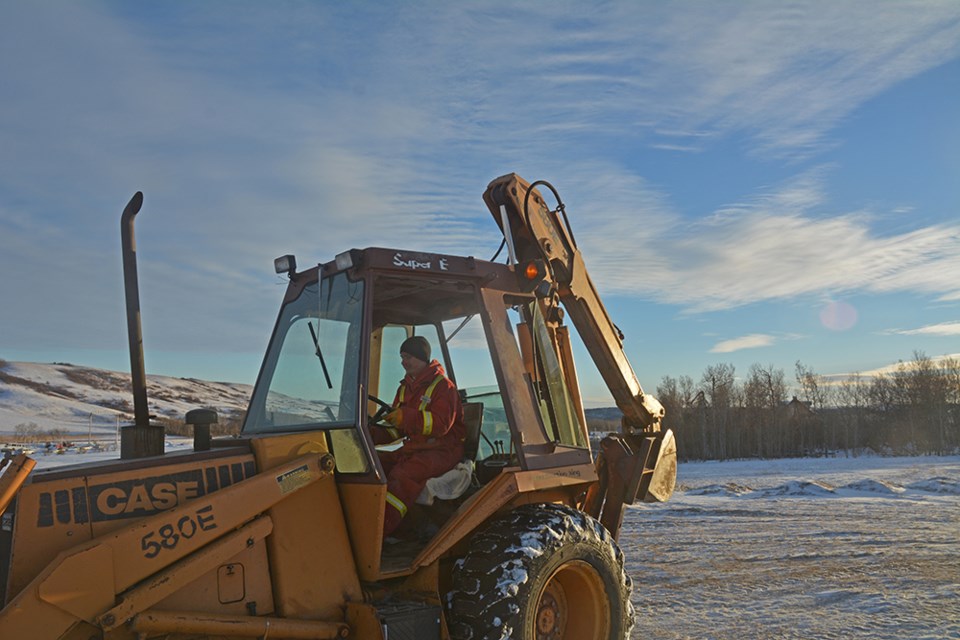 The main lodge, which Salmond said is like a "small hotel," has rooms for a number of residents, as well as a living room and kitchen. Shannon cooks and does housework, although living at the ranch isn't a free ride.
"You're not waited on," Salmond said. "If you don't know how to do [housework], you're going to learn how to do it before you leave."
Some rooms in the lodge aren't renovated because the plan is get trainees to do the work as part of their training.
The shop serves a number of functions, including acting as a workshop, a space for welding and practicing wiring, and housing the backhoe.   
One of Salmond's projects is getting trainees to weld pipe into panels to sell to farmers, which farmers could use for gates.
"As far as donations go, money is always wonderful, but if somebody asked what I wanted for a donation now, I'd take pipe, lumber, sheeting, tin. Anything that we can take the bare materials and turn it into a product," Salmond said.
Laughing, Salmond said that the most basic weld trainees learn is "your farm weld."
Behind freezers full of donated meat and an area full of donated items such as tools and paint, restaurant equipment sits in the back, and an original plan was to have a café and/or restaurant on the property, where cooking could also be a learned trade. The space in the back of the shop, Salmond said, could also be used as an abattoir.
In addition to having more residence space, the shop's upstairs is the cross building station. The ranch builds crosses out of horseshoe nails, such that Stephan called it "the largest cross shop in the world." Nails are cut, welded into crosses, polished, then inspected by Harold or Diane.
Volunteer Larry Hubert, who builds crosses, said the two bosses each have different standards for what makes a good cross.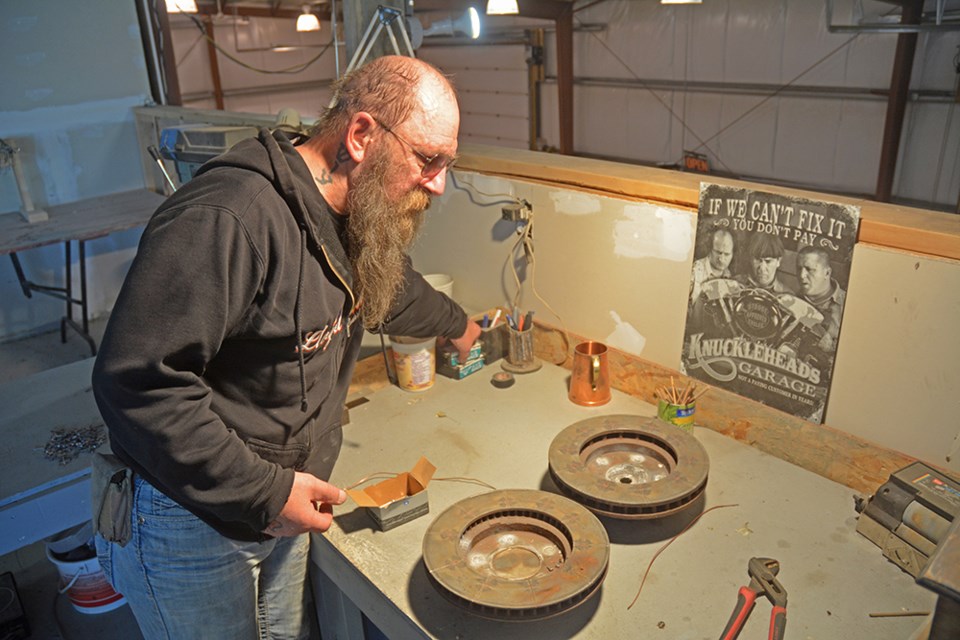 The church, one of the first things one notices from the highway, also has a story.
"We always wanted an old school church because to all of us that's cool and that's important," Stephan said. "We want everyone to know that we're old school."
The church used to be in Marsden. A woman whose family built the church in the late forties donated the church, as it otherwise would have been dismantled.  
The day before Harold had made plans to move the church, he got a call from a mover in Drayton Valley.
"There was a time in my life I wouldn't believe anything like this would happen," Stephan said. "I was a guy who believed you got what you worked for and that was it. Well, this guy phones me and he says 'I hear you're moving a church,' I says 'Yeah.' He says 'I'm a building mover and I always wanted to save a church for God. Can I take care of that move for you?' Like how does that happen."
The mover paid the expenses associated with moving and left a $2,500 donation for the ranch.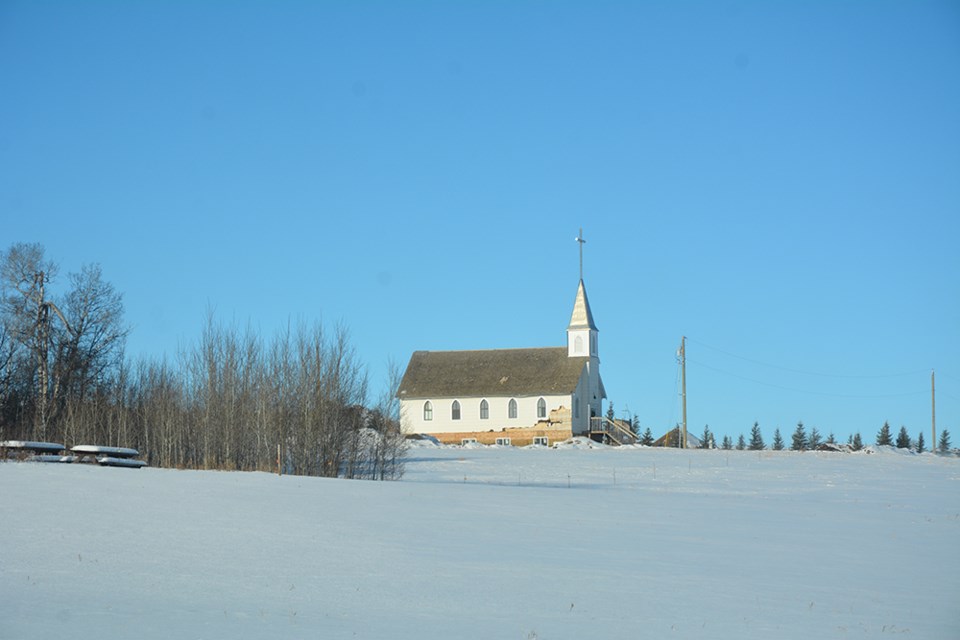 Salmond said he and Stephan really are jacks-of-all-trades: they're also both pastors. 
"My honest passion is pastoring," Salmond said, although he also said it was the toughest job. "If somebody asked me if I could choose, that'd be the thing I'd do."
Christian faith is an important aspect of Battle River Ranch Camp program, although one need not be Christian to be a trainee.
"We will take anybody who is willing to come out and learn," Salmond said. "We will present our beliefs, there's no question about that. It's part of who we are and what we do."
If trainees embrace the faith, Salmond said "wonderful. If they choose not to, I work with them anyhow.
"It's not a 'you have to do this.' But I've learned from experience that it's the easiest way to do it."
Staying at the ranch, which includes training, room and board, is currently $1,800 a month, which Stephan says is roughly equivalent to expenses found in colleges. Stephan said he'd like to reduce the price of rent, which would require more funding.
Future projects include building a greenhouse, and remodelling grain bins into cottages for people wanting to live off-grid. Working on the bins would offer a number of trades skills in single places.
Timelines for future projects are yet to be determined as ranch funding can have an unpredictable schedule. Stephan said while going into debt could allow for certain projects to finish earlier, he also said the ranch is committed to remaining debt free.  
Stephan said he and Diane are always looking for people who see the need to support them financially to help with staffing, tuition, and ranch operation, as the ranch is a "huge challenge."
In the meantime, church service is 10:30-12 on Sundays. Everyone is welcome.
"In today's society it's me, myself and I, and to see something functioning on this level, with so many different people inputting, it's kind of neat to see. It gives you a little hope," Salmond said, laughing.