It hasn't taken long for some of the shelves to become nearly empty at the Estevan Salvation Army's food bank.
The food bank was well stocked following the excellent support shown by the community in the weeks prior to Christmas, with many businesses, organizations and events holding food drives. But the food bank has been very busy so far this year, and family services co-ordinator Ronza Reynard said they have had near-record requests for support at the food bank.
"In 2018, for the month of January, we had 45 families, whereas in 2019, we had 63 families. So that is a tremendous jump," said Reynard.
A family can be anywhere from a one-person household to a large family; the biggest family they served in January was seven people. Five of the families last month were first-time clients.
"We anticipated that the numbers were going to increase. We're a little surprised at the amount of the increase, so soon into January, or into the new year, and it's going to make for a busy year if we keep at this pace, or if we continue to increase," said Reynard.
The food bank usually has two or three new families each month, so the number of new families came as a surprise.
More than 115 people used the food bank in January, and more than 5,000 pounds of food were distributed. The latter number includes both non-perishable food items and perishables, such as meat and fresh fruits and vegetables.
"If it's about 5,000 pounds a month to help in the community, how much of that needs to be replenished each month?" said Reynard.
Reynard said some of those new families might also be new to the community. Many in the Estevan area are still having a hard time finding full-time employment, and Reynard said those who are on some sort of an assistance program find that the funds don't meet their needs on a monthly basis.
"Anybody who's on a fixed income through either pensions or social assistance, and some of their different programs, the funds that they get do not make ends meet," said Reynard.
The Salvation Army finds that people are still coming to Estevan in search of jobs as well.
"I think some people are shocked when they get here to see that the employment fields are not as open right now as they were in years past," she said.
When somebody comes to the food bank for support, whether they're first-time users or a regular client, they still have to provide the Salvation Army with identification, proof of address and income they might have coming into the home, whether it be through employment income or assistance programs. Some people who come to the food bank don't have any income.
Reynard estimates that the shelves at the food bank are currently at about 70 per cent capacity, but some of their stocks are running a little bit low. They have an abundance of some foods, but they do lack other things.
Right now they could use rice, canned meats, stews, canned pastas, pancake mix and syrups, among other items.
"We'll continue to supply with the things that we have on hand," she said.
They do have an abundance of other foods.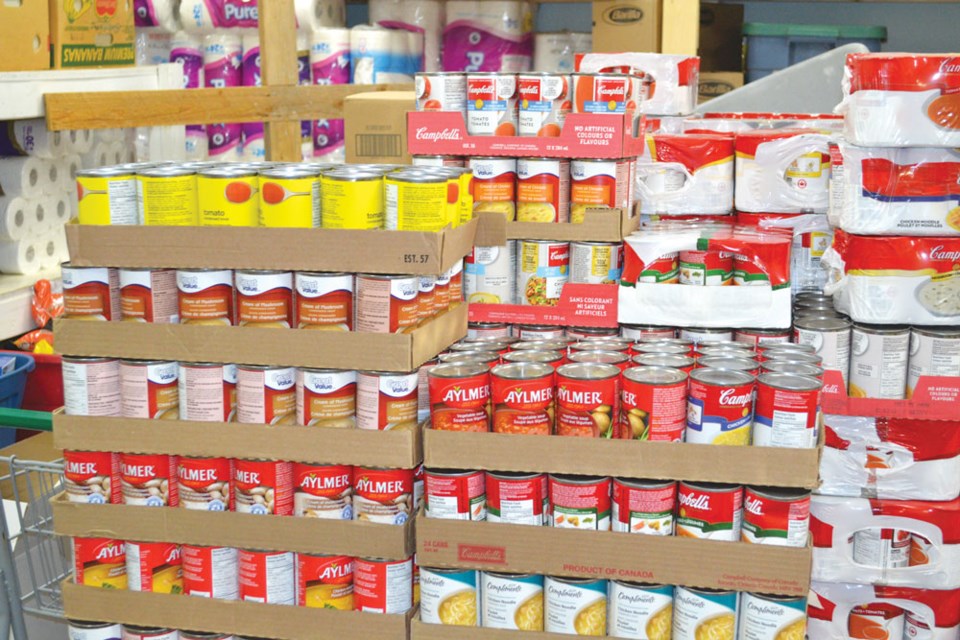 The food bank benefitted from a very successful fundraiser with Sobeys in Estevan before Christmas, and they still have a large "soup mountain," thanks to the generous support shown for the soup drive that was organized by Green for Life Environmental and involved several local businesses at Christmas.
The food bank has been approached by some in the community about having a food drive later this month or early next month. The Salvation Army is always willing to accept donations, whether it be food or cash, which can then be used to purchase more food.
"People can phone down here to the office and talk to me to see what we need, and we can give them a bit of our list, and if we can get a few more things filled up, that's just great," said Reynard. "Moving forward, we'll just use what we have."
Their next big food drive is the annual Canada Post food drive, which now takes place in June each year.
"The community supports us tremendously, and we will be here to help people," she said.