May 16-22 is the 46th annual National Emergency Medical Service (EMS) week and this year's theme is This Is EMS: Caring for Our Communities.
Quite often in an emergency, if the patient will live or die, it depends on the actions performed during the first several minutes, and that's the pressure that falls on the paramedics' shoulders.
As a part of the celebration of EMS practitioners and the important work they do in our communities, the Mercury asked the local professionals to share what it feels like to be a paramedic in Estevan and what makes this job special.
Gene Stephany, intermediate care paramedic, Brad Robinson, a primary care paramedic, and Geordan Bardsley, an advanced care paramedic, have 64 years of experience between them. They shared what work with EMS looks like.
People have medical emergencies 24/7, so the crews that consist of two paramedics are working shifts and have to be ready to go any minute. The 8 a.m. shift gets into the station at about 7.30 a.m. to do the full inspection of the ambulance so it's ready to go.
"We go through different tags for narcotics to make sure that they're matching what's in our logbooks, and just make sure that oxygen in our ambulance is built up, all the lights and sirens are working," explained Bardsley.
Once the emergency call comes in, paramedics have one minute to get into the ambulance and get on the road. In Estevan, they have eight minutes to get to the patient's site, and with anything rural in their coverage area, they have up to 30 minutes to arrive. When it comes to emergencies, there are no delays and no waiting, and the paramedics do their best to make it to the location within the first crucial minutes.
"When you're calling 911, you'll call in and you'll get a hold of our dispatch centre, which is in Regina. So the fellow on the phone is going to be asking you a tonne of questions. And at the same time, there's someone, I'm not sure if they're physically sitting beside … (them) or not, but they're talking to us at the same time. So even when that person's asking you questions, like what's your address; what's your phone number; what's wrong; here's what I want you to do; someone else is already talking to us. And we're already on the way," Stephany explained.
"A lot of people think that there's a pause in there. There's not, it's happening at the same time… We'll start making our way over there, and they will update us as we go … It is very much on the fly. And it's done super efficiently."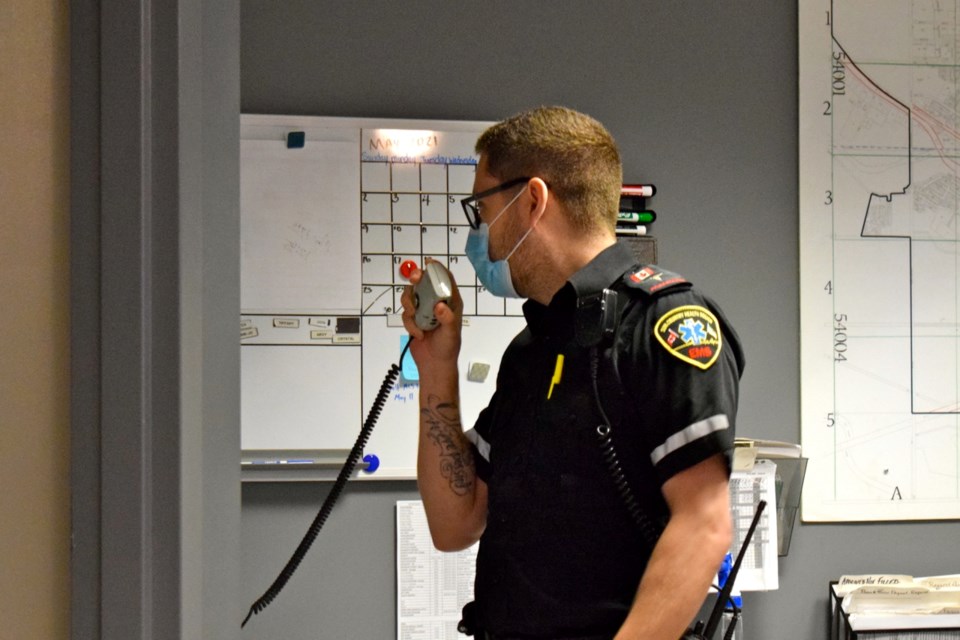 Lately, the Estevan EMS has been averaging about 100 calls a month. Some of their calls are scheduled, but there are still quite a few emergencies. The scheduled calls see paramedics taking patients to and from the hospital in Estevan, as well as taking people to Regina for different needs.
"We will do pretty much anything where you've got to see a medical professional, and you're not capable to get in there yourself," explained Stephany.
If an emergency call comes in, planned calls get postponed. The Estevan EMS also responds to mutual aid calls and works with rural ambulances in the area to ensure the best outcomes for the southeast communities.
"If they're coming in from some rural town outside, and they're coming into St. Joseph's, and they realize, 'Okay, I could benefit by using something he can do,' they can call us and we'll run an ambulance out to their ambulance and meet them, and then have our guest personnel jump in and start the treatment on the way to the hospital," explained Stephany.
On average, Estevan ambulance goes to Regina twice a day, as well as Moose Jaw and Saskatoon occasionally. If the crew leaves the city limits on an emergency call, the on-call crew will come in so that there's a manned ambulance in the city at all times. There is also a third crew that can respond if another call comes in. And sometimes all crews do end up working at the same time, as calls come in back to back.
There are currently eight full-time employees, four third crew members and several casual staff. All of them are certified paramedics of different specializations and levels.
When the EMS responds to a call, one person takes over the driving, while the other one stays back with the patient, but the crew members are interchangeable as both have paramedic skills.
"We take turns. So one day Geordan (Bardsley) will drive and the next day I'll drive," said Robinson. "We'll take turns working with the patient in the back. There are different professions within the paramedic world … so we work within our scope in the back with the patient."
If the patient's condition is more serious, sometimes an extra paramedic is called in to assist in the back, but for regular calls, one professional is usually enough. Robinson explained that typically, that person will be sitting on the bench to the right, so they're able to maintain eye contact and verbal communication with the patient.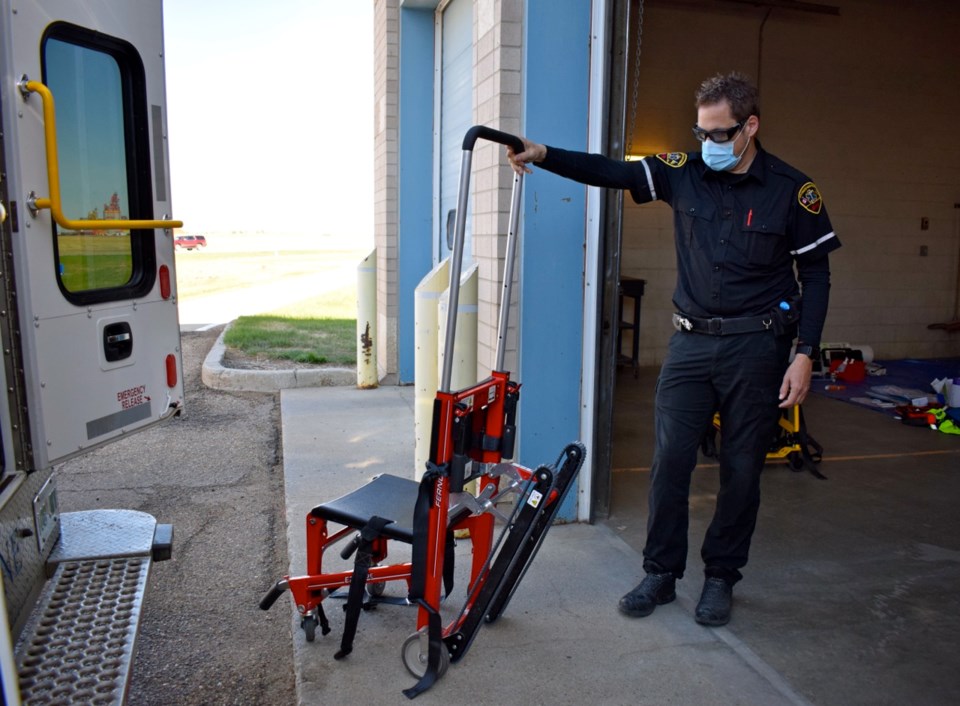 Estevan has been pretty lucky with recruiting, as for a community of this size there are a lot of advanced care paramedics, and most of the time there is one on every call.
While COVID-19 intensified some of the procedures, the service provided by EMS mainly remained very similar to what it's always been.
"There have been a few changes, but it's still pretty much the same. We always have to sort of honour the PPE (personal protective equipment) as we always had those threats," said Robinson.
"But we do more now," added Stephany.
"We have two different masks. Medical or surgical masks that we wear around the station and on every call as well. And if we're going to be doing anything with the patient's airway, suctioning, or insertion of any tubes down into their airway, we'll go and put our yellow gowns on and change our mask to N95 respirators," said Bardsley. And Stephany added the same happens if they have reasons to assume that a patient may have COVID-19. 
They've always thoroughly cleaned everything after each patient, and the only thing that has changed is the cleaning solutions. The pandemic didn't affect the response times and didn't change the regular procedures too much. But it definitely made the job they love feel different for the first little while.
"When it started, it was a little unnerving, because you don't know. You have your assumptions, you think you know, but you don't know. As time progressed, we kind of know what we're up against now," Stephany said.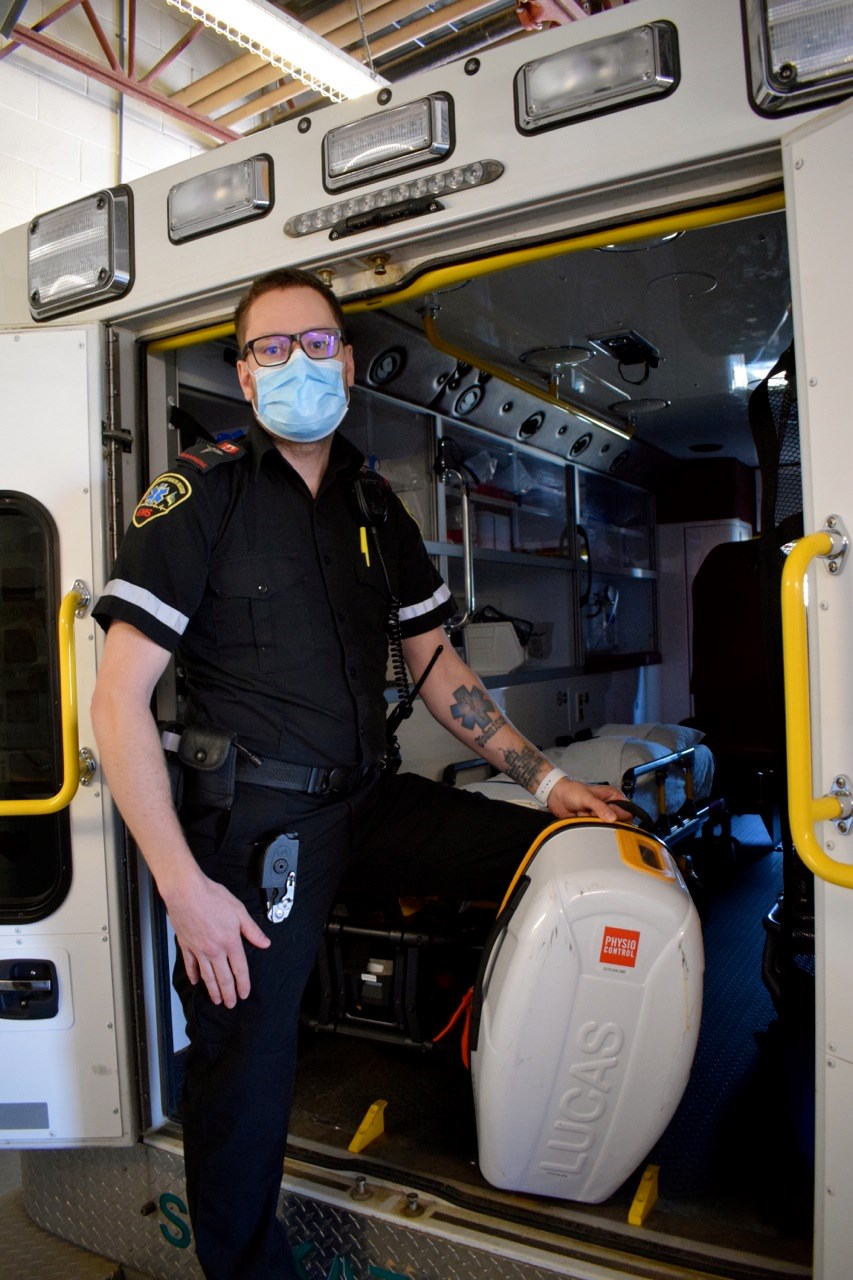 The Estevan EMS has four almost identical ambulances, one of which is getting replaced in the near future. Everything inside the ambulance is organized and very efficient, thanks to the efforts put in by Robinson and other paramedics about five years ago. The thought-through system that he came up with and that at the time was utilized across the former Sun Country Region EMS allows for easy and fast access to all equipment and supplies needed for any kind of emergency.
"It was a joint effort with everybody, everybody had their ideas and once we all came to an agreement, then we did it. It makes it simple for everybody," Robinson said.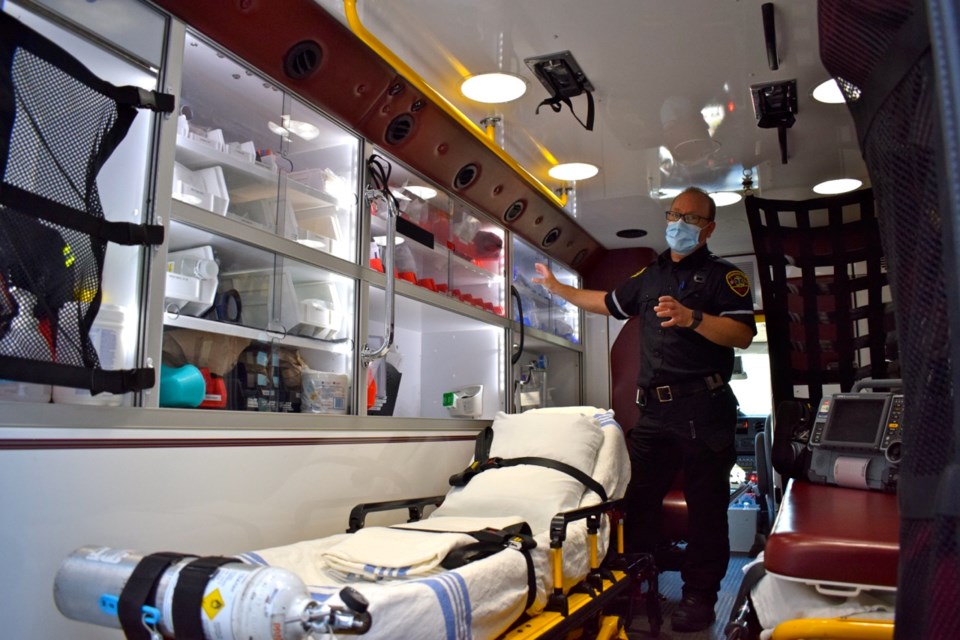 "What Brad did was he managed to clean (the ambulance) out enough that you have what you have, and you're able to do all your calls, and you do have spare to finish that call. But at the same time, you're not carrying extra equipment. It cut down on the stuff expiring and just gave more room to haul stuff you need. It worked really well," Stephany said.
"With that being said, if we are in need of responding to a mass casualty incident, we do have a stockpile of equipment in our storage as well. So that way, it's very easy for a crew that's getting called in to go and grab that stuff and throw in the back of the unit, and we've got everything we need later," Bardsley added.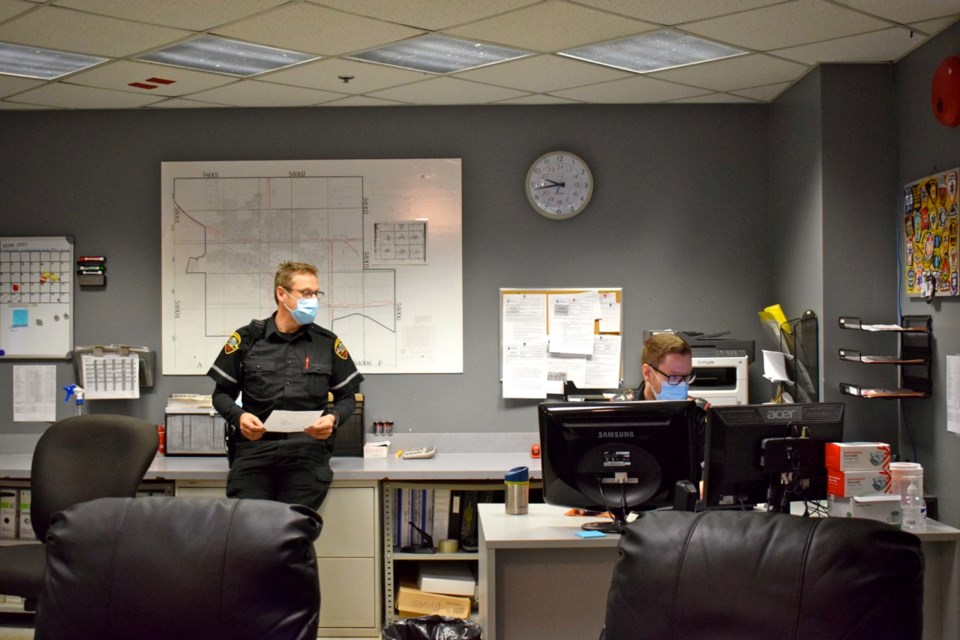 Stephany has been a paramedic for 31 years, Robinson has been in that profession 21 years and Bardsley has been working for EMS for 12 years.
"I think those three crews that we have, the smallest amount of experience is seven years," Stephany said. "Estevan is kind of an anomaly that way in that we do have a staff that's been together for a long time … People stick around. That's great. That's one of the wonderful things, too, as you can work with anybody because you know everybody over the years."
Their stories of getting into the profession are different. Stephany fell into it by "accident;" Robinson chose it as "an interesting thing to do;" and Bardsley's mother was in health care and inspired him to pursue a paramedic career.
"I remember when I was a young boy sitting on the chairs with mom, waiting for her to finish working and seeing her work with patients and being so interested in what she's doing and wanting to know more. So when I got a little bit older in high school, I went through my lifeguarding and got my first aid and CPR, and just fell in love with it and went off to school. That's where I started my EMS career," shared Bardsley.
Different paths brought these men into the EMS field, but the same thing keeps them in. 
"What I enjoy the most is that no two days are the same, every day is completely different," said Bardsley and the others agreed.